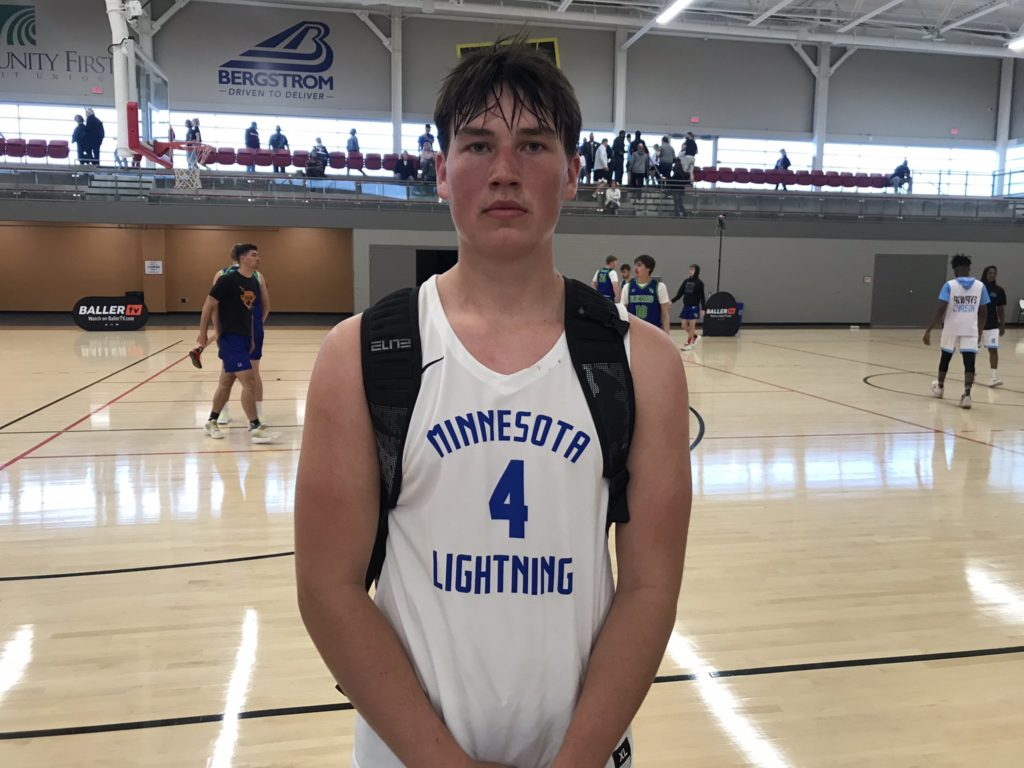 Posted On: 05/17/21 11:39 AM
Sunday morning action was all about the 17 and Under level.  What players stepped forward with big performances?  Prep Hoops runs down the list of top players. 
Owen Dukowitz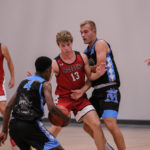 Owen Dukowitz 6'2" | SG Osseo | 2022 State MN of Northstar Titans Barker (6'3 Wing, Osseo, 2022).  Tough and versatile.  That's how one would describe the game of Owen Dukowitz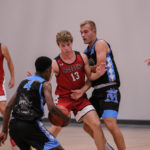 Owen Dukowitz 6'2" | SG Osseo | 2022 State MN on Sunday.  Owen had a couple double figure scoring games, he nearly had double figure boards for a double-double, there was the seven assist showing, and then of course the chase back block that has since led to one guard from Wisconsin putting in his hoops retirement papers.  Stronger and tougher than you in many ways, Owen does what it takes for his team to win. 
Leroy Fairbanks IV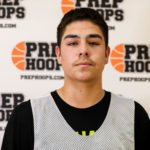 Leroy Fairbanks IV 6'4" | SF Cass Lake-Bena | 2022 State MN of Playmakers North (6'4 Forward, Cass Lake-Bena, 2022).  Leroy might be one of the most entertaining players to watch on the Prep Hoops Circuit from a basketball purist standpoint.  From the step-back jumpers to the establishing position with a ball out, backside contact back-in to move the big in the post, Fairbanks has a wonderful understanding of the game and where he fits into it.  Such a great passer, Fairbanks is the perfect two-man game parter because his screens are outstanding and his movements off of them are excellent as well.  He can move off the screen to catch and hit, post up, or catch the ball and hit a cutter.  The 25 point, six rebound, five assists performance on 10 of 14 shooting was memorable.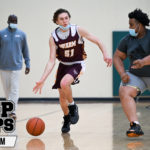 Carter Femrite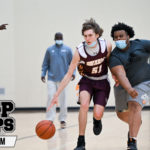 Carter Femrite 6'3" | SF Spectrum | 2022 State MN of Minnesota Swarm (6'3 Wing MN, Spectrum, 2022). Carter is a coach's kid (in a couple ways as his father Justin is his high school coach and his mother Jennifer was an outstanding player for St. Benedict's and Austin Pacelli) and he plays with court intelligence in the way one would expect.  Nothing forced on the court, takes advantages of all opportunities moving off the ball into scoring spots.  Was at his best moving off ball and catching to knock out shots before the athletes of Diamonds in the Rough could locate and close out.  Carter scored 17 against those athletes including three threes and a couple difficult attacks.  Averaged 17 a game as a junior this winter and is improving daily.  Good frame, a player I could see some D3s looking close at as the length, skills, and court IQ are there. 
Wyatt Helming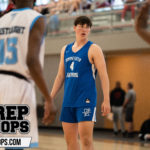 Wyatt Helming 6'6" | SF Lake Mills | 2022 State IA of Minnesota Lightning (6'6 PF, Lake Mills IA, 2022).    Lake Mills High School was one of the elite teams in Iowa last year not losing a game until the state tournament in March.   A big part of that team was Wyatt's 13.5 points and 6.5 rebounds a game making 51 percent of his field goal attempts.  Yesterday Wyatt powered his way to 14 points and 9 rebounds as nobody from Next Level Grind had the power to defend him.  His core power took him wherever he wanted and the soft crafty touch produced much needed points in the paint for a Lightning win.  Helming has the look of a modern day versatile low post player that can play the five at most levels of college basketball.  
Tre Holmes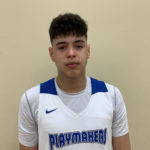 Tre Holmes 6'2" | SG Hibbing | 2021 State MN of Playmakers North (6'2 SG, Hibbing, 2022). The shooting of Tre Holmes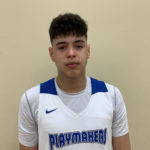 Tre Holmes 6'2" | SG Hibbing | 2021 State MN is making him somewhat of a Prep Hoops Circuit 2021 legend.  There was the 25 point game early in the year, the 34 game that made major headlines, the back to back 20+ games in front of Illinois scouts, and now this weekend in Appleton Holmes was looked in once again making shots from every spot on the floor.  Our final viewing of Holmes was a 20 point game on 7 of 10 shooting as the 40% Club touch was on once again.  What really grabbed my attention though was two other items:  Holmes went at the basket and tried to jump over a big for a dunk, and he was breaking down players off the dribble more than I've seen in the past as well.  
Kobe Kirk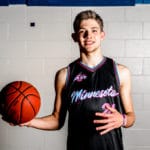 Kobe Kirk 6'3" | SG Mounds View | 2022 State MN of Minnesota Heat Grow (6'3 SG, Mounds View, 2022).  Kobe Kirk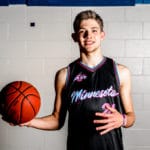 Kobe Kirk 6'3" | SG Mounds View | 2022 State MN had future division one athletes defending him and while the game vs PGC didn't go very well, Kirk worked his way to 13 points.  Why was this important?  Because Kirk showed that he can get point production against players from the highest level of AAU play as well.  Wisconsin Playground Basketball Club is one of the two best 17u teams in the state this year and Kirk out-worked them hitting a couple threes and getting to the cup in a couple different ways for scores. 
Sebastian Loder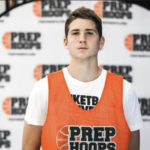 Sebastian Loder 6'3" | SF Orono | 2022 State MN of Northstar Titans Barker (6'2 SG, Orono, 2022).  Big weekend for Loder, he scored in double digits three times and had two double-doubles.  The most important note though was the explosive six threes made in a game when the Titans came back from down 21 points and won the game on a buzzer beating three from Loder. Sebastian scored 20 points in that historic comeback victory plus he chased down ten boards. 
Thomas Menk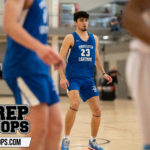 Thomas Menk 6'4" | SG Lewiston-Altura | 2022 State MN of Minnesota Lightning (6'4 Wing, Lewiston-Altura, 2022). I think at some point we will learn that Thomas Menk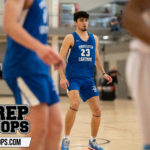 Thomas Menk 6'4" | SG Lewiston-Altura | 2022 State MN was either under recruited or under appreciated as a prospect.  His shooting touch is gorgeous and he continues to produce strong number results without having to shoot excessively.  Efficient is the word I would use.  He's a 40% Club member having his 43.7 percent of his three this winter leading to an 18 point per game average.  Good frame, pretty touch, efficient numbers, and led the Lightning to a nice win yesterday scoring a team high 16 points on only six shot attempts (5 of 6 from the field, three threes made, 3 of 3 at the foul line).
Ty Morrison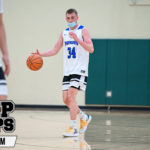 Ty Morrison 6'4" | SF Deer River | 2022 State MN of Playmakers North (6'4 Guard, Deer River, 2022).  The Playmakers North squad has several ball handlers but the best playmaker/passer of the bunch is Ty Morrison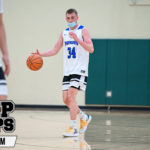 Ty Morrison 6'4" | SF Deer River | 2022 State MN .  Morrison of course can score, he led Deer River to the state tournament averaging 21 points a game.  But what we are truly seeing this spring is his creation and how far ahead of the game mentally he is compared to his opponents.  The anticipation of Morrison is elite which is why we saw him dish out nine assists while taking only three shots beating an athletic team from Milwaukee.  He boards (averaged eight this winter, had eight in the game we saw), shoots efficiently, plays with pace, and is one of the best passers in the state (and doing it in the frame of a big wing).  Prospect status is surely on the rise after this weekend. 
Kevon Powell of Playmakers North (5'11 Guard, Ashland, 2021).    Powell scored almost 15 a game for his high school team and is now looking for a spot in college basketball.  After seeing him work his way to numbers in every game I saw this weekend, I think there are a ton of D3 schools out there that could use a hard working player like Kevon.  Powell has to be one of the best rebounding guards you will ever see and he's constantly moving without the ball.  It helped Powell get open for jumpers, he was rewarded with lay-ups when he had hard cuts, and he out-raced guys to score in transition.  Handled the ball some too but did most of his work without it.  The biggest thing is Kevon's effort is top notch and so are the consistency of his results.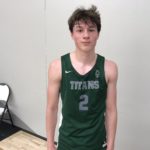 Riley Purcell of Northstar Titans Barker (6'1 SG, STMA, 2022).  The Titans went 4-0 in Appleton and a big part was the dozen threes Purcell spread across the event.  The Titans are a balanced team so standing out among the many options is eye popping.  Purcell led the Titans in scoring in each game Sunday including the 16 point effort we saw versus DF Elite.  He also played a big part in the Titans historic win on Saturday.  They were down 21-0 and came back to win in what has to be a Prep Hoops Circuit comeback record. Purcell's three point shooting (16 points) played a big part in the comeback.  Riley averaged eight a game this winter at STMA.
Tyler Swanson of Minnesota Lightning (6'2 Guard, Lakeville South, 2022).  The Lightning went 4-0 this weekend and Swanson was a key reason why leading the team in assists plus doing his share as a five/six bucket a game guy.  Swanson is the main ball handler for the Lightning comfortably handling against smaller quick guards every game without an issue.  He did a great job keeping the ball moving so the Lightning attacked their opponents from both sides of the floor and working in good space.  When the ball cam back to Swanson he shot well from the perimeter.  Steady guard with good size, very skilled and confident in his ability to playmake. 
Jaden Wysocki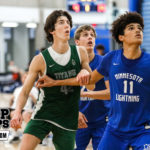 Jaden Wysocki 6'6" | PF Rochester Century | 2022 State MN of Minnesota Lightning Studer (6'6 Forward, Rochester Century, 2022).  The breakout player of the Midwest Showdown was Jaden Wysocki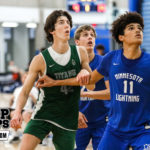 Jaden Wysocki 6'6" | PF Rochester Century | 2022 State MN .  We saw Jaden's physical potential in obvious ways and Wysocki had breakout performances on Saturday.  The question we took into Sunday was, will we see this consistently?  Sure enough, we did.  Jaden exploded at Minnesota Grit for a double-double scoring a dozen times on his way to a 25 point outing.  Physical finishes at the cup mixed with face-up scores.  A scholarship talent indeed.