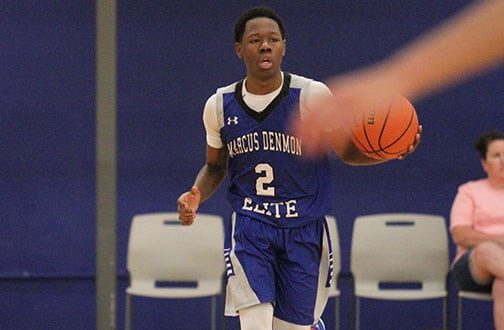 Posted On: 05/10/21 8:47 AM
The KC Classic year in and year out is always one of the premier events of the spring circuit. This year was no different with a humongous talent pool, amazing atmosphere inside the arena, and teams battling it out from across the country. The next series of coverage will look at players who participated in the event that I was able to check out.
I'Ryan Allen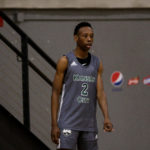 I'Ryan Allen 6'2" | PG Ruskin | 2022 State MO , 6'2 Guard, KC Spurs: Allen had a really solid weekend helping man the back court for a very deep KC Spurs squad. He is a gifted passer and fits balls into cutters and shooters pockets with a variety of passes, and gets guys into transition with great pace. Can shoot the ball with some consistency from the perimeter and is very tough on the ball as a defender as well. Always been a player in the back court that I have been high on, and this weekend proved no different.
Xavier Hall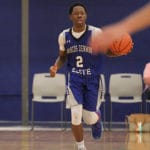 Xavier Hall 5'11" | CG Bishop Miege | 2022 State KS , 5'11 Point Guard, Marcus Denmon (Pictured): Hall was wreaking havoc on defenses and living in opponents paints all weekend. His change of pace and quick burst downhill with the ball in his hands is top notch and he was getting top tier defenders from big time programs on his hip and by them all the time. The Miege PG plays with great confidence and emotion that translates well to his teammates, and is a catalyst for that entire Denmon 2022 group that is always vibrant and getting after it, and that starts at the top of the roster with Hall.
Tony Osburn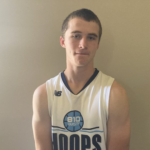 Tony Osburn 6'2" | CG Mound City | 2022 State MO , 6'2 Guard, Yobo: Osburn put up a tremendous performance against Expressions EYBL scoring 20 points in the process. The Missouri guard continues to expand the offensive game and adding to his elite level shooting, he had a couple of really nice transition finishes and hit an extremely tough runner sweeping through the lane off the bounce over some long athletes. Osburn continues to prove this spring that he has the ability to score over Division 1 length and athleticism. 
Wesley Oakley, 6'3 Guard, SSA Elite 2022 White: Had an 18 point performance and helped spark a comeback that fell just short over the weekend. Oakley is a really solid guard who shoots it at a high clip, can get to the glass on both ends of the floor, and guards with a ton of tenacity and effort. He is a solid glue piece to any roster and can have games like this where he can really get going in the scoring column to go along with all of the other little things he brings.
Sam Somerhalder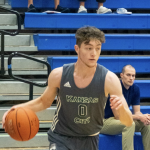 Sam Somerhalder 6'7" | SF St. James Academy | 2022 State KS , 6'7 Guard/Wing, Team KC Pip: The athletic guard averaged around 11 points per game against some high quality opponents this weekend. His handle has really come a long way and his open court ability is really polishing up as well as his perimeter jump shot. With his length, he did a nice job in the minutes I watched utilizing angles and separation to get off quality finishes in the midrange and painted areas.
Bennett Stirtz Bennett Stirtz 6'5" | CG Liberty | 2022 State MO , 6'3 PG, 816 Hoops Burch: The do it all point guard was at it again making big time plays against a big time opponent in the PLUTO Prospects. He had 17 in the ball game and had the full arsenal going, including a beautiful step in 3 ball coming off of a between the legs move that he set up perfectly. Stirtz is a big time player in the back court with a ton of winning qualities and ability that you just can't miss.