A quick recap of day two was filled with high energy and competitive basketball. Here are some players that made the most of day two of the A-Town Showdown.
Ryan Williams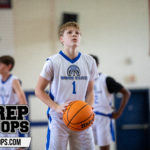 Ryan Williams 5'9" | PG North Paulding | 2024 State GA is a 5-foot-9 PG playing with Wood Elite 2024. Williams had a great showing against the Tribe ATL, dropping 13 points with several assists. Williams provides outstanding leadership with running the offense. He handles pressure very well and has the skills to maneuver through a double team. Williams has an excellent release from three and uses his quick handles to attack the basket.
Wesley Harrison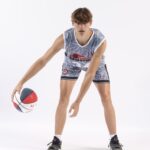 Wesley Harrison 6'6" | PF River Ridge | 2024 State GA is a member of the Wood Elite 2024, and he had himself another excellent performance on day two. Harrison is a 6-foot-4 Forward, and this kid has a great game in the post. Throughout the weekend, Harrison was unstoppable with the ball in the paint. He's a great rebounder and is growing into a nice rim protector. 
Xavier Singleton of the TRIBE ATL 2024 is a 6-foot-1 guard/forward that played some good basketball on day 2. Singleton plays with a lot of energy and does a great job finishing at the rim. Singleton is really scrappy; he tries to deny any player from driving the lane and is a fighter for the rebound. Singleton is a nice well-rounded player. 
Semaj Jenkins is a 5-foot-8 guard playing with the East Georgia Panthers 2024. Jenkins plays with a high motor on both ends of the floor. He loves to drive the lane at a high velocity making him difficult to stop. Jenkins has a quick pull-up jumper and can get streaky from the three. In one of his best games, he dropped 22 points and knocked down four three-pointers. 
Jermaine Hines is 5-foot-8 SG playing with the Elite Playmakers 2024. Hines is a future prospect that provides tremendous hustle and leadership on the court. This kid has a smooth spot-up jumper and is very swift on the attack. One of Hines' best qualities is his shot-blocking ability. He's very patient on defense and has perfect timing for a block attempt. In one of his best games, he dropped 16 points and got the win.