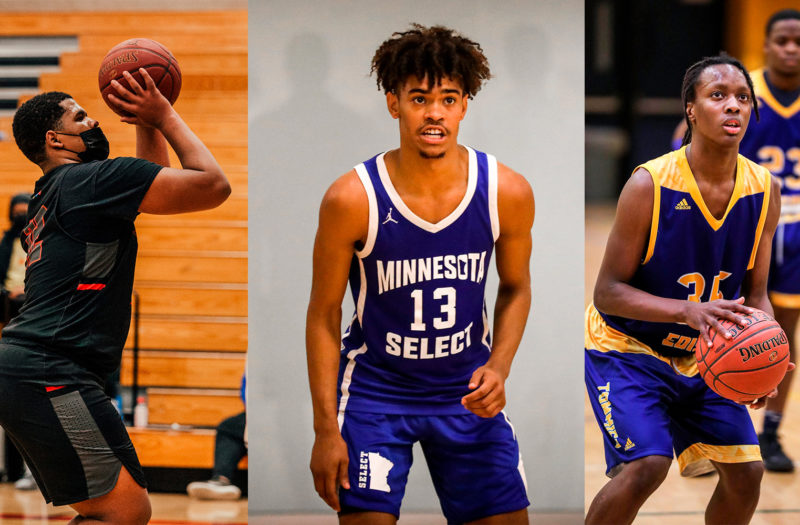 Posted On: 04/30/21 12:16 AM
Several Minnesota high school basketball programs had their seasons shut down this week due to various COVID complications. The disappointment was predictably difficult for everyone involved. 
I wanted to highlight a few of the seniors who may have been hoping for further recruiting recognition with big playoff games. 
NOTE: these interviews were gathered before many more cancellations were announced Friday. Anyone wanting to add players to this list can email me at alex@prephoops.com. 
---
Jabari Langley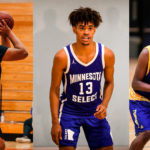 Jabari Langley 6'0" | SG Minneapolis Edison | 2021 State MN , 6-2 Edison wing/forward
1. Stats this year: "I averaged about 25 ppg, 7 rebounds and around 3 steals."
2. What kind of school you are looking for? "I'm just looking for a school that'll allow me to play college ball where I can major in finance."
3. Any programs that have been recruiting you? "Augsburg, North Central University, St. Scholastica and a couple more."
4. When you might decide: "I'm planning to decide sometime during May."
5. Feelings/thoughts when your season was canceled: "When we heard our season was canceled I was crushed. Our team worked so hard and came such a long way. I 100% believed our team could have gone a long way in sections and I'm just sad to see us go out like this. But shoutout to my team for staying strong and having a wonderful season."
*** Jabari finished 70 points short of the all-time scoring record at Edison.
---
Johnny Spencer, 6-4 Edison wing
1. Stats this year: "18.1 points, 8 rebounds, 5 assists."
2. What kind of school you are looking for? "A scholarship-level program."
3. Any programs that have been recruiting you? "NCU is recruiting me hard, I've heard from Augsburg, Mayville State and more."
4. When you might decide: "To be honest, I don't know yet."
5. Feelings/thoughts when your season was canceled: "When our season got canceled, I was thinking like should I give up or keep grinding? So I'm just gonna pray and keep grinding. We were gonna have a great season and we had something planned for playoffs. Everyone was gonna know who Edison was. God has something planned for me though, so it's gonna be ok."
---
Jack Hernandez Jack Hernandez 6'9" | C Hopkins | 2021 State MN , 6-8 Hopkins forward/center
1. Stats this year: "7 PPG, not sure on other stats."
2. What kind of school you are looking for? "I'm looking at midsize schools. 1200+ students."
3. Any programs that have been recruiting you? "I'm talking with a few D3 schools (Sarah Lawrence, Macalester, Hamline, UW-Stout, Coe College)."
4. When you might decide: "I'm waiting to hear if I'm accepted to Macalester. I should hear by 3/31. After that, I'll look at what makes the most sense financially. I plan to decide early April."
5. Feelings/thoughts when your season was canceled: "First reaction was shock. Coach called us Thursday night (3/11) and said it's over. Just like that. He tried really hard to find a creative solution but the state wouldn't let any section games get rescheduled. It sucks because SLP is in our section, so we could have just replayed our game, but it just wasn't meant to be. Now, we're left watching like everyone else. Last year was tough, but everyone got shut down. This year is harder because it's just bad luck/bad timing that can end the season."
---
Jaelen Treml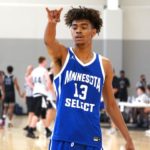 Jaelen Treml 6'4" | SF Hopkins | 2021 State MN , 6-3 Hopkins wing
1. Stats this year: "11.6 PPG."
2. What kind of school you are looking for? "I'm looking for a place where I can just get better as a player and can help the team win. The level doesn't really matter to me I just want to go somewhere where I know I'll be getting better on and off the court as a person and can help the people and teammates around me get better as well."
3. Any programs that have been recruiting you? "I've been talking to SDSU, UMKC, Bemidji State, NDSCS, Northern State, Independence CC, and a couple others."
4. When you might decide: "I'm not sure when I would decide. As of right now I have no solid offers, so I just kind of want to focus continuing on getting better, doing school, and building relationships with coaches."
5. Feelings/thoughts when your season was canceled: "When the season got canceled it was a huge shock, and it hurt really bad. Us seniors were talking the night before how it was our last regular season game at home and then it ended up being our last game ever… it was just crazy."
---
Tristan Lee Tristan Lee 6'2" | PG Hopkins | 2021 State MN , 6-1 Hopkins guard
1. Stats this year: "18.1 points, 8 rebounds, 5 assists."
2. What kind of school you are looking for? "I'm looking for anywhere I can get better and help the program… preferably D2 schools."
3. Any programs that have been recruiting you? "I am be recruited by a variety of schools on different levels."
4. When you might decide: "I am not sure."
5. Feelings/thoughts when your season was canceled: "I was truly hurt when my season ended, but I know God has a plan in store for me. I will forever bleed royal blue."
---
Denzil Walker Denzil Walker 6'4" | SF Robbinsdale Cooper | 2021 MN , 6-3 Patrick Henry wing (video highlights available here)
1. Stats this year: "17.3 PPG."
2. What kind of school you are looking for? "A school that will help me stay on top of my academics and a school where I can stay focused and be in the gym a lot."
3. Any programs that have been recruiting you? "Rainy River, Hibbing, Riverland, Central Lakes."
4. When you might decide: "Mid-April."
5. Feelings/thoughts when your season was canceled: "I was really hurt because it was a limited season anyway, there was no senior night. We couldn't have fans, and it ended so fast with no warning."
---
Jamarion Beauregard, 6-0 Patrick Henry wing
1. Stats this year: "9.0 PPG."
2. What kind of school you are looking for? "A two-year juco."
3. Any programs that have been recruiting you? "No recruitment yet, but I did reach to a few colleges."
4. When you might decide: "I'll decide when the time is right and if a college wants me."
5. Feelings/thoughts when your season was canceled: "When my season got canceled, I was hurt and stuck with the feeling of my last game ending the way it did. We didn't get a chance in the post-season on top of dealing with the limitations of a COVID season."