Yesterday New York City came together to produce one of the best grassroots events the city has seen in quite some time. The New York Gauchos, New York Rens, PSA Cardinals, New York Jayhawks, and Riverside Hawks all competed at a high level to put on a great showing at the NYC Invitational.
Day 1 Standouts
Abraham Rosario, 6'8″ F 2024, PSA Cardinals 15U/Evangelical Christian HS – Active on the glass throughout the day on both ends.
Brandon McCreesh, 6'4″ G 2023, Riverside Hawks 16U/The Hotchkiss School – Good on-ball defender who stays attached to ball handlers.
Carnegie Johnson Carnegie Johnson 6'0" | PG Blair Academy | 2023 State NJ , 6'0″ PG 2023, NY Jayhawks 16U/Blair Academy – Rebounded well from the guard position. Good passer with excellent court vision and overall feel.
Chas Lewless, 6'1″ G 2024, NY Jayhawks 15U/Bishop Loughlin – Playmaking prospect, ambidextrous passer. Good perimeter shooter. 
Chisom Okpara, 6'7″ F 2022, NY Rens 17U/La Lumiere – Physically gifted athlete wing who can get to the rim and knock down the three.
Dante Green, 6'3″ G 2024, NY Rens/Upper Room Christian – Strong athletic three-level scorer with outstanding defensive instincts. 
Dwayne Pierce, 6'5″ SG 2024, PSA Cardinals 15U/Christ the King – Athletic finisher with the ability to draw a number of fouls off of dribble penetration.
Jamarques Lawrence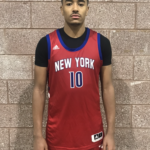 Jamarques Lawrence 6'2" | SG Roselle Catholic | 2022 State NJ , 6'3″ G 2022, NY Jayhawks 17U/Roselle Catholic – Underrated defensive instincts. Very good three-level scoring touch. 
Jayden Reid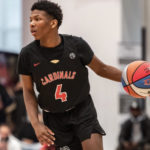 Jayden Reid 5'10" | PG LuHi | 2023 State #119 Nation NY , 5'11″ PG 2023, PSA Cardinals 16U/LuHi – Shifty athletic point guard with change of speed/direction ability and a soft touch on his runner/floater.
, 6'6″ Wing 2022, NY Jayhawks 17U/St. Thomas Aquinas – High-level athlete (hit his head on the bottom of the backboard). Improved shot maker. 
Johnuel "Boogie" Fland, 6'3″ PG 2024, PSA Cardinals 15U/Stepinac – Active two-way player throughout the day. Displayed a good offensive feel as a playmaker and scorer.
Kyle Filipowski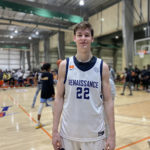 Kyle Filipowski 6'9" | PF Wilbrham & Monson | 2022 State #13 Nation NLG , 6'10″ F 2022, NY Rens 17U/Wilbraham & Monson – Versatile skilled forward with size who can stretch his game to the perimeter. 
Muazibni Jabal Adamu, 6'10″ C 2023, NY Jayhawks 16U/First Love Christian Academy – Good shot blocker and rim runner. He uses length to rebound and keep the ball alive.
Omari Ward
Omari Ward 5'11" | PG Fordham Prep | 2022 State NY , 6'5″ G 2022, Riverside Hawks 17U/Mount Saint Michael Academy – Consistent perimeter shooter. Showed flashes of his ability to finish off the dribble. 
Preston Edmead, 5'10″ PG 2024, NY Jayhawks 15U/Deer Park – Good on-ball and team defender with playmaking instincts.
Todd Rochelle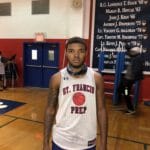 Todd Rochelle 6'2" | PG St. Francis Prep | 2022 NLG , 6'1″ PG 2022, Riverside Hawks 17U/Woodstock Academy – Outstanding defensive instincts. Steady point guard with playmaking and shot-making ability.
Zaire Williams Zaire Williams 6'1" | SG Eagle Academy For Young Men Ii | 2021 State NY , 6'3″ CG, NY Gauchos 17U/Our Savior Lutheran – Shifty ball handler who creates space off the dribble with his go-to step-back move to excel as a scorer. 
Zion Cruz Zion Cruz 6'4" | SG Patrick School | 2022 #26 Nation CA-S , 6'4″ CG, PSA Cardinals 17U/The Patrick School – Effortless scorer. Controls tempo. A very skilled player with the ball in his hands. 
Additional Prospects
Andreo Ash, 6'7″ F 2024, NY Jayhawks 15U/Liverpool HS
Anthony Grazino, 6'6″ F 2024, NY Jayhawks 15U/St. Joseph By The Sea HS
Brandon Williams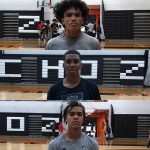 Brandon Williams 6'8" | SF Christ The King | 2023 State #121 Nation NY , 6'7″ F 2023, NY Gauchos 17U/Christ the King
Benjamin Lyttle, 6'5″ F 2023, Riverside Hawks 16U/Stepinac
Danny Carbuccia, 6'0″ PG 2025, PSA Cardinals 15U/Mott Hall MS
Dominic Barlow, 6'9″ F 2022, NY Rens 17U/Dumont HS
Frank Wilson, 6'5″ F 2023, NY Gauchos/Half Hollow Hills West
Jack Hsu, 6'0″ G 2022, NY Rens 17U/Germantown Academy
Chance Morrish Chance Morrish 6'2" | CG St. Francis prep | 2022 State NY , 6'5″ W 2023, Ny Jayhawks 16U/St. Francis Prep
Jaiden Glover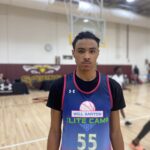 Jaiden Glover 6'6" | SG Patrick School | 2024 State #273 Nation NJ . 6'4″ WG 2024, NY Rens/St. Benedicts
James Moore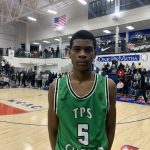 James Moore 6'9" | PF Patrick School | 2024 MD , 6'8″ F 2024, NY Rens/Patrick School
Jayden Lemond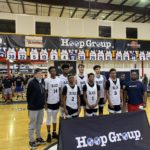 Jayden Lemond 6'3" | PG Blair Academy | 2023 State #183 Nation NJ , 6'1″ PG 2023, PSA Cardinals 16U/Blair Academy
Jayden Williams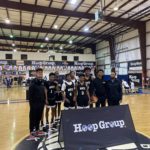 Jayden Williams 6'0" | PG Blair Academy | 2024 State #225 Nation NJ , 6'0″ PG 2024, PSA Cardinals 15U/Blair Academy
Markelle Alston, 6'1″ PG 2025, NY Gauchos 16U/Christ the King
Nick Padilla, 5'7″ PG 2023, Riverside Hawks 16U/The Dwight School
Noah Barnett Noah Barnett 6'8" | PF Don Bosco Prep | 2023 NLG , 6'8″ W 2023, NY Jayhawks 16U/Don Bosco Prep
Pape Fall, 6'9″ F 2023, NY Gauchos 16U/Bridgeport Prep
Ricard Brisco, 6'7″ F 2024, NY Rens 15U/Roselle Catholic
Roddy Gale, 6'5″ G 2022, NY Rens 17U/Wasatch Academy
Ryan Dunn, 6'7″ W 2022, NY Jayhawks 17U/LuHi
Tyler Betsey Tyler Betsey 6'8" | SG Windsor | 2024 State #72 Nation NLG , 6'6″ W 2024, NY Rens 15U/Windsor
Will Franks, 6'8″ F 2023, Riverside Hawks 16U/Northfield Mount Hermon
Will Richardson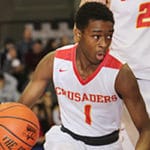 Will Richardson 6'2" | PG Bergen Catholic | 2022 State #76 Nation NJ , 6'0″ G 2022, PSA Cardinals 17U/Bergen Catholic
Ziare Wells Ziare Wells 6'6" | SG Hillcrest Prep | 2022 #234 Nation AZ , 6'6″ G 2022, NY Gauchos 17U/St. Benedict's Prep