Prep Hoops Missouri dabbled into the junior college ranks to take a look at North Central Missouri College vs visiting St Louis Community College for the NJCAA Division ll Region 16 championship in Trenton.
In a very competitive game from start to finish, North Central came away with an 80-77 victory to win the region championship. Here is a look at some of the standout prospects from both teams who are from the state of Missouri.
North Central
Atavian Butler: A 6'3″ sophomore from McCluer North who scored a game-high 23 points to lead NCMC to the victory. He is an explosive athlete who attacks the basket on the dribble and rebounds very well for his size. He plays with a high motor at both ends of the court, which makes him hard to deal with. He has also improved on his perimeter shooting since high school. He is averaging 18 points and seven rebounds a game. He had a high game of 41 points against Moberly earlier this season.
Jeramy Shaw: A 6'6″ sophomore wing from Valley Park High who is an excellent prospect because of his size, athleticism and versatility. He can facilitate offense as a playmaker as well as get buckets and attack the rim with explosive plays and slam dunks at the rim. He can start the break with his ball handling or finish with an alley-oop on the back end. He is averaging 16 points, six rebounds and three assists a game. He scored 14 points in Saturday's championship game.
Jackson Andrews: A 6'4″ sophomore guard from CBC who provides the perimeter shooting for this championship team. He has excellent range and he keeps the court open for his athletic, slashing teammates. He is averaging 11 points a game while shooting a toasty 45 percent from 3-point range. He shoots it well off the catch and in the transition game.
Kolten Griffin Kolten Griffin 6'4" | SF St. Joe Lafayette | 2020 State MO : A 6'5″ freshman forward from St. Joe Lafayette who was battling foul trouble throughout the game, but when he was out there, he was a big factor on the defensive end with his rebounding and shot blocking ability. He is a strong athlete who can score inside or attack on the drive. He is also an excellent offensive rebounder. He is averaging nearly 10 points and six rebounds for the season.
Damien Loyd: A 6'0″ sophomore point guard from Kirkwood who is a very effective playmaker with his quickness, penetrating skills and passing ability. He is capable of getting a bucket and knocking down an open 3-pointer when it's needed. He's averaging seven points and nearly six assists a game this season.
St. Louis Community College
David Jones David Jones 6'7" | PF Gateway STEM | 2020 State MO : A very skilled 6'7″ forward from Gateway STEM who scored 15 points on Saturday. He is an athletic Stretch 4 with good length and the ability to handle the ball and knock down open 3-pointers off the catch. He is also a solid shot blocker with his wingspan. He averages 11 points and seven rebounds a game while shooting 37 percent from 3-point range.
Kam Hubbard: A 6'5″ freshman power forward from McCluer who plays with a lot of athleticism and force around the basket. He's a physical player who will rebound, block shots and try to dunk on anybody in his vicinity when they are around him in the paint. His motor is always running high. He is averaging 13 points and five rebounds a game.
Jacques Thomas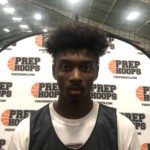 Jacques Thomas 6'4" | SG Rockwood Summit | 2020 State MO : A 6'4″ freshman wing from Rockwood Summit who scored a game-high 19 points for the Archers. He is one of the most athletic players in the region. Was also a standout high jumper and long jumper in track while in high school. He plays with a lot of energy to go with that bounce. He is at his best on offense as a slashing threat who also gets out in the transition game to make plays.
Ahian Barnett: A 6'3 sophomore guard from Soldan High who scored 16 points for the Archers on Saturday night. He was very good at slashing to the basket and getting buckets on tough, twisting drives in the lane. He is averaging 12 points and four rebounds on the season.
Doreante Tucker Doreante Tucker 6'2" | SG Cape Girardeau Central | 2020 State MO : A 6'2″ freshman guard from Cape Girardeau Central who is a tremendous slashing threat with his quick first step and athleticism. He can also knock down a perimeter jumper to compliment his ability to drive to the basket. He is averaging 11 points and three rebounds a game this season.