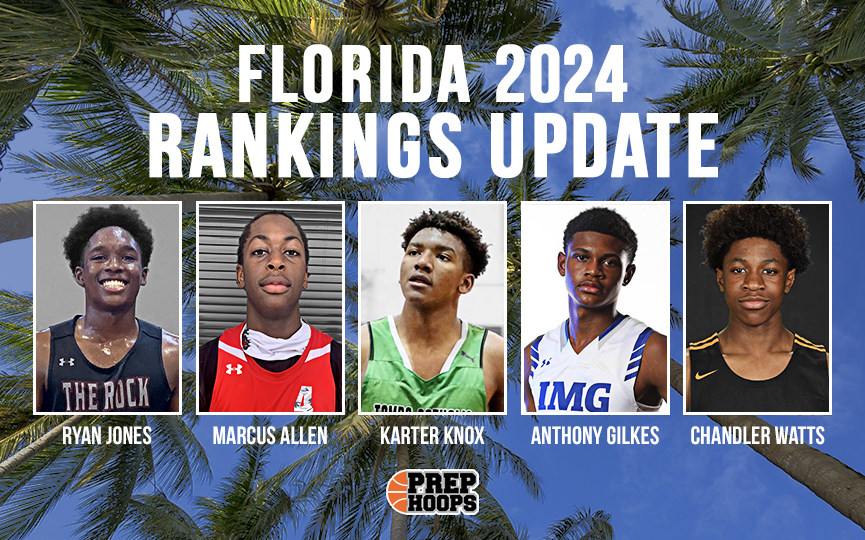 Posted On: 04/12/21 6:23 PM
AAU season is in full swing and now is a good time to get the youngest crop of high school names known.
Last fall, we launched a 2024 watch list and now on Monday, we released our very first rankings for the soon-to-be sophomore class.
195 players are ranked around the state of Florida in the 2024 class. The 2023 rankings will follow next Monday with the 2022 rankings coming on April 26.
Here is a look at the "Top 5" list with analysis below. 
No. 1 – Ryan Jones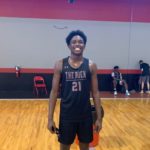 Ryan Jones 6'9" | PF The Rock | 2024 State FL – 6-8 – F – The Rock
A constant double double generator, Jones broke out in a major way for SIAA's The Rock as a freshman. He earned offers from Cleveland State, Ole Miss and La Salle before the season even started. Jones recently received an invite to the U16 USA junior national team trials. The sky is the limit for the versatile forward who can hurt you with his jumper and his aggressiveness at the rack. He's just hitting his stride which is a scary thought.
No. 2 – Marcus Allen Marcus Allen 6'4" | SF West Orange | 2021 State FL – 6-5 – G/F – Norland
Whether you want to list Allen as a guard or forward, it doesn't matter right now since he is a gamer. The physical athlete can drive by defenders with his mix of strength and pure ability as well as knock down jumpers in your face. FSU offered in late January, representing his first offer of what will become a large list of college suitors. Allen has all the tools and his put-together demeanor is a perfect fit at a tough-nosed program like Norland down south. This is a special prospect. 
No. 3 – Karter Knox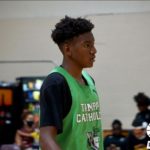 Karter Knox 6'6" | CG Tampa Catholic | 2024 State FL – 6-5 – G – Tampa Catholic
The youngest of the three Knox brothers, Kevin (New York Knicks) – 2017 grad, Kobe (Grand Canyon University) – 2020 grad, Karter is already well on his way. Rumblings prior to his high school arrival were all about how he might be the most talented of the trio. He certainly made his presence known from the jump, averaging 17.5 PPG and 5.7 RPG for a 19-7 Tampa Catholic squad that basically started from scratch after a senior-heavy team departed to graduation. Karter is a stellar athlete and already has a developed high school frame that he can expand his game with.
No. 4 –  Anthony Gilkes Anthony Gilkes 6'6" | SF IMG Academy | 2024 State FL – 6-6 – F – IMG 
Playing sparingly for Geico Nationals semifinalist IMG Academy, Gilkes is someone who is going to be a breakout piece this summer in his development and in the fall during his sophomore campaign. Coming down from New York, the 6-6 lengthy prospect has a serious combination of burst and smarts. He could have easily been a top player at the high school level back in his home state but he chose to develop, add muscle to his frame and take his game to the next step at the national powerhouse in Bradenton. Expect big things soon.
No. 5 –  Chandler Watts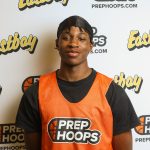 Chandler Watts 6'4" | CG Montverde | 2024 State FL – 6-4 – G – Montverde 
Watts balled out at the Prep Hoops Top 250 back in September in Orlando. One of many young and athletic promising prospects, right out of the gates, he showed he wasn't afraid to go after anyone offensively. A speed demon and a quick twitch ballhandler, he's oozing with upside. Playing for Geico National champion Montverde, the New Jersey native should earn minutes next season. He certainly needs to bulk up and add more defensively, but he's off to a good start to his high school career.
@PrepHoops @TrewayTv @MVABasketball @Pdouble_33 @madehoops @trigonis30 @reale1t1 pic.twitter.com/YLi2XcGZwm

— Chandler Watts Chandler Watts 6'4" | CG Montverde | 2024 State FL (@chandler_watts1) September 21, 2020