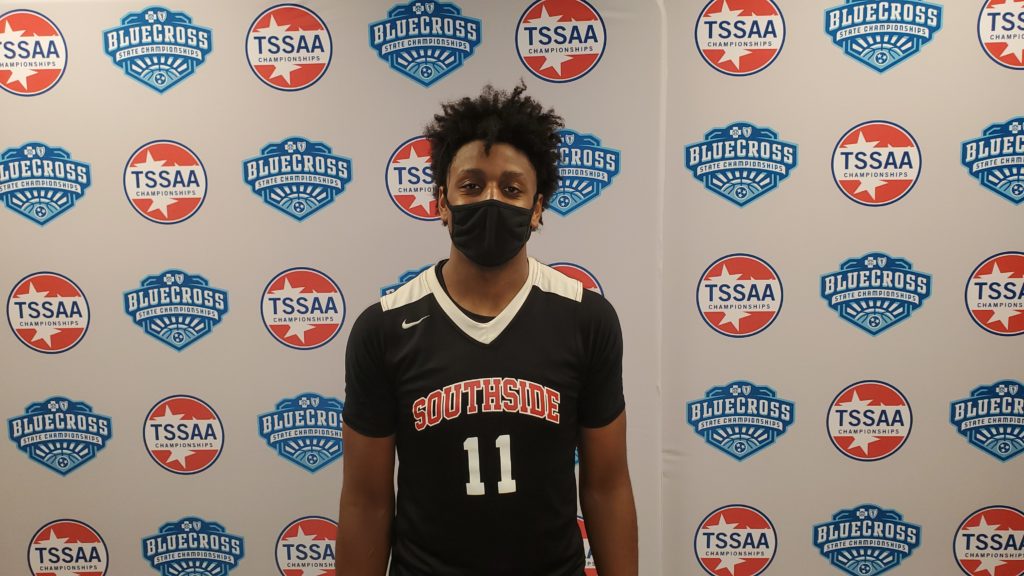 Posted On: 03/19/21 10:20 PM
Every team that stepped onto the floor Friday had plans of playing on Saturday for a gold ball.
Each team's best player tried to make the dream a reality.
Here are the best players from the semifinals round.
Grant Strong, Clay County: The 6-foot-5 wing had his way with North Greene in his team's 65-49 win over the Huskies. Strong was getting to his spots, knocking down 15-footers and driving into the lane. Occasionally, the junior stopped and popped a floater in the paint to avoid picking up a foul. Strong was everything he needed to be for the Bulldogs. He finished with 32 points, seven rebounds and three assists.
Keaton Arms, Clay County: The sophomore guard was everywhere on the floor, going after loose balls, finishing strong at the rim and knocking down shots from the perimeter. Arms finished with 15 points, two rebounds and two assists on 7 of 13 shooting.
Dylan Woods, MAHS: The Lions' offense ran through the senior wing. Woods made his defender run off screens for the entire game. It didn't a lot of dribbles for the 6-4 guard/forward to make his move towards the basket. Each time he came off the screen, Woods took one dribble then went up for a jump shot. He made a living at the elbow, hitting darts at a proficient rate. Woods finished with 24 points, seven rebounds, three blocks and three steals in his team's 77-57 win over Pickett County.
MAHS had balance offensively. Cameron Miller had 15 points, six rebounds and four assists. Devin Jackson added 11 points.
Will Amonett and Zach Amonett, Pickett County: The brothers combined for 37 of the team's 51 points. Both are lethal shooters and made MAHS pay with uncontested shots from deep. The Bobcats trailed for most of the game, but the Amonett brothers' shooting kept things interesting in the third quarter, rallying from 12 down to get within five before the Lions went on an 11-2 run.
Alexander Rush, Upperman: The 6-7 forward was getting great position in the paint. Rush was pinning his defender so deep near the baseline that the defender couldn't do anything but foul. He took advantage of Greeneville's small defenders. He led the Bees with 16 points and eight rebounds in a losing effort. His team came short, but Rush gave it everything he had.
Jakobi Gillespie, Greeneville: Gillespie created enough space each time he had the basketball in half-court and made shots off the dribble. When he was in transition, Gillespie had an extra boost of energy to get by his defender to get into the lane. He scored six of the Green Devils' final eight points in their 47-41 win over Upperman. Gillespie finished with 23 points on 8 of 15 shooting, and he made it look easy.
The five soldiers of Jackson South Side
The Hawks took care of business on Saturday, steamrolling past Kingston, 70-45. Brandon Maclin was a mismatch for the Yellowjackets all game. His upper body strength, ball handling and passing ability were three of the main imprints on the outcome. The basketball was moving, in which Maclin – 10 points, 17 rebounds and seven assists – had a lot input on, and it resulted in Rico Sain II (15), Jaylan Cole (13), Jailen Anderson (11) and Kobe Ward (11) scoring in double figures.
Brandon Miller, Cane Ridge: Miller didn't shoot the ball well, going 8 for 21, but he got to his sweet spots in the second half after his team trailed 28-11. The Ravens turned up their defensive pressure, forced Collierville into turnovers and scored off of them. The Dragons didn't have anyone who could face guard Miller, so he used his 6-7 frame to drive into the lane. He was dropping shots from all over the floor and getting putbacks. Miller finished with 23 points, 14 rebounds, three blocks, three steals and three assists in a 55-48 victory.
Jordan Jenkins, Collierville: The senior guard did what he could to try and get the Dragons into Saturday's final. The Dragons' best player, Davon Barnes, got into foul trouble early and spent most of his time on the bench. Jenkins was the team's best offensive weapon. He made shots from deep and also scored in transition. Jenkins led Collierville with 16 points and seven rebounds on 6 of 12 shooting.
Johnathan Lawson, Houston: Lawson was in attack mode from the tip, and when he wasn't in attacking the basket, he was making it rain from deep. Oak Ridge didn't have an answer for the Oregon commit as he led the Mustangs with 20 points, five rebounds, two assists, two blocks and two steals on 8 of 13 shooting in their 77-45 win over Oak Ridge.