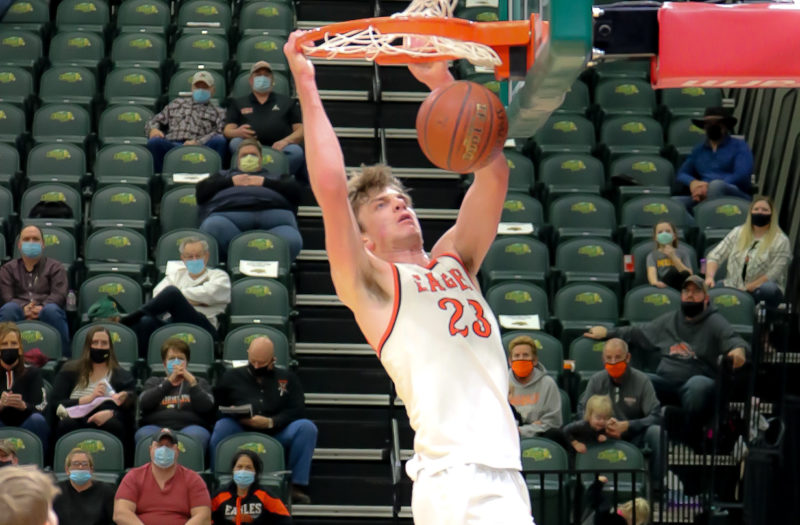 Posted On: 03/8/21 11:43 PM
We had a great first day of hoops at the SHAC in Fargo. There were impressive team performances and some exceptional individual performances. We are one day closer to crowning a champion in Region 1. Make sure you check out the semifinals on Tuesday.
Game Results:
#8 Sargent County 54 #1 Enderlin 70
#5 Northern Cass 55 #4 Oak Grove 61
#10 Hankinson 31 #2 Kindred 71
#6 Lisbon 42 #3 Central Cass 59
Let us take a closer look at the top performers from day 1…
Joe Hurlburt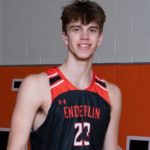 Joe Hurlburt 6'11" | PF Enderlin | 2022 State #158 Nation ND (2022) |6-10 F| Enderlin – 19 points, 12 rebounds, 7-8 FT's. He did his damage inside and around the hoop. Like always, he killed it on the O and D boards. Joe is the best deep outlet passer in North Dakota after a defensive rebound. He threw a ¾ court dime to his brother for a layup. Joe blocked multiple shots and altered many more. In the second half, he had a highlight-reel 2-handed slam dunk.
Gus Hurlburt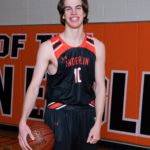 Gus Hurlburt 6'9" | PF Enderlin | 2022 State ND (2022) |6-8 F| Enderlin – 18 points, 1-2 FT's, 1 triple. He dominated on the offensive rebounds. Gus is an unselfish player. He passed the ball well tonight. I liked his high-low pass to his brother. He scored multiple baskets in the game because of how hard he runs the floor.
Alijah Dixson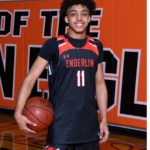 Alijah Dixson 5'11" | PG Enderlin | 2022 State ND (2022) |5-11 G| Enderlin – 10 points. He was great in transition tonight. Alijah showed off his mid-range pull-up jumper. I liked his hustle in transition that led to a blocked shot. He scored multiple baskets while playing fast in transition. He did a nice job taking care of the ball and controlling the tempo of the game. Alijah's on-ball defense was great.
Luke Martinson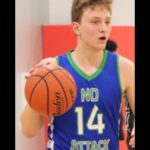 Luke Martinson 6'5" | PF Sargent County | 2024 State ND (2024) |6-4 F| Sargent County – 11 points and 3-4 FT's. He made quality post moves with his back to the basket. Luke looks to be a solid free-throw shooter. He is not afraid of contact. I liked that he was mixing it up and not backing down from the Enderlin big men.
Carson Bartholomay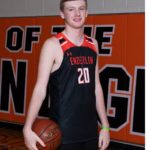 Carson Bartholomay 6'6" | PF Enderlin | 2023 State ND (2023) |6-6 F| Enderlin – 13 points, 1-2 FT's, 2 triples. He looked good posting up for easy baskets when he had a size mismatch. Carson showed off a nice 1-hand jump-shot from 10 feet. His 3-point shot looked as smooth as ever in today's game.
Cruz Hernandez Cruz Hernandez 5'11" | SG Hankinson | 2023 State ND (2023) |5-10 G| Hankinson – 6 points. He is a fine athlete that is fast and quick. He showed a few nice moves around the basket. Cruz has solid shooting form. I was impressed with his timely and quick cuts through the defense. I like the fact that he never gave up.
Jaiden Peraza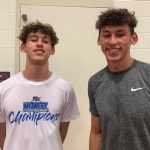 Jaiden Peraza 6'5" | SF Kindred | 2022 State ND (2022) |6-4 F| Kindred – 18 points, 4 rebounds. He missed 1 shot all night. Jaiden was doing his damage in the paint and around the cup. He is a strong physical player that moves well. He grabbed multiple O-boards. His length and physical ability make him an excellent defender.
Paul Olson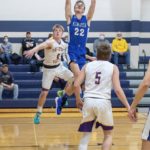 Paul Olson 6'3" | SF Kindred | 2022 State ND (2022) (6-4 G| Kindred – 18 points. He only missed one shot in the game. In the first half, it looked like Paul was auditioning for a dunk contest instead of playing a game. Paul had four dunks in the first half. He had two ridiculous transition lob-dunks. He had a breakaway 2-handed power dunk. His last dunk was the best one, as he literally dunked on the defender. Paul is a wildly gifted athlete and a fun player to watch.
Sam Kobbervig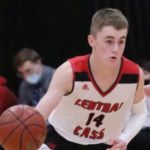 Sam Kobbervig 6'1" | SG Central Cass | 2023 State ND (2023) |6-1 G| Central Cass – 9 points, 1 triple. He had a nice driving basket to score the Squirrel's first basket of the game. Sam scored another early basket in transition. He showed hi nice outside shot with a made 3-pointer. Sam has an awesome spin-move. I was impressed with how well he attacks the basket with his left hand. His pull-up jumper looked great as well.
Cole Holzer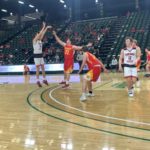 Cole Holzer 6'5" | PF Central Cass | 2024 State ND (2024) |6-5 F| Central Cass – 8 points 2-4 FT's, 2 triples. He has a great stroke from beyond the arc. For his size and youth, he moves extremely well. I like how he sees the floor and moves the ball. He is a long player that deflects passes and alters shots.