We're at the midway mark of the 2021 season, which is hard to believe seeing the season started only three weeks ago. With the season being condensed into a sprint, teams have had to adjust to get up to speed. Across the OK Conference, we've seen some teams struggle to find their grove, some teams have come out hot and stay hot, and others have started sluggish and are now finding their footing. Below are my latest power rankings for the OK Conference.
1. Grand Rapids Catholic Central (9-0), (↑ Previously 2nd)
The Cougars stay unbeaten and pick up a huge win over OK Gold rival South Christian on Saturday, defeating the Sailors 49-46, completing the season sweep. What impressed me most about the Cougar's big win was how they found a way to win. Catholic Central has been able to win games with its offense and now a gutsy, defense-inspired win with its defense. There's a lot to love about the backcourt tandem of Durral Brooks
Durral Brooks 6'2" | PG Grand Rapids Catholic Central | 2024 State #131 Nation MI and Kaden Brown
Kaden Brown 5'10" | PG Grand Rapids Catholic Central | 2023 State MI , and don't forget about one of the best players in the state in junior forward Jack Karasinski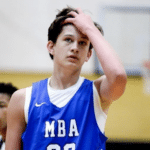 Jack Karasinski 6'5" | SF Grand Rapids Catholic Central | 2022 State MI .
2. Zeeland East (8-0), (↑ Previously 3rd)
The Chix continue to win led by the best defense in the area. Trip Riemersma Trip Riemersma 6'4" | SG Zeeland East | 2021 State MI , Brandon, and Nate Claerbaut Nate Claerbaut 6'10" | C Zeeland East | 2021 State MI 's length are going to give anyone they play problems and so far, no one has been able to find a way to consistently score against them. The Chix picked up one of the most impressive wins of the season in a 58-52 win over Muskegon this past weekend, which will go a long way in the Chix pursuit of the OK Green title. Up next, Zeeland East hosts Holland on Tuesday, and then travels to Muskegon on Thursday for a rematch with Reeths-Puffer.
3. Forest Hills Northern (8-1), (↑ Previously 6th)
The Huskies have been rolling after their 4th quarter collapse against Williamston on February 13th. Ever since that loss, Northern has won six games in a row by an average margin of victory of 22.5 points. Trinidad Chambliss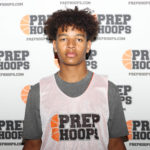 Trinidad Chambliss 6'2" | PG Forest Hills Northern | 2021 State MI and Ethan Erickson Ethan Erickson 6'1" | SG Forest Hills Northern | 2021 State MI have led the charge, continuing to show why they're the best backcourt in the area. With Kobe Bufkin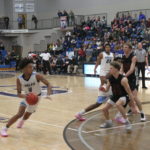 Kobe Bufkin 6'4" | SG Grand Rapids Christian | 2021 State #71 Nation MI sidelined for the foreseeable future with a wrist injury, Northern will be the favorite to claim the OK White title. Northern will face rival Forest Hills Central on Friday and a big test against Grandville on Saturday.
4. Grand Haven (6-1), (↑ Previously 7th)
Grand Haven is currently tied with Rockford for first place in the OK Red standings and would hold the tie-breaker due to the Bucs win over Rockford on the 19th. If not for an overtime loss to Grandville last week, the Bucs would have a stranglehold on the Red. Grand Haven is one of the area's most balanced teams and doesn't have one go-to guy that opposing defenses need to focus on, although Nic Stump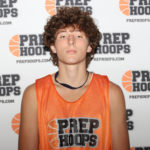 Nic Stump 6'5" | PF Grand Haven | 2022 State MI would probably be a good starting point. Grand Haven hosts Caledonia tomorrow and has a huge matchup on Friday with West Ottawa.
5. Rockford (8-1), (↓ Previously 4th)
The Rams have quietly gone about their business and continue to lead the standings in the gauntlet that is the OK Red. Sam Krist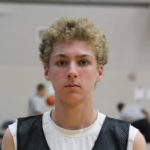 Sam Krist 6'5" | PF Rockford | 2021 State MI continues to give opposing defenses problems on a nightly basis and Charlie Deutsch
Charlie Deutsch 6'4" | SG Rockford | 2023 State MI has elevated his game, further increasing the Rams' ceiling. Up Next for Rockford is a couple of OK Red battles this week with Jenison and Grandville.
6. Grand Rapids Christian (7-2), (↓ Previously 1st)
Grand Rapids Christian has been reeling since its star athlete and McDonalds All-American Kobe Bufkin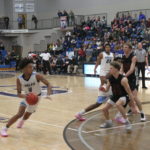 Kobe Bufkin 6'4" | SG Grand Rapids Christian | 2021 State #71 Nation MI suffered a broken wrist against Catholic Central on February 20th. Since then, Christian has dropped a game against Forest Hills Northern and bounced back in a way over Lowell. Sam Versteeg Sam Versteeg 5'9" | PG GR Christian | 2021 State MI and Donovan Brown-Boyd Donovan Brown-Boyd 6'3" | SF Grand Rapids Christian | 2021 State MI have become the focal point of the Eagles' offense and will have to continue to carry the weight for the foreseeable future. Christian faces Greenville next in an OK White matchup.
7. South Christian (7-2), (↑, Previously 9th)
The Sailors came close to knocking off Catholic Central once again, yet come away with a narrow loss for the second time this season. Seeing both of their losses this year came to the area's best team, it's safe to say that South Christian should continue to find success this season and make some noise come tournament time. An intriguing matchup with a solid Forest Hills Eastern team on Friday looms for South Christian. 
8. Muskegon (6-3), (↓, Previously 5th)
The Big Reds have picked up some tough losses to some very talented teams this season, but they have to feel confident with the future of the program, especially considering the season sophomore Jordan Briggs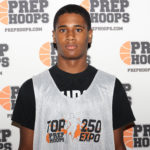 Jordan Briggs 6'0" | PG Muskegon | 2023 State MI is having. He continues to show that he's one of the area's best guards, regardless of class. Another primetime matchup is just around the corner, this time against Kalamazoo Central on Saturday, March 6th.
9. Godwin Heights (7-0), (↑, Previously 10th)
Godwin has taken care of business and has handled all hurdles it has faced this season. Sitting at 9-0 and atop the OK Silver, it doesn't appear that anyone will challenge the Wolverines for the conference crown. Sophomores Jakhary Towns Jakhary Towns 6'1" | SG Godwin Heights | 2023 State MI and Damarie Thompson Damarie Thompson 5'10" | PG Godwin Heights | 2023 State MI have been terrific this season, along with a suffocating defense that wreaks havoc and forces every team it faces into turnover issues. 
10. Unity Christian (7-2), (↑, Previously Unranked)
One of the most under-the-radar teams this season has been the Unity Christian Crusaders. Yet despite not making the headlines nor having a star-studded lineup, Unity Christian has been quietly dismantling their opponents and sit atop the OK Blue with a perfect 7-0 league record. They're playing some of the best basketball of any team in the area and should continue to rise the ranks as the season goes on. Up next for Unity is an OK Blue battle with Hamilton.