FIRST TEAM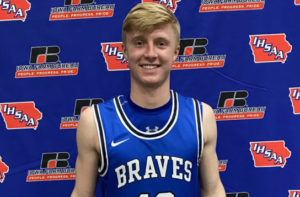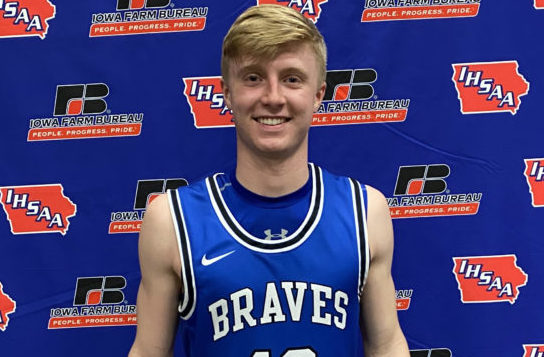 Player of the Year: Trey Shearer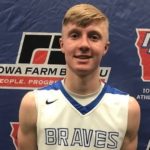 Trey Shearer 5'10" | PG Montezuma | 2021 State IA , Montezuma (2021)
Stats: 24.7 points, 5.4 rebounds, 4.6 assists, 2.5 steals, 56.7 FG%, 46.6 3P%, 76.3 FT%
The dynamic senior guard capped off a fantastic high school career by helping lead the Braves to their first state title since 1990. He scored 2,297 career points, which ranks 13th all-time in the state. He's headed to play his college ball at D2 Truman State.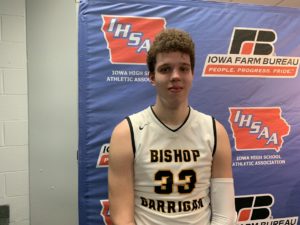 Angelo Winkel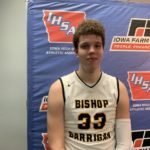 Angelo Winkel 6'9" | C Bishop Garrigan | 2021 State IA , Bishop Garrigan (2021)
Stats: 28.6 points, 13.8 rebounds, 2.3 assists, 3.6 blocks, 58.2 FG%
The 6-9 big man was fabulous this season on both ends of the floor, putting up absurd numbers and leading the Golden Bears to two games within a return trip to the state tournament, despite being a very inexperienced group. A mobile big with great touch around the rim, he'll head to play his college ball at Augustana (SD), who is making the transition to Division I.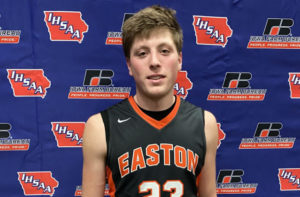 Kaleb Cornilsen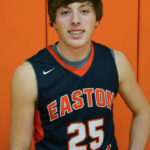 Kaleb Cornilsen 6'5" | PF Easton Valley | 2021 State IA , Easton Valley (2021)
Stats: 22.9 points, 10.0 rebounds, 5.0 steals, 55.9 FG%, 77.1 FT%
Cornilsen missed last year's substate final, an upset loss for the River Hawks, with an injury, but he helped lead them to the state tournament this year. An efficient and active big man with great hands, the 6-5 forward put up fantastic numbers each of the last two years.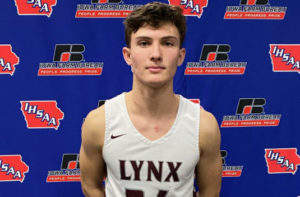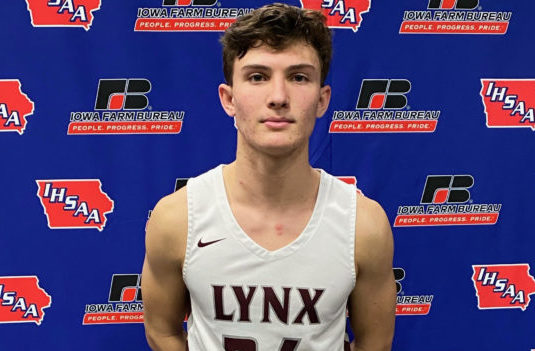 Austin Hilmer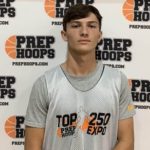 Austin Hilmer 5'11" | PG North Linn | 2022 State IA , North Linn (2022)
Stats: 17.3 points, 3.1 rebounds, 7.7 assists, 3.6 steals, 45.8 FG%, 73.9 FT%
The catalyst for 1A's highest-scoring offense and best scoring defense, Hilmer makes a major impact on both ends of the floor with his quickness, athleticism, and talent. He has excellent court vision and loves to get others involved, almost too much at times, passing up good looks of his own to get his teammates involved. The emotional leader for the Lynx, he'll join his older brother Jake at Upper Iowa in a few years.
Keaten Bonderson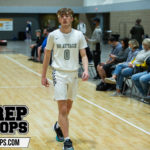 Keaten Bonderson 6'0" | PG Gehlen Catholic | 2023 State IA , Gehlen Catholic (2023)
Stats: 20.4 points, 5.2 rebounds, 3.0 assists, 1.7 steals, 58.8 FG%, 40.5 3P%, 74.7 FT%
Bonderson was named to the second team by the media (which puts eight players on each team) and is our biggest disagreement on the all-state teams. The athletic, 6-0 lead guard was sensational on both ends of the floor for a Jays team that was among the best in 1A this year and will be great again next season. His quickness, shooting, and athleticism make him nearly impossible to defend at this level.
SECOND TEAM
Alex Koppes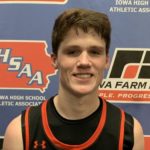 Alex Koppes 5'10" | PG Springville | 2021 State IA , Springville (2021)
Stats: 19.8 points, 5.4 rebounds, 4.5 assists, 4.6 steals, 54.6 FG%, 74.7 FT%
Koppes has helped lead a resurgence for the Springville program, helping lead them to the state tournament last year for the first time in 60 years. And he helped the Orioles stay among the top 5 in 1A for a majority of this season. His quickness created a lot of chaos on the defensive end of the floor, and he excels at turning that defense into quick and easy offense.
Dashawn Linnen Dashawn Linnen 6'3" | SG Lake Mills | 2021 State IA , Lake Mills (2021)
Stats: 18.4 points, 4.2 rebounds, 1.8 assists, 1.3 steals, 57.3 FG%, 38.4 3P%
Lake Mills lost a lot from last year's #1 seed at the state tournament, but Linnen helped lead the Bulldogs back to State with an undefeated record. The 6-3 wing is big, physical and efficient, and he has the ability to score from all three levels at a high clip.
Kayden Ames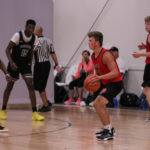 Kayden Ames 6'1" | SG West Fork | 2021 State IA , West Fork (2021)
Stats: 15.7 points, 4.0 rebounds, 2.1 assists, 1.4 steals, 49.0 FG%, 40.6 3P%
Few players in the state are capable of getting as hot as Ames, who is a threat to go 8-10 from behind the arc on any given night. The 6-0 shooter moves incredibly well off the ball and has a quick release that he uses to torch opposing teams.
Trey Baker Trey Baker 6'4" | SF Martensdale-St. Mary's | 2021 State IA , Martensdale-St. Marys (2021)
Stats: 13.3 points, 6.6 rebounds, 51.4 FG%
Baker didn't put up the eye-popping numbers that some of the other players on these all-state teams did, but he was the key piece for a balanced Blue Devils team that made it to the state tournament for the first two times in the school's history these last two seasons. A physical forward who can also stretch the floor, he'll head off to NAIA Graceland for his college ball. 
Blaise Porter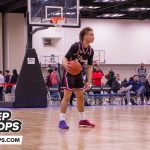 Blaise Porter 6'1" | PG New London | 2023 State #298 Nation IA , New London (2023)
Stats: 22.4 points, 4.2 rebounds, 4.9 assists, 2.3 steals, 52.5 FG%, 41.1 3P%, 74.5 FT%
A lightning-quick 6-0 lead guard, Porter already holds a Division I offer from Bryant. He's super talented, improved his perimeter stroke in a major way this year, and has the quickness and ball-handling to be an impossible player to defend at this level. He'll be the best player in 1A basketball next year, and one of the best in the state.
THIRD TEAM
Eddie Burgess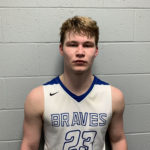 Eddie Burgess 6'4" | PF Montezuma | 2022 State IA , Montezuma (2022)
Stats: 13.2 points, 12.7 rebounds, 2.7 assists, 1.8 steals, 1.7 blocks, 70.3 FG%
Maddox Griffin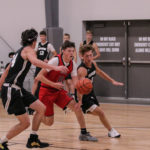 Maddox Griffin 6'3" | PG Wapello | 2022 State IA , Wapello (2021)
Stats: 17.6 points, 7.1 rebounds, 8.2 assists, 4.2 steals, 56.4 FG%, 72.4 FT%
Cole Watts Cole Watts 5'10" | SG Montezuma | 2021 State IA , Montezuma (2021)
Stats: 18.5 points, 6.0 rebounds, 3.6 assists, 2.1 steals, 57.3 FG%, 49.0 3P%, 75.0 FT%
Manny Hammonds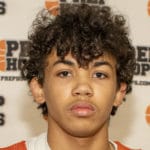 Manny Hammonds 6'2" | SG Grand View Christian | 2022 State IA , Grand View Christian (2022)
Stats: 19.3 points, 3.8 rebounds, 3.0 assists, 1.2 steals, 38.9 3P%
Daniel Tobiloba Daniel Tobiloba 7'0" | C Grand View Christian | 2023 State IA , Grand View Christian (2023)
Stats: 10.0 points, 15.9 rebounds, 4.9 blocks, 72.3 FG%
FOURTH TEAM
Carson Michels Carson Michels 6'0" | CG Marquette Catholic | 2021 State IA , Marquette Catholic (2021)
Tate Haughenbury, North Linn (2023)
Taurice Grant Taurice Grant 5'11" | PG Meskwaki Settlement School | 2021 State IA , Meskwaki Settlement (2021)
Caleb Bacon Caleb Bacon 6'4" | PF Lake Mills | 2021 State IA , Lake Mills (2021)
William Kiburis, Gladbrook-Reinbeck (2023)
Honorable mentions: Leyton Nelson Leyton Nelson 6'4" | PF Tri-Center | 2021 State IA , Tri-Center (2021); Gunner Meyer
Gunner Meyer 6'5" | SF Wapsie Valley | 2022 State IA , Wapsie Valley (2022); Jacob Herold, South Winneshiek (2021); Parker Rochford Parker Rochford 6'0" | SG Edgewood-Colesburg | 2021 State IA , Edgewood-Colesburg (2021); Brody Ward, Iowa Valley (2022); Dallas Kluender, Woodbury Central (2022); Carson Brown Carson Brown 6'0" | SF Moravia | 2021 State IA , Moravia (2021); Carter DeRocher Carter DeRocher 6'2" | SF Gehlen Catholic | 2022 State IA , Gehlen Catholic (2022); Wiley Sherburne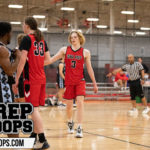 Wiley Sherburne 6'4" | PF Janesville | 2022 State IA , Janesville (2022); Jaixen Frost, Mount Ayr (2023); Kade Benjamin
Kade Benjamin 6'6" | PF New London | 2023 State IA , New London (2023); Hunter Caves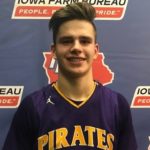 Hunter Caves 6'0" | PG Alburnett | 2021 State IA , Alburnett (2021); Douglas Taylor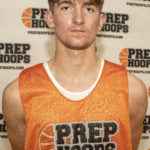 Douglas Taylor 6'5" | SF Newman Catholic | 2023 State IA , Newman Catholic (2023)