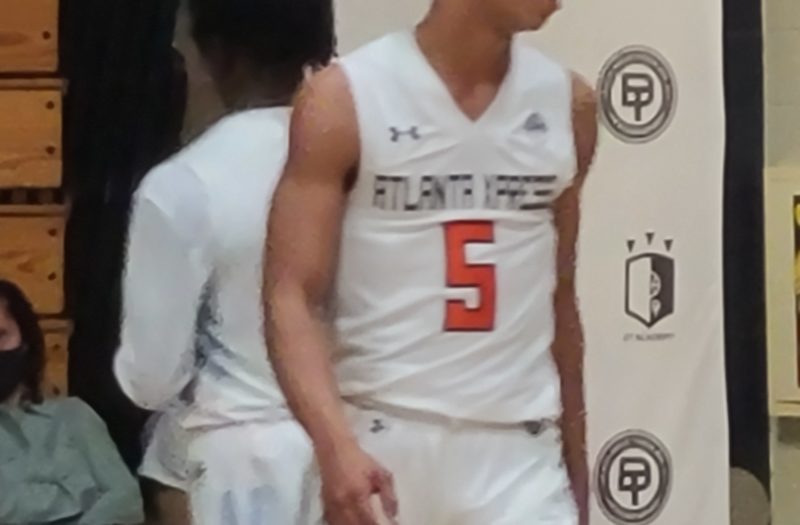 Posted On: 03/31/21 3:00 PM
Let's wrap up the month of March with a look at the top-performing guards from early travel season showcase and tournament action around the ATL-Metro:
Justin Mitchell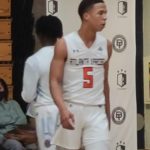 Justin Mitchell 6'4" | SG Berkmar | 2024 State GA , 6-3, SG, Atlanta Xpress Elite 2024 (Norcross), pictured above
At the DT Invitational – In a tremendous match-up with TSF 2024, played the best all-around ball I've seen from him since first being impressed at SSA several times last summer, such a physical specimen already he can flat out blow-by you or straight up power through you, both sometimes get him in trouble, but when he harnesses the contagious enthusiasm and love for the game he has out there he can be a dominant force particularly on the offensive end.
Mansir Williamson Mansir Williamson 6'2" | PG Centennial | 2023 State GA , 6-2, CG, Atlanta Xpress Black 2023 (Centennial)
At the DT Invitational – Picking up right where left off to end a tremendous regular season for the Knights, a man among boys in spots, went out and took the game to the opposition in getting whatever he wanted from the perimeter or powering his way to the hole, with this kind of confidence he's set to be among the must-see breakout starts of the summer.
Charles Gauthier, 6-2, PG, Quiet Storm (2022, Marietta)
At Georgia Cup I – Big fan of the mix Quiet Storm has put together there and the engine is Gauthier, had a solid season for the Blue Devils and is a must-see lead guard prospect at around 6-2, composed with the ball he has superb vision and doesn't mind at all assuming a pass-first mentality, but is a more than capable scorer with a smooth jump shot that covers past the arc, another Storm player poised for a breakout summer.
Dexter Holloman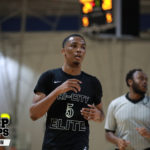 Dexter Holloman 6'3" | SF Chattahoochee County | 2023 State GA DEXTERHOLLOMAN6'3″ | SFChattahoochee County | 2023#115STATEGA, 6-3, SG, Tri-City Elite (2023, Chattahoochee County)
At Georgia Cup I – Another impressive athlete this one coming at you from the perimeter with a fury and fluidness that impressed quickly, can also get off the floor with amazing lift in a hurry at 6-3, attacks the rim as well as any wing I saw since November, plenty of shooting in the arsenal and another south GA talent to track for this top notch Tri-City program.
Chancelor Johnson Chancelor Johnson 6'4" | SG Tri-Cities | 2021 State GA CHANCELORJOHNSON6'4″ | SGTri-Cities | 2021#148STATEGA, 6-4, PG, Tri-Cities, unsigned 2021
At the SEBA Showcase – A big, physical PG prospect who looks the part with a college-ready body, poised handle and has his head on a swivel, super confident pulling it from 3-land, reminded me a lot of a Trajan Langdon-type with his sweet-looking stroke and build which means he can slide to the 2 as well, another Bulldog from a roster filled with sleeper next-level caliber players.
Kervens Yacinthe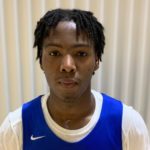 Kervens Yacinthe 6'6" | SF Paulding County | 2021 State GA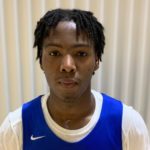 KERVENSYACINTHE6'6″ | SFPaulding County | 2021#66STATEGA, 6-6, CG, Paulding County, unsigned 2021
At the SEBA Showcase – Another camp another outstanding performance for the big 2021, can just flat out score on you from all spots, guard him close and he goes by you, lay off him for fear of the blow-by and he buries you from 3-land, rebounds like a forward and can take it coast to coast or lead a pretty break with a dump-off for a teammate, holds multiple offers but it remains a mystery he lasted unsigned on the scene this long.
Chris Lanns, 6-4, SG, Collins Hill, unsigned 2021
At the SEBA Showcase – Can play for me any day with his freakish athletic ability and great moxie and confidence, add to that great size and a good frame at 6-4 and this is truly one of the absolute available steals out there in the ATL-Metro right now, plays above the rim both in his driver-it game as well as an active player on the glass, can step out and hurt you from the 3-point line.
Devin Pope, 6-2, CG, Cross Creek, unsigned 2021
At the SEBA Showcase – Riding high I'm sure off their riveting 3A state title win over vaunted Sandy Creek, was right there with Yacinthe and Lanns for most impressive overall performs, there wasn't much not to like, a gorgeous-looking stroke from all levels, an easy smoothness about how he handles the rock, got the basket with plenty of strength and can play either guard spot with equal effectiveness, really wasn't anyone there that could stop him.