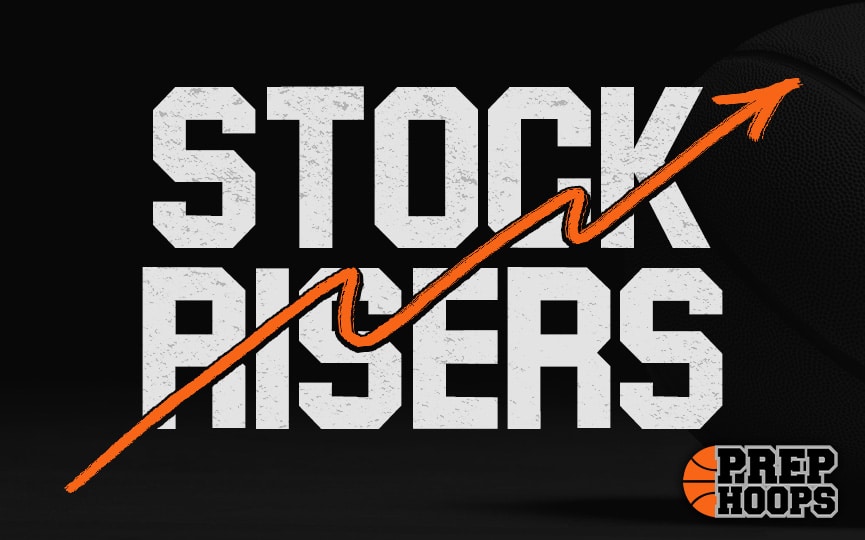 Posted On: 03/6/21 11:25 AM
The updated 2021 rankings are finally here as they coincide with the end of the season. Some players saw their stocks shoot through the roof as they put together big seasons. Here are the top stock-risers from the 2021 rankings update.
Zakai Zeigler Zakai Zeigler 5'9" | PG Montclair Immaculate | 2022 NY , 5'9 PG Montclair Immaculate
Zeigler was nearly unstoppable this year as opponents could not keep him out of the lane. The 5'9 guard was a blur in the open floor as he used his speed and tight handle to blow by his defender. Zeigler is a crafty finisher around the rim and lethal from distance if you give him space. He plays with his head up and has some of the quickest hands in the Garden State. Zeigler is a dynamic point guard prospect who should find himself among the All-State selections this season.
Tyrell Moore Tyrell Moore 6'7" | SG Olympus Prep | 2021 State NJ , 6'7 SG Olympus Prep
No player saw his stock rise more than Moore as he skyrocketed up the rankings. The 6'7 wing has a good handle and can finish in a variety of ways around the basket. Moore also has a nice release on his jumper and uses his size to get his shot off over smaller defenders. His length allows him to defend multiple positions and he is a strong rebounder. Moore's combination of length and skill makes him an intriguing wing prospect to watch out for.
Danny Lans Danny Lans 6'0" | CG St. Joseph (Montvale) | 2022 PA , 6'0 CG St. Joseph(Mont.)
The Green Knights needed someone to emerge on the perimeter and Lans has done just that. The athletic 6'0 guard can finish above the rim, but is also capable of finishing in a variety of ways around the basket. Lans has a good handle and is capable of running the offense. He has quick feet on the defensive end and is a strong rebounder for a guard. Lans was selected as a McDonald's All-American nominee this year as he is just beginning to write his basketball story.
Kareem Ewell Kareem Ewell 6'6" | SF Olympus Prep | 2022 State NJ , 6'7 SF Patrick School
The Celtics are loaded with talent, but Ewell has still been able to produce when it matters most. The Delaware native had the go-ahead basket at Roselle Catholic and knocked down a pair of free throws to seal the win over Hun. Ewell is a good finisher around the basket and can knock down open jumpers from the perimeter. He has the size to defend multiple positions on the floor and is a good rebounder. Ewell picked up an offer from East Carolina in late October, but don't be surprised if more schools enter the mix.
David Gordon David Gordon 6'10" | PF Olympus Prep | 2021 State NJ , 6'10 PF Olympus Prep
Gordon has had a strong season for Olympus Prep as he has established himself as one of the top available stretch fours in the Garden State. The 6'10 big man has the range to step outside and knock down a perimeter jumper. Gordon can also put the ball on the floor and draw contact on his way to the bucket. His most underrated skillset may be his passing as he is capable of passing out of double teams to hit the open man. Gordon is a talented forward prospect who is just starting to scratch the surface of his potential.
Other Prospects to Watch:
Aidan Kehoe Aidan Kehoe 6'10" | PF Canterbury | 2022 State , 6'10 PF Pascack Hills
Ethan McEachern Ethan McEachern 6'1" | PG Blair Academy | 2021 State NJ , 6'0 PG Blair Academy
Jordan Derkack Jordan Derkack 6'3" | SG Colonia | 2022 OH , 6'3 SG Colonia
Stefano Faloppa Stefano Faloppa 6'8" | SF Holy Cross Prep | 2022 OH , 6'8 SF Holy Cross Prep
Brandon Raba Brandon Raba 6'2" | CG Nottingham | 2021 State NJ , 6'2 CG Nottingham