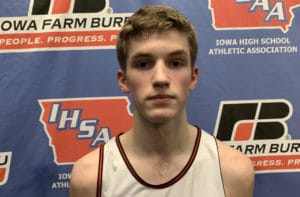 Landon Wolf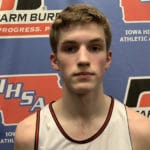 Landon Wolf 6'5" | CG Cedar Falls | 2021 State IA (Cedar Falls, 2021)
The future UNI Panther wing battled some first-half foul trouble but still put up a productive 18 points on 7-15 shooting (4-10 3P). The 6-4 wing is a knockdown shooter both off the dribble and the catch, and he moves really well off the ball to find space in the defense for him to get his shot off. He's long and can create all sorts of issues on the defensive end. He put a bow on the Tigers blowout win over Liberty with an explosive drive and dunk in the fourth quarter, showing off some of his athleticism and quickness. He'll make an immediate impact with the Panthers with his ability to shoot the basketball at a high-level.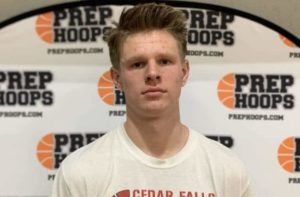 Carter Janssen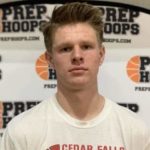 Carter Janssen 6'5" | SF Cedar Falls | 2021 State IA (Cedar Falls, 2021)
I've always been a fan of Janssen, and while he gets overshadowed by Wolf, Campbell, and Courbat, the future Upper Iowa wing is a very talented player in his own right. A 6-6, playmaking wing, he handles the ball really well and is a very talented passer. He also showed an improved, smoother release on his jumper. He's got a great feel for the game, plays with good pace, gets others involved, and has the size and length to be an impact defender. He finished with 7 points and 4 assists.
Ethan O'Donnell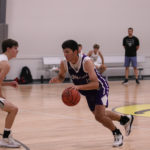 Ethan O'Donnell 6'4" | SF Liberty | 2021 State IA (Liberty, 2021)
A 6-5 wing, O'Donnell is active on both ends of the floor. He moves really well off the ball, finding open spaces in the defense, and is a good passer who sees the floor well. He particularly thrived in their game against Cedar Falls playing in the high post and finding open teammates. He showed good form on a catch-and-shoot 3 as well, keeping his elbow in nice and tight and snapping his follow-through. He's a solid all-around player who isn't going to blow you away with anything he does, but he'll do a little bit of everything for winning teams. He finished with 8 points, 5 rebounds and 2 assists.
Kelby Telander Kelby Telander 6'5" | SF Iowa City Liberty | 2021 State IA (Liberty, 2021)
Telander is headed to Iowa to play football, but he's a solid contributor on the hardwood as well for the Lightning. He's a good athlete who showed impressive footwork in a few of his drives, including a nice step-through move to get a layup. He's a solid 3-point shooter and he contributes on the glass, finishing with 12 points and 5 rebounds.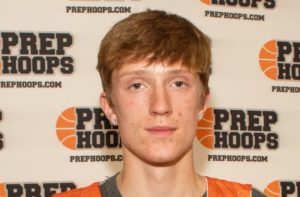 Dallas Bear
Dallas Bear 6'8" | SF Cedar Falls | 2023 State #276 Nation IA (Cedar Falls, 2023)
Bear, a 6-8 sophomore, picked up a Division I offer from Bryant before playing in a varsity game. A long, sharpshooting wing, he's coming off the bench right now for a supremely talented Tigers team, but will pair with Trey Campbell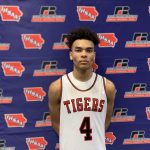 Trey Campbell 6'4" | PG Cedar Falls | 2022 State IA to be the top players for this group next year. He needs to add a lot of strength to his frame still, but he impressed me with his activity on the defensive end in the Tigers blowout win over Liberty. He was active on that end of the floor, using his length effectively. He's a good shooter with a quick release who moves well off the ball, and as he continues to refine his ball-handling and add strength, he'll become a scoring machine.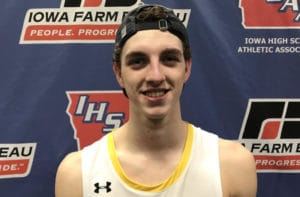 Tanner Te Slaa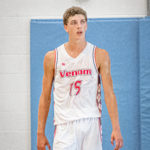 Tanner Te Slaa 6'5" | SF Boyden-Hull | 2022 State IA (Boyden-Hull, 2022)
The 6-4 junior has established himself as one of the best players in Iowa's 2022 class, with his ability to impact the game in a multitude of ways. He finished with 19 points (8-14 FG), 8 rebounds, and 5 assists. He struggled with turnovers in the win over Sioux Center, but he looks like a more confident ball-handler than he was last year, and I love the fact that he doesn't force anything. Everything he gets comes within the flow of the game. His first shot attempt didn't come until the first possession of the second quarter, as he was busy getting others involved and into the flow of the game before he got himself going. He's got good length and beautiful form on his jumper, and he keeps getting stronger, as his shoulders are noticeably bigger now. 
Charles Robinson Charles Robinson 6'2" | SF Decorah | 2021 State IA (Decorah, 2021)
Robinson is a 6-2 wing who can score inside and out. He showed good patience and footwork when he posted up smaller defenders on the block, and he's a real hustle player who loves to dive on the floor for loose balls, gaining critical extra possessions for his team. He can do a little bit of everything on the floor, finishing with 17 points, 4 rebounds and 5 assists in the Vikings win over Denver.