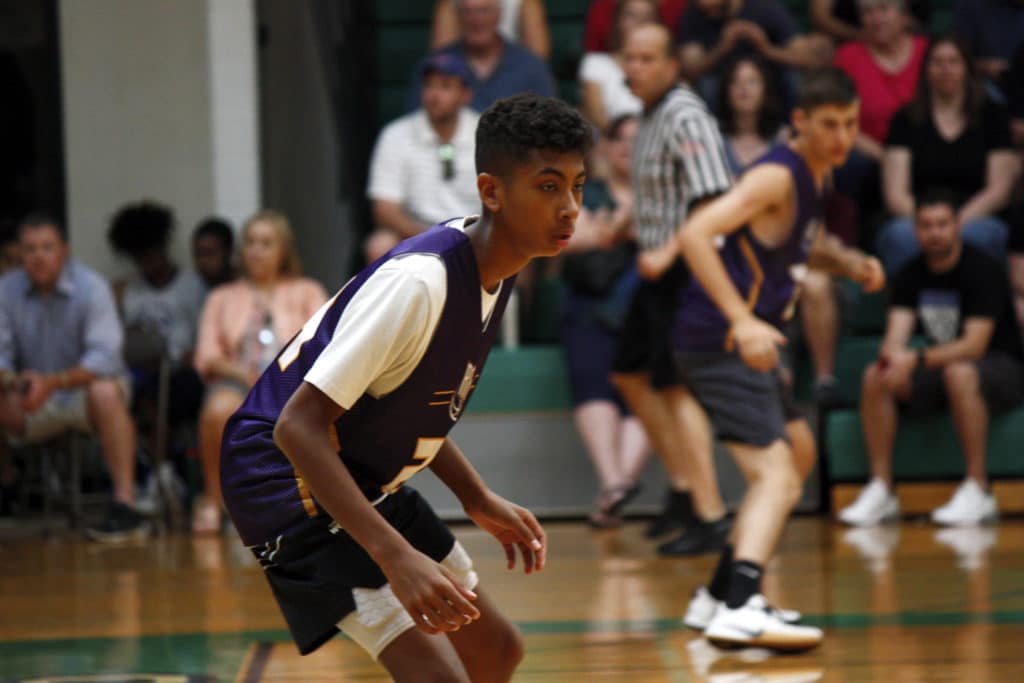 Posted On: 02/11/21 3:00 PM
Which players in the 2023 and 2024 classes left made an impact in the games we evaluated during opening week?  Here they are in Week 1: Underclassmen Evals!
Kaden Feagin (ALAH – 2023)
Feagin jumped off the floor in their first game of the season against Tuscola.  Probably more of a football prospect than hoops, but still intriguing none the less with his size at around 6'4" with athletic pop.  Got in foul trouble early on playing overly physical.  Finished well in the paint, flashed a 15 foot jumper, and hammered home a dunk late.  Good area rebounder.  Finished with 15 points in the game.
Brett Meidel (Bismarck-Henning/Rossville-Alvin – 2023)
Meidel is a sophomore guard that is a crisp passer who moves without the ball to get open on back cuts or for threes.  He looked to be a capable shooter and had some grit to his game.  Monitor down the line.  He had 15 points in a loss.
George Bellevue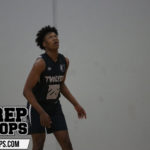 George Bellevue 6'5" | PF Lincoln Way East | 2023 State IL (Lincoln Way East – 2023)
We were intrigued with Bellevue ever since July when he first burst on our radar.  High-motor power forward that brings energy on the boards snatching them at their highest point in traffic.  Good athlete that had a couple explosive plays including an and-1.  His biggest value right now is on the boards, but has offensive upside in there as well!
Khalil Ross Khalil Ross 6'6" | SF Lincoln Way East | 2023 State IL (Lincoln Way East – 2023)
Ross is the more highly touted of the two LWE standout juniors.  He struggled against LWC finishing at the hoop.  Thin and angular frame that he will need to add strength going forward.  Hit a three late and snuck in for several rebounds finishing with 7 points.
Lathan Sommerville (Peoria Notre Dame – 2024)
Impressive outing from the freshman big man.  Sommerville stands at 6'8" with broad shoulders and a strong frame.  Comes off the bench for PND, but is very impactful.  He mauls on the offensive glass recording a number of put backs.  Very good area rebounder that snatches them in traffic with strong hands.  On the block he displays sound footwork on spin moves, seals, and overall has a nice touch.  Moves pretty well for his size running the floor hard.  Defensively he is a wall down low and tough to move off his spot.  Finished with 13 points.  No doubt early D1 prospect.
Cooper Koch (Peoria Notre Dame – 2024)
Koch is a freshman post that stands at 6'7" with a long and athletic build.  He impressed us with his mobility, length, and skill.  Liked how well he chased down rebounds outside of his area.  Offensively he has soft hands and is efficient.  Scored on a post/post cut and a seal.  Run the floor with the fluidity of a guard.  Like the combination of upside and early production here.  Went for 6 points and quite a few rebounds.
Asa Thomas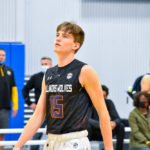 Asa Thomas 6'6" | SG Lake Forest | 2023 State #114 Nation IL (Lake Forest – 2023)
The #5 2023 prospect came up with some key buckets in his teams win over Mundelein.  Thomas scored 15 points in the victory.  Plus size at the two guard spot and has a knack for making off balance layups.  Scored on a cut, running bank in layup, and another flying finish for and-1.  Also drilled a three behind a ball screen.  Love his potential as a shooter.
Cameron Christie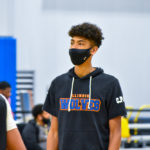 Cameron Christie 6'4" | SG Rolling Meadows | 2023 State #116 Nation IL (Rolling Meadows – 2023)
Christie had a nice outing against Buffalo Grove.  The state's #6 2023 prospect has a feathery jumper that he can knock down from all over.  Loves to operate in the mid-range where he sets his defenders up creating space to get it off.  Pretty efficient with his shots knocking in a plethora of them from 15 feet and stretching to beyond the arc for two triples.  Also had an impact defensively at the top of the defense with his length.  One play he got a steal and took it the other way.  He had 14 points.