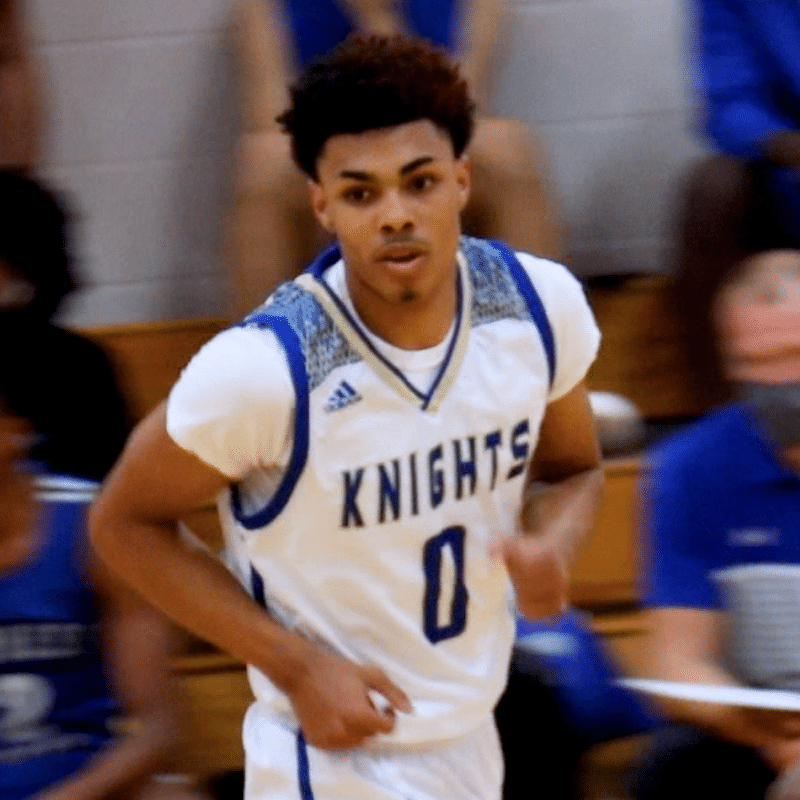 Posted On: 02/22/21 6:08 PM
Year after year, Fort Bend ISD, located in the Greater Houston area, boasts multiple teams that have chances to advance far in the playoffs and ultimately make it to the state tournament. This season is no different and in the first weekend of playoff basketball for the state of Texas, three Fort Bend schools dominated. In the first matchup of the day, Fort Bend Hightower demolished Houston Waltrip 100-43. In the second matchup, Fort Bend Travis was too much to handle for Katy Seven Lakes- defeating them 76-46. In the final boys' matchup at Buddy Hopson Fieldhouse in Missouri City, the deep & talented Fort Bend Elkins Knights were able to pull away from Mayde Creek after a slow start, winning the game 66-37. In this article, I highlight the top five performers from this past weekend.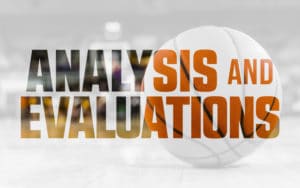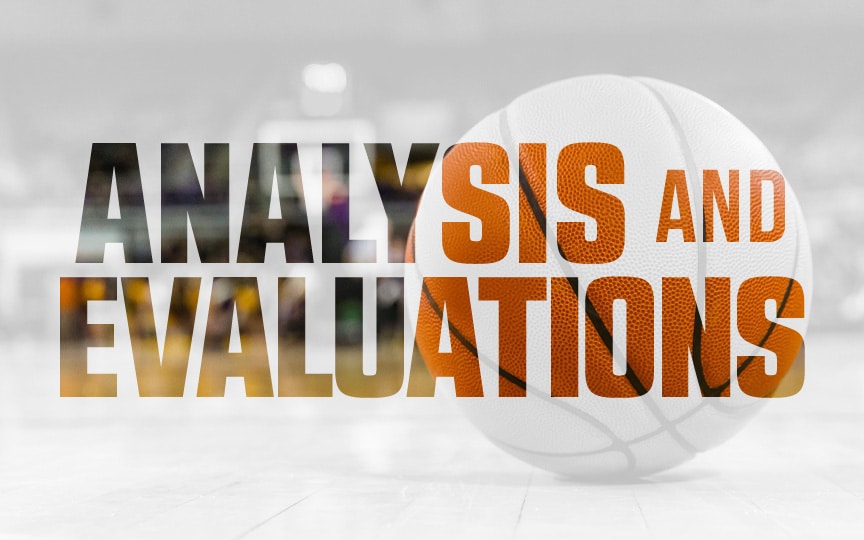 #12 Bryce Griggs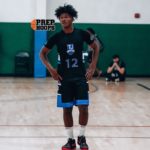 Bryce Griggs 6'3" | PG Overtime Elite | 2022 TX  (Fort Bend Hightower-2022) Bryce Griggs is a familiar name to those versed in Texas high school basketball. The talented guard once again dominated the competition getting any shot he wanted, whenever he wanted it. He has a bulky build, especially for a high school guard, and used it to keep defenders in jail while displaying his smooth handle to get to his pull-up mid-range jumper. At the end of the first half, Griggs showed that his patented step-back jumper is as automatic as ever, going double-between the legs into a pound dribble step-back three that looked as professional as a high school step-back can look. While a known three-level scorer, Griggs was also able to get his teammates involved, displaying his all-around guard skills, finding open shooters & throwing accurate lob passes from well beyond the arc. While Griggs showed why he's still widely considered the best prep player in Houston regardless of class, his teammate big was the one who stole the show for the Hurricanes this past Saturday.
#11 Tyrone Baker Tyrone Baker 6'10" | PF Fort Bend Hightower | 2021 State TX (Fort Bend Hightower- 2021) Tyrone Baker Tyrone Baker 6'10" | PF Fort Bend Hightower | 2021 State TX transferred to Fort Bend Hightower before the season to give Griggs a talented, bouncy big man to play with and Baker has lived up to the bill. The 6'10 Georgia commit was active early & often for the Hurricanes, blocking shots and catching lobs. Baker's length, athleticism, and motor make him hard to deal with on both ends of the floor on the high school level. He displayed a smooth, mature shot release from the free-throw line indicating he has some shooting potential to be unlocked as well once he enters the collegiate ranks. Baker is aggressive and his constant wanting to put smaller players in the rim makes him fun to watch. However, the most impressive play of the game and of the three games I watched was when Baker caught the ball in transition and not only dunked it but put his elbow in the rim à la Vince Carter's "honey dip" dunk in the 2000 NBA dunk contest. The play was a glimpse into the raw potential that Baker has and if he can develop a reliable jumper to go along with his length, athleticism, and motor, he has a chance to be a really good player once he receives college coaching & strength training.
#5 Cameron Oliver (Fort Bend Travis- 2021) Cameron Oliver is a 6'1, three-star cornerback signed to play football at UNLV but he's an impressive basketball player as well.  On the court, Oliver is a long guard that plays at the top of Travis matchup zone and routinely made life difficult for Seven Lakes guards. He was also able to rotate to shooters and even blocked a couple of jumpers. Oliver got his hands on a bunch of balls, both on and off, and got out in transition for easy buckets. In the first quarter, he displayed impressive footwork on a jump-stop pivot to avoid a charge in the paint and created a short, turnaround jumper. Oliver also showed the ability to hurt the defense when left open from deep, hitting three fluid threes, finishing the game with 20 points. Overall, Oliver is a good athlete that plays hard and his team follows. He's an unselfish player and gives Fort Bend Travis a legit shot to compete deep into the playoffs.
#32 Josh Fanuiel (Fort Bend Elkins- 2021) Fanuiel is not as well-known as the other players on this list, but he can play with the best of them. Possessing a stocky, 6'4 frame, the reigning 20-6A Offensive MVP is a matchup problem in the high school ranks due to his ability to shoot, handle, and post-up. In the half-court, Fanuiel likes to operate in the mid-post where he can bully weaker players, shoot turnaround jumpers over shorter ones, or face-up & take slower players off the dribble. He's a knockdown shooter off the catch with the ability to also create jumpers off the dribble. In the second quarter, he showed off impressive footwork and ball-handling ability with an isolation crossover dribble into a smooth step-back three that one might not expect from a player of his build. Fanuiel's also a problem in transition as he's a consistent finisher with an array of euro steps with a soft touch & a big body that draws fouls and plays above the rim a bit. Even at just 6'4, Fanuiel is one of the taller players on Elkins squad and plays to it by routinely doing the dirty work inside alongside teammates, Jackson Fields Jackson Fields 6'7" | SF Fort Bend Elkins | 2022 State TX (#24) and Ryan Jones (#22), competing for rebounds & loose balls on both ends. Overall, Fanuiel is a tough player with a lot of skill to go with it. He deserves looks from coaches on all levels of college basketball.
#0 Chris Johnson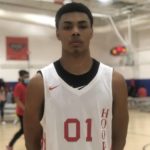 Chris Johnson 6'6" | CG Fort Bend Elkins | 2023 State #51 Nation TX (Fort Bend Elkins- 2023) The player that played the best from the three games I watched Saturday is also the youngest player on this list. Chris Johnson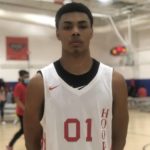 Chris Johnson 6'6" | CG Fort Bend Elkins | 2023 State #51 Nation TX  is only a sophomore but he's quickly making a name for himself, not only in Texas but around the country. The 6'4 Johnson likes to leak out in transition and use his superior athleticism to finish above the rim as he did three times in the game against Mayde Creek, the final one being a reverse slam in the fourth quarter that brought the crowd to its feet. In the half-court, Johnson has a smooth jumper from three that's sure to translate to the next level and gives him the ability to play with other elite scorers.  He's improved as a ball-handler and creator, routinely finding open teammates for lay-ins and showing glimpses of shot creation for himself. His mid-range pull-ups are still developing, but he showed glimpses with an impressive step-back pull-up driving baseline in the first half. Johnson was also impressive on the defensive end, being active and making life difficult for ball handlers. Johnson has intriguing two-way potential on the next level as a two-guard if he can continue to develop his ball-handling and vision while having the ability to guard 1 through 3 & defend passing lanes on the defensive end. Johnson has already picked up offers from multiple colleges and should pick up more over the next couple of years. He projects as a player that can contribute immediately upon stepping onto a college campus in 2023 and should be a productive player for years to come.