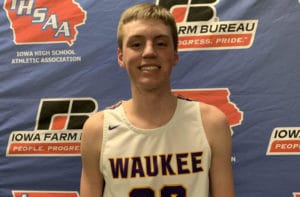 4A #2 Waukee (10-1) at Bellevue West (NE)
Waukee was looking for a game for tonight, and they scheduled a dandy against a powerhouse from Nebraska. Bellevue West features future Wisconsin guard Chucky Hepburn, a lightning-quick, playmaking guard who impacts the game on both ends of the floor. Frankie Fidler is a 6-6 power forward who has committed to play at Omaha, and 6-7 junior William Kyle gives the Thunderbirds some additional size in the paint. The Warriors will have their hands full with Hepburn.
Waukee is led by their dynamic senior wing combination of Tucker DeVries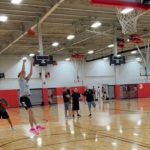 Tucker DeVries 6'7" | SF Waukee | 2021 State #123 Nation IA (19.8, 7.2 rebounds, 6.0 assists, 3.8 steals) and Payton Sandfort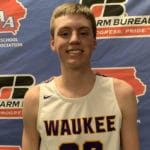 Payton Sandfort 6'7" | SF Waukee | 2021 State #138 Nation IA (18.6, 8.2 rebounds, 53.2 3P%). DeVries will play at Drake, and Sandfort is headed to Iowa next year. The pair is each 6-7 with buttery strokes from the arc and fantastic basketball IQs. Throw in super-sophomores Omaha Biliew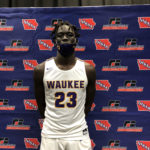 Omaha Biliew 6'8" | SF Link Academy | 2023 #14 Nation FL (11.4, 7.9 rebounds, 3.2 blocks) and Pryce Sandfort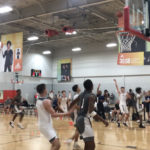 Pryce Sandfort 6'7" | SF Waukee Northwest | 2023 State #123 Nation IA (7.2, 55.9 3P%), senior guard Malik Allen Malik Allen 5'11" | PG Des Moines North | 2021 State IA (8.0), and senior wing Wyatt Heston Wyatt Heston 6'7" | SF Waukee | 2021 State IA (4.0, 44.0 3P%) and Waukee has a slew of talent. The Warriors are the more talented team here, and this should be a great test for them as they get ready for postseason play.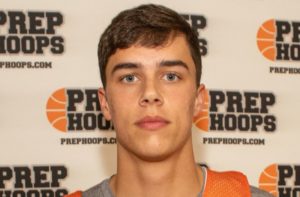 3A #3 Monticello (16-0) at Camanche (14-5)
Monticello won the first meeting between these teams, 62-58 in overtime, back on January 12. That was the tightest game the Panthers have played this season, and anticipate more of the same from a very athletic Indians team that will make things difficult for Monticello. These two teams have been the class of the RVC North for the last few years and are developing a strong rivalry. Monti is led by senior combo forward Justin Recker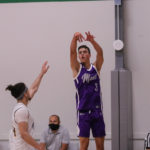 Justin Recker 6'5" | PF Monticello | 2021 State IA (15.3, 6.7 rebounds), a versatile forward who can score inside and out. Sophomore lead guard Tate Petersen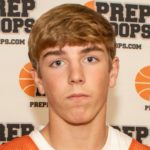 Tate Petersen 6'1" | PG Monticello | 2023 State IA (12.6, 41.0 3P%) has been really good from behind the arc and protecting the basketball, and the Panthers have been great as a team sharing the ball, dishing out over 22 assists a game against just 9.2 turnovers. If Petersen and Luke Lambert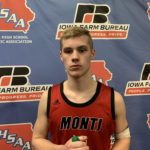 Luke Lambert 6'3" | PG Monticello | 2021 State IA (10.6, 5.1 assists) can protect the ball against the quick, athletic Camanche guards, they should be able to score.
Camanche is led by senior guard Jordan Lawrence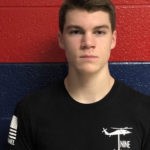 Jordan Lawrence 5'10" | PG Camanche | 2021 State IA (15.2, 46.1 3P%), a fantastic on-ball defender who is providing all sorts of highlights on both ends of the floor for the Indians. Do-it-all junior forward Zach Erwin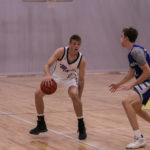 Zach Erwin 6'4" | SF Camanche | 2022 State IA (14.1, 4.9 rebounds, 3.3 assists) stuffs the stat sheet and can make a major impact with his versatility on the defensive end, while senior forward Zayne Feller Zayne Feller 6'7" | PF Camanche | 2021 State IA (11.0, 7.6 rebounds, 63.3 FG%) has been hyper-efficient. This group is deep, talented, and athletic, and they'll make life tough tonight for Monti.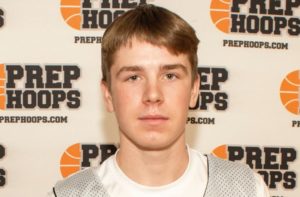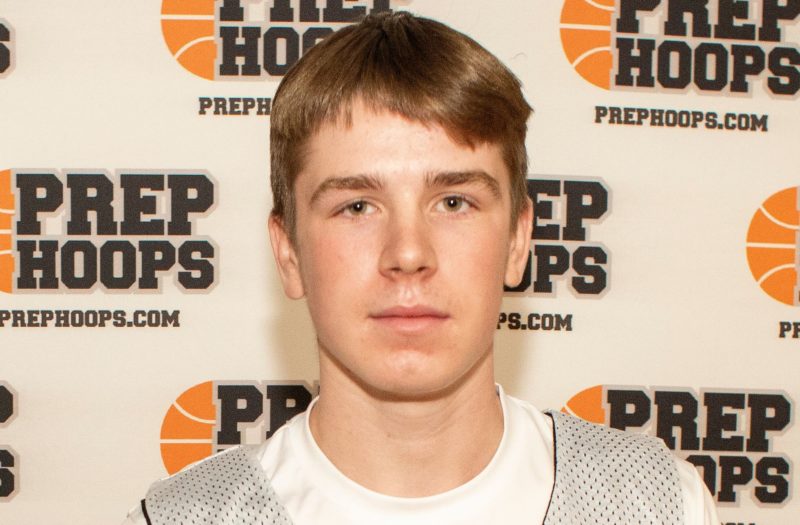 2A #3 Dike-New Hartford (16-2) at 2A #5 Denver (16-3)
Dike-New Hartford currently sits at 13-2 in the NICL East, a full-game lead over Denver, who is 11-2 in league play. The Wolverines won the first meeting this year, 87-85, and if they can take this one as well, they will pretty much wrap up the NICL East division. Expect another very entertaining game, as these teams rank 1st (Denver, 78.8 points a game) and 3rd (Dike-New Hartford, 71.6) in scoring in 2A. Dike-New Hartford lost leading scorer Dane Fuller Dane Fuller 5'10" | CG Dike-New Hartford | 2021 State IA to an injury about a month ago, but they haven't missed a beat, with their quartet of talented guards all stepping up. Landen Sullivan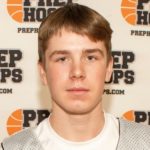 Landen Sullivan 5'10" | SG Dike-New Hartford | 2021 State IA (16.6) is the leading scorer, but AJ Wegener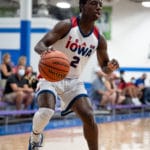 AJ Wegener 5'10" | PG Dike-New Hartford | 2021 State IA (13.6), Zak Wauters Zak Wauters 5'11" | SG Dike-New Hartford | 2021 State IA (9.4), and Nathan Moore (8.8) are all talented scorers who could score 15-20 on a given night.
Denver will match Dike with a number of talented guards, led by their "Big Three" of Isaac Besh Isaac Besh 5'10" | CG Denver | 2021 State IA (15.9), Bryce Phelps Bryce Phelps 6'2" | PG Denver | 2021 State IA (16.2), and Kyler Matthias Kyler Matthias 6'2" | CG Denver | 2021 State IA (16.9), each of whom are four-year varsity starters. This group can fill it up in a hurry, and they love to push the tempo.
3A #6 Solon (16-1) at Mount Vernon (11-5)
Solon won the first meeting back on January 15, 74-70, behind a balanced effort that saw three players each score 15 points – Carson Shive Carson Shive 6'0" | SG Solon | 2021 State IA (10.0), Ben Cusick Ben Cusick 6'3" | PF Solon | 2021 State IA (9.7), and David Bluder David Bluder 6'4" | SF Solon | 2021 State IA (15.4) – while Will Noonan (6.0) added 13. New coach Jared Galpin has gotten the Spartans to really play strong defense this year, as they're allowing just 50.1 points a game, and as a result, they've turned into one of 3A's best teams. Bluder is the leading scorer, but this is a deep, talented, and athletic group that has really bought into the defensive end, and it's turned into a lot of wins. 
The best player on the floor will be Mount Vernon senior guard Keaton Kutcher Keaton Kutcher 6'2" | SG Mount Vernon | 2021 State IA (21.1), who will play his college ball at South Dakota. A big-time scorer, Kutcher, who is shooting 43.2% from 3, is one of the best shooters in the state and a real threat to pull-up from anywhere inside half-court. The Mustangs have gotten great production out of Jayden Meeker Jayden Meeker 5'11" | SG Mount Vernon | 2021 State IA (17.1, 52.6 FG%) this year, as he's been really strong as a secondary scoring threat. 
South Central Calhoun (15-4) at East Sac County (14-3)
This is a huge game in the Twin Lakes Conference, as South Central Calhoun holds a 10-1 record in league play, with East Sac County right behind at 9-2. South Central Cal took the first meeting, 83-56, but that was way back on December 4. The Titans are led by a trio of double-figure scorers in Brennan Holder Brennan Holder 6'1" | SG South Central Calhoun | 2021 State IA (16.4), Joshua Dietrich (14.1) and Cole Corey (13.7). This is a group that really pounds the offensive glass (11.4 a game) and loves to force turnovers (13.4 steals a game). 
East Sac goes as Camden Schroeder Camden Schroeder 6'5" | SF East Sac County | 2021 State IA (23.5, 10.5 rebounds, 5.4 assists, 3.8 blocks) goes. Schroeder, a 6-5 senior, stuffs the stat-sheet in a major way and impacts the game on both ends of the floor with his size and versatility. In addition to his stellar raw numbers, he's highly efficient as well, posting 57-51-76 shooting splits. Junior forward Tyler Schmitt (16.6, 7.4 rebounds, 66.7 FG%) is a hyper-efficient forward who has emerged as a strong second option for the Raiders.
2A #10 AHSTW (18-2) at Tri-Center (16-2)
Like the rest of the games on this list tonight, this is a big one in the Western Iowa Conference. Treynor leads the league with a 14-2 mark, with AHSTW and Tri-Center sitting right behind at 13-2. Tri-Center won the first meeting, 76-57, back on January 8. The Trojans shot an eye-popping 69.6% in that game, so expect a much better defensive effort from AHSTW. Tri-Center is led by senior forward Leyton Nelson Leyton Nelson 6'4" | PF Tri-Center | 2021 State IA (16.6, 9.4 rebounds) and guard Ethan Alfers (13.9), who combined to score 37 points on 16-19 shooting in that meeting.
AHSTW is led by junior guard Raydden Grobe Raydden Grobe 6'2" | SF AHSTW | 2022 State IA (19.1), a versatile scoring threat. Sophomore guards Kyle Sternberg (18.0) and Brayden Lund (17.3) are also fantastic threats, giving the Vikings three great scorers who can take over games on any given night. This group shot just 38.8% from the floor and 24.1% from 3 in the first meeting, expect a better showing here.