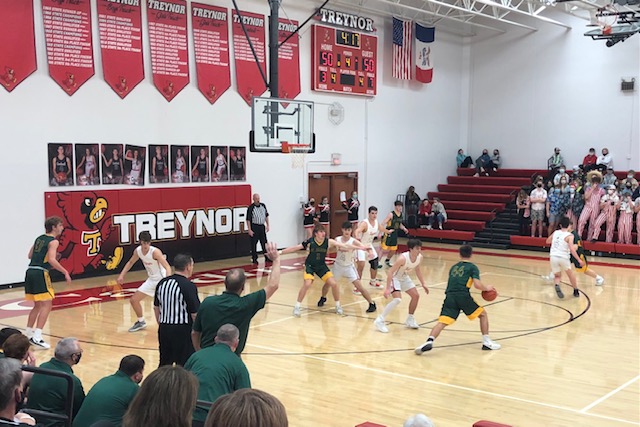 Posted On: 02/14/21 1:29 PM
Before inclement weather hit the area, Thursday evening (2/11/21) saw one of the more competitive games of the entire weekend, as CB Saint Albert traveled to Treynor. 
The Falcons and Cardinals battled in a game that saw multiple ties and lead changes throughout the contest. Treynor, behind the early scoring of Noah James, got out to an 18-12 first-quarter lead. However, St Albert scored the first 8 points of the second frame to take the lead, in large part to Greg Fagan's 10 points off the bench for the visiting team from Council Bluffs. During that serge, the Falcons would grab their largest lead of the affair at 30-26, but Treynor would real them back in. The first 16 minutes proved to be a draw as both teams head for the intermission tied at 33.
In the second half, Treynor clearly made an effort to stop settling for three-point shots against St Albert's zone, as they had at times in the first half, and began to attack the paint.  Tim Zimmerman, who struggled from behind the arc, put his fingerprints on the game in the third quarter attacking and scoring 8 of his 10 points during a stretch that seemed