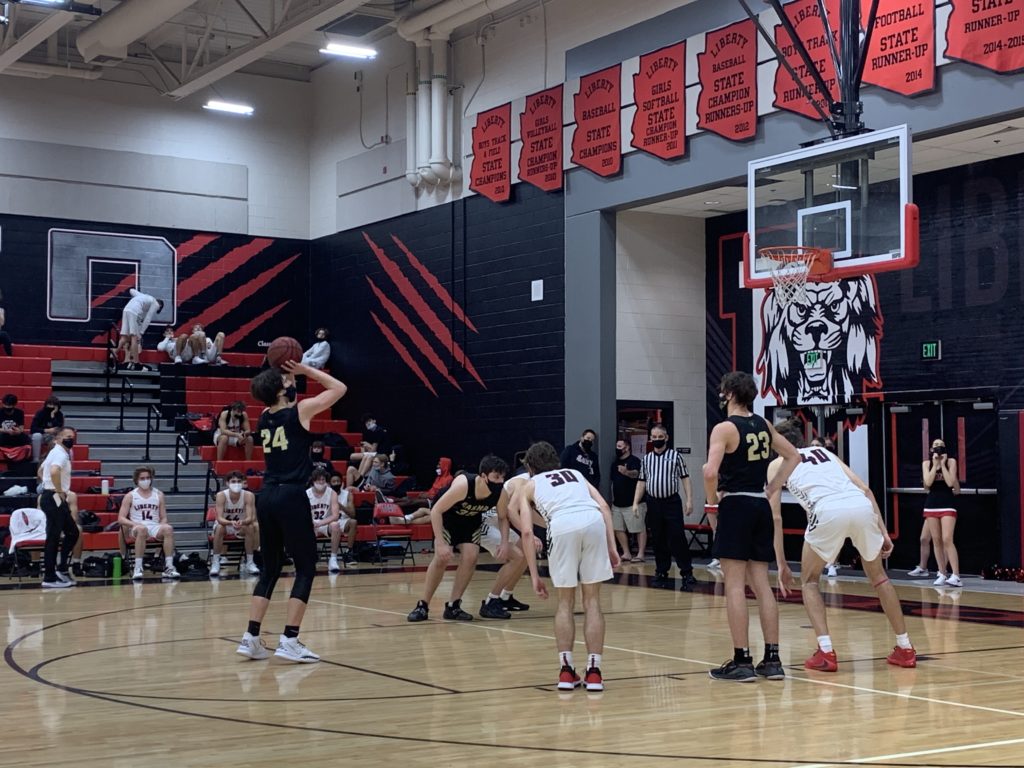 Posted On: 02/18/21 12:57 PM
On Friday February 12th I attended the 6A Basha Bears at the 6A Liberty Lions.  
Here were some observations from the three games I viewed:
#1 Both programs have prospects on all levels. 
#2 Both programs have possible stud freshman in their programs. 
#3 One freshman from Liberty stood out in the freshman game. 
Ring Nyeri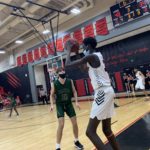 Ring Nyeri 6'8" | PF Liberty | 2024 State AZ Liberty 
-A very fluid forward can handle it and push the pace after he boards it. He blocks shots out of his area and alters many others. He can step out and hit the catch-3 plus score it a little inside. He is a good passer and the long freshman has a lot to like for the future. He had a ridiculous stat line of 7 pts 16 rebs 2 asts and 5 blks. He played JV and freshman. 
#4 Three freshman from Basha stood out in the freshman game. 
Sam Zanoni Sam Zanoni 6'3" | SG Basha | 2024 State AZ Basha
-A highly skilled combo guard who can shoot the 3, he is aggressive to the basket using his quicker first step. He is a good ball handler and plays with a high IQ. He has nice looking 3-ball off the catch and uses the floater to his advantage. 
Will Zanoni Will Zanoni 6'0" | SG Basha | 2024 State AZ Basha
-Sam's twin is also a highly skilled scorer. The lefty can score it from mid and in very efficiently. He can shoot it from mid-range plus has a floater. He uses the runner and is very crafty around the rim. These two work so well together and know where each one will be during the game. 
Izaih Johnson Izaih Johnson 5'9" | PG Basha | 2024 State AZ Basha 
-A tough as nails downhill driver who competes at a high level. He is very good on the ball defensively and one of those players you want in your fox hole. He played Freshman and JV ball and will most likely get varsity minutes next year. 
#5 One soph and one junior stood out from Liberty in the JV game.  
Jackson Krupp Jackson Krupp 6'4" | PF Liberty | 2023 State AZ Liberty 
-A big bodied wider shoulder post with long arms. He is physical and will battle hard with a motor. He scores it efficiently deep in the paint and can move from end to end.  
Evan Woolery SG 6'0 2022 Liberty 
-A catch shooter has a quicker release. He made some nice passes and has a consistent stroke. His length allows him to play the passing lanes well and has a decent handle to get passed his defender to score it. 
#6 One soph stood out from Basha in the JV game.  
Zach Strauss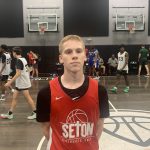 Zach Strauss 5'9" | PG Seton Catholic | 2023 State AZ Basha
-An undersized combo guard who is highly skilled. He has a good pace to his game and can shoot it. He is comfortable from mid to the 3. He can pull-up and makes good decisions with the ball. 
Varsity game:
#6 Liberty plays an unique style of 5 in and 5 out subbing plus shoot an unusually amount of 3's. 
#7 The Liberty HS experience is very unique. They have a professional DJ who is amazing. 
#8 Basha has one of the best shooters in the state with Trenton McLaughlin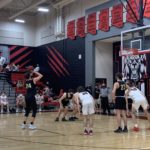 Trenton McLaughlin 6'5" | SF Basha | 2021 State AZ . 
#9 Here were the Varsity standouts:
Basha 90 Liberty 73 (unofficial stats) 
Basha
Trenton McLaughlin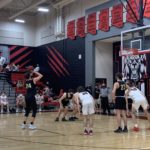 Trenton McLaughlin 6'5" | SF Basha | 2021 State AZ Basha (Pictured) (35 pts 11 rbs 3 asts 1 stl) 
-I am not sure there is a better shooter in the AIA then McLaughlin. His catch 3pt shot is a thing of beauty but he is developing more then just that. He does have college range with a fast trigger already, but his 1-dribble pull-up can be a weapon. He has the floater game and he is sneaky athletic to throw it down and he rises high for rebounds.
Thomas Hastings Thomas Hastings 6'1" | PG Basha | 2021 State AZ Basha (11 pts 5 rbs 1 ast 1 blk) 
-A late bloomer is a highly skilled scoring lead guard who has a mean pull-up. It is becoming his go-to shot. He can pull-up from mid off the dribble. He changes speeds well to get into the lane. He makes good reads with the ball and his athleticism has improved. He is not afraid to fight inside for rebounds and his skill and IQ jump off the page.
Torin Bosch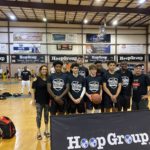 Torin Bosch 6'4" | SF Basha | 2023 State AZ Basha (13 pts 3 rbs 2 asts 1 stl) 
-An athletic wing from New Jersey has sparked the Bears giving them some infusion of energy. He has an impressive first step to get to the cup and uses his athleticism to go along with impressive body control to make contested shots. He can make some plays for others and will defend multiple potions on the court. He is probably most comfortable attacking but can make the jumper. 
Christian Warren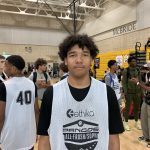 Christian Warren 6'4" | SF Basha | 2024 State AZ Basha (13 pts 3 rbs 2 asts 1 stl) 
-When McLaughlin graduates, Warren will take over as their main shooter.  He shoots it effortlessly from the 3pt line with a quick release and has long arms to rebound. I was also truly impressed of how good of a passer he is. His IQ is high to go along with his skill.   
Brady Reynolds Brady Reynolds 6'6" | PF Basha | 2022 State AZ Basha (11 pts 7 rbs) 
-A burly post player may be a little undersized but is strong and has very long arms. He has good feet and hands to score it around the basket. He has a polished hook shot and keeps the ball high on rebounds. He can also score it with either hand and uses his girth to gain position.   
Liberty 
Miles Guliford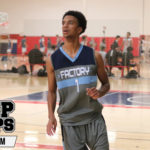 Miles Guliford 6'1" | SG Liberty | 2021 State AZ Liberty (19 pts 2 rbs 1 ast 1 stl) 
-A scoring guard who can really shoot it. The lefty has good range and shooting it at a 40% clip. He has a nice burst into the lane and moves without the ball and knows when to cut. He is quick on the ball to defend and has good awareness to understand where to be. His shooting will translate to the next level. 
Patrick Steitz Patrick Steitz 6'7" | PF Liberty | 2021 State AZ Liberty (14 pts 11 rbs 1 blk) 
-A long and lean shooting forward. He has easy range near the volleyball line and gobbles up rebounds in his area. He works mostly from the stripe but when he does go inside, he can score it with a soft touch. He is a fluid mover and can come over to block shots. When he is shooting the ball well, the Lions are a tough out. 
Davis Hester Davis Hester 5'11" | SG Liberty | 2023 State AZ Liberty (3 pts 1 stl) 
-A long soph who can shoot it. He can be a future 3 and D type with his length and quicker feet. He will definitely have a bigger role next season and may lead them in scoring.