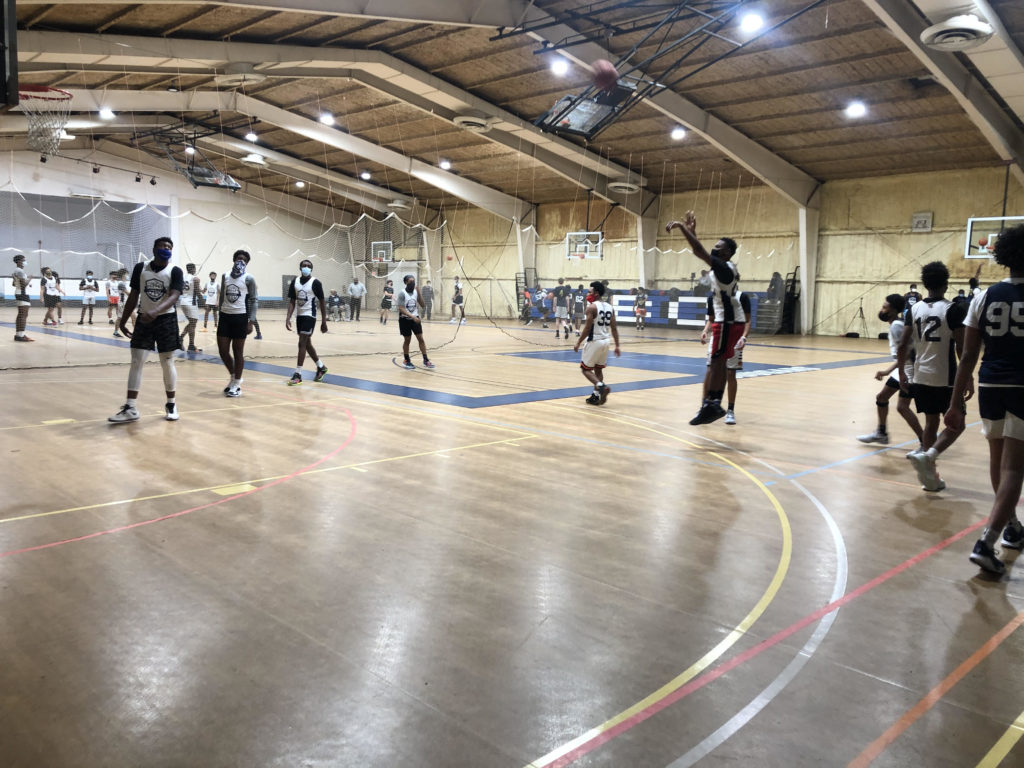 Posted On: 02/26/21 6:01 AM
Last Sunday, February 21st, Team Durant Director of Recruiting Dwayne Wise held his prestigious MAO Skills Academy in Lanham, Maryland at Mount Zion Prep. The event was loaded with talent from the DMV area. There were a number of standouts who really caught my eye. 
Amani Hansberry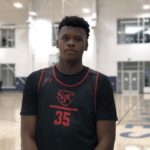 Amani Hansberry 6'7" | C Mount St. Joseph | 2023 State #37 Nation MD , 6'8″ F, St. John's College '23 – Amani's size and versatility were most intriguing throughout the event. He operated well from the post showing good touch as an ambidextrous finisher. He's an underrated passer with a outstanding feel. The sophomore dominated the glass especially on the offensive side creating second-chance opportunities. 
Elijah Jones Elijah Jones 6'8" | C Mt. Zion Prep | 2022 State MD , 6'9″ F, Mount Zion Prep '22 – Elijah was on the verge of destroying one of the four available backboards. He had a number of monstrous dunks but continued to display his full skillset. The athletic forward looked comfortable facing up and penetrating to the paint. Elijah's motor allowed him to control the offensive glass during the event proving to be one of the better rebounders.
Khalif Crawley Khalif Crawley 6'7" | C Imhotep | 2022 State PA , 6'9″ F, Math, Civics & Science '22 – The Philadelphia native left a great impression on the DMV. Crawley's competitive nature was unmatched. The agile big used his body to finish through defenders and didn't shy away from mixing it up in the paint. 
Jamie Kaiser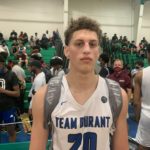 Jamie Kaiser 6'6" | SG Bishop Ireton | 2023 State #117 Nation VA , 6'6″ G/F, Lake Braddock '23 – Jamie has exceptional physical tools, athleticism, and scoring instincts to support his overall skillset. The three-sport athlete competes on both ends of the court. Jamie is a tough matchup. He used his size to get downhill against smaller defenders or beat bigger defenders off the dribble, knocking down a number of jumpers. 
Hasson Massenburg, 6'6″ SF, Mount Zion Prep '22 – Hasson has the potential to be a big-time offensive threat. He continuously attacked the rim with a number of highlight dunks. He also has the potential to be a versatile defender because of his lateral quickness and athleticism. He jumped passing lanes collecting steals triggering his ability to play in the open court. 
Tyler Pelkey, 6'4″ CG, St. Pauls '23 – Tyler is a high-level shooter with playmaking instincts to match. He played with good pace and controlled tempo during the event. The combo guard utilized his size creating a tough matchup off the dribble. He's a crafty finisher who looked comfortable operating with either hand. 
Kesean Shillingford, 6'11″ C, Christ the King '23 – Keasean is a long-term prospect with intriguing size and length. As his body matures his game will follow. I predict he will be one of the best bigs in the northeast a few months from now. 
Mason So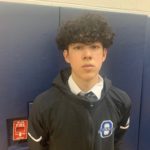 Mason So 6'1" | PG St. Stephen's & St. Agnes | 2023 State #113 Nation VA , 6'1″ PG, Bishop O'Connell '23 – Mason is a shifty point guard with a high basketball IQ and playmaking instincts to match. He speeds up-tempo asserting himself as a scoring threat or facilitator. He advanced a number of passes keeping the pressure on the defense searching for early scoring opportunities. His overall court presence, shot-making ability, and feel were impressive.
Mike Williams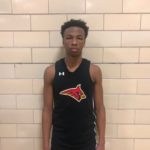 Mike Williams 6'3" | CG Calvert Hall | 2023 State #220 Nation MD , 6'3″ PG, Calvert Hall '23 – The Calvert Hall sophomore made his presence felt. The athletic point guard was able to get to his spots and showcase his ability as an athletic finisher. He explodes to the rim and looks to finish over whoever is protecting the paint. Mike is quick off the dribble and extremely shifty, it was tough for any defender to stay in front and contain him. 
Bryson Wilson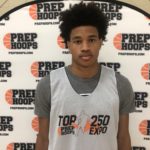 Bryson Wilson 6'5" | SF St Stephen's And St Agnes | 2023 MD , 6'5″ G/F, Maret '23 – Bryson is a high level athlete and shot maker with the size to match. He's most dangerous in the open court because of his ability to penetrate and finish above the rim. He can defend multiple positions. Bryson anticipates passing lanes, his defensive instincts, and awareness were more advanced than most.
Additional Standouts
Justin Scott Justin Scott 6'6" | SF St. Albans | 2023 MD , St. Albans '23
Karim Harris Karim Harris 6'2" | SF Calvert Hall | 2023 State MD , Calvert Hall '23
Julien Moutome Julien Moutome 6'3" | SG Mount St. Joseph | 2023 State MD , Mount St. Joseph '23
Carlton Carrington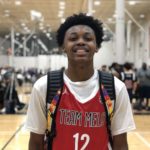 Carlton Carrington 6'4" | CG McDonogh | 2023 State MD , McDonogh '23
Samartine Bogues Samartine Bogues 5'6" | PG Calvert Hall | 2023 MD , Calvert Hall '23
Cam Gillus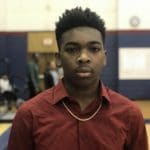 Cam Gillus 5'9" | PG Sidwell Friends | 2023 State #174 Nation MD , Sidwell Friends '23
Jayden Moaney, Coppin Academy '21
Tony Hicks Jr, Boys Latin HS '23