New Mexico has been under the radar of finding top talent. In this article I searched for some top talent from every high school age division that has been overlooked. These are New Mexico's hidden gems. 
RJ Madrid 6'1″ G 2023 (Albuquerque High) Featured: RJ is a slasher who finishes well in transition. He is very quick and plays both ends of the court well. His speed allows him to score a lot of points in transition. He has quick hands and feet and plays aggressive defense. The impressive thing about RJ is that he is bouncy and can finish strong above the rim. RJ has consistently been improving his game, it's only a matter of time before he has a major breakout. 
Tyler Heckroth Tyler Heckroth 6'2" | SG Eldorado | 2022 State NM 6'4″ G 2022 (Eldorado High) Tyler is just nasty. He plays extremely hard and has a very high motor. He has a tremendous upside and has gotten a lot better from last year. He also has grown a couple of inches and got stronger. He has a very nice mid range game and is consistent with the long ball. His true strength lies in his ability to attack the basket. He is fierce and will dunk on anybody in his way. Look for big things this season out of Tyler Heckroth Tyler Heckroth 6'2" | SG Eldorado | 2022 State NM he is a name that won't be forgotten. 
Sean Alter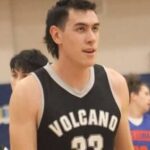 Sean Alter 6'9" | PF Volcano Vista | 2023 State NM 6'6' PF 2022 (Volcano High) Sean is a solid forward. He has extremely long arms which allows him to grab a number of boards and he easily gets put backs. He is extremely aggressive on defense and is a major problem anywhere around the rim. He has a nice mid range game but his true strength is in his ability to play above the rim. 
Raymond (Bubba) Aragon 5'9'' G 2023 (Bernalillo High) Great shooter with a high IQ. He shoots the 3 ball with high numbers and can find open teammates. He is a smart decision maker that handles the ball comfortably. His size allows him to really dig into his defenders causing turnovers. Raymond also finishes well through the lane. 
Dalen Moyer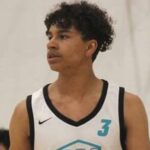 Dalen Moyer 6'0" | CG Sandia | 2023 State NM 5'11″ (Sandia High) Dalen has been improving his game week by week. He continues to play in big events against tough competition which is making him a better player. He has a very nice outside shot and he thrives under pressure situations. He can attack the basket effortlessly but his strong suit is his shot. If Dalen continues to progress the way he has,  he will be a D1 prospect.