Posted On: 02/18/21 1:26 PM
The Prep Hoops rankings for the class of 2022 were released the other day, while there's a good number of players at the top of the 2022 class who'll get plenty of looks from college coaches, there's a rising group that should also attract the attention of college coaches. Here's a quality group of prospects in this class of 2022 in NorCal.
Dajon Lott Dajon Lott 6'9" | C Elk Grove | 2022 State 6'10 Power Forward/Post, Elk Grove HS Elk Grove, CA
Lott brings the size and presence a big man should have. He defends okay in the post and will change some shots. He has a nice soft touch around the basket, and has a good percentage inside. He also likes to venture outside the post area, the top of the key and the wings where he can shoot jumpers. He's a good passer from the high post. He's most effective in the post right now.
Anthony Williams Anthony Williams 6'8" | PF Inderkum | 2022 State 6'8 Power Forward, Whitney HS Rocklin, CA
Williams has a good upside working in his favor, he's still a bit raw on the offensive end, but is showing improvement with his inside scoring and footwork on the offensive end. He's a solid body, and a good defender, with shot blocking ability. He actively goes after rebounds, and runs the floor pretty well.
Leo Wagner Leo Wagner 6'5" | SF West Campus | 2022 State 6'5 Forward, West Campus HS Sacramento, CA
Wagner is one of the top scorers in the Sacramento Area, he can score the basket in all the traditional ways, he averaged 20.4 pts, and hauled in 9 rebounds a game for his team. He's a smart player that plays under control and with good balance. He has good range on his jump shot, good handles to get to the paint for jumpers and finishes around the rim.
CJ McMillan CJ McMillan 6'5" | PF Capital Christian | 2022 6'5 Power Forward, Capital Christian HS Sacramento, CA
McMillan is a wide body with an improving game. He moves well for a player of his build, he has good footwork, and uses his body to impose his will on defenders in the paint. With that being said he has a good touch around the rim, and can hit the the elbow jumper. He's a good passer from the high post.  Conditioning is a key for him.
Matt Radell Matt Radell 6'6" | PF Campolindo | 2022 State 6'6 Forward/Post, Campolindo HS, Moraga, CA.
Radell continues to raise his game and be a presence on the court. He understands the game and what he brings to the court. He's a tireless worker on the defensive end, and battles for rebounds. His offense has improved, he attacks well from the baseline, and has developed a jumper in the key.
Garret Keyhani Garret Keyhani 6'8" | SF Serra | 2022 State 6'8 Wing/Forward, Serra HS San Mateo CA.
Standing 6'8 Keyhani brings a versatile set of skills to the court. He's a good ball handler with vision in the open court. He's a capable scorer inside with decent footwork, but he seems most comfortable on the wings where he has 3pt range and ball handling to get to his spot. 
Andre Warren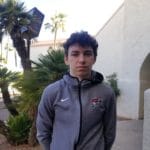 Andre Warren 6'2" | CG Lincoln Stockton | 2022 State 6'3 Wing/Guard, Lincoln HS Stockton, CA.
Warren is a competitor who's often stuck with the task of defending taller players in the post. He has a quality offensive game where the open court suits him just fine. He plays at a good pace, and under control. Warren has a nice pull up jumper in transition. He can handle the ball and is an under rated passer. He spots up well for open 3's.
Trey Knight Trey Knight 6'0" | PG Moreau Catholic | 2022 WA 6'0 Guard, Moreau Catholic HS, Hayward CA.
Knight continues to improve, and raise his game to new highs. He's more in the combo mode right now, but he's more than capable of being a facilitator at the next level. He has good instinct, and play making ability. He executes the pick and role, and has a good mid range jumper, along with his ability to get into the paint.
Jordan Aquino Jordan Aquino 5'9" | CG Lincoln SF | 2022 State 5'9 Combo Guard, Sacred Heart Cathedral HS, San Francisco CA.
Aquino is a high energy player with a motor who doesn't lack confidence. A superb ball handler who's really hard to stop in the open court, with his speed and strength going towards the basket. In the half court he has a variety of moves that gets him buckets in the paint, floaters, jumpers, and more, plus he can knock down 3's.
Jojo Murphy Jojo Murphy 6'1" | CG Piedmont | 2022 State 6'1 Combo Guard, Piedmont HS, Piedmont CA.
Murphy is a good combo guard who understands when it's time for a bucket or to settle in and show some patience running the offense. He's an active player, with good decision making skills, he can score quickly off the dribble moving to the left or right, for a mid-range jumper and taking into the key for a floater over the big boys. He has a quality mid-range jumper and will hit 3's.