Maverick Ridenour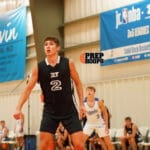 Maverick Ridenour 6'3" | SG Kingfisher | 2021 State OK | 2021 Kingfisher SG
Ridenour had an exceptional night, knocking down nine 3-pointers to help lift the YellowJackets to a 91-52 win against Blanchard on Tuesday night. He attempted only 16 shots on the night and also recorded a couple of assists. It ended up somewhat of a gag to his trainer, but Ridenour did not even attempt a 2-point field goal (or a free throw) Tuesday night. Ridenour may have been the star of the night if his teammate had not been so excellent himself.
My guy really said why go for 2 if I can get three ?! @ridenour30 ???????????? team behind the arc ONLY! https://t.co/1efoxrfeH5

— Coach Zeph Moore (@getmooregame) January 20, 2021
---
Bijan Cortes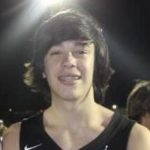 Bijan Cortes 6'2" | PG Kingfisher | 2021 State #195 Nation OK | 2021 Kingfisher PG
The Oklahoma-commit tallied a career-high 46 points against Blanchard on Tuesday night, knocking down 11-of-22 3-pointers, shooting over 50 percent from the field altogether, seven assists and four steals. It was a career night for the future Sooner, although it may not be the last time he goes for 40-plus.
---
Brayden Linder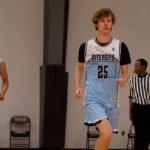 Brayden Linder 6'2" | SG Tishomingo | 2022 OK | 2022 Tishomingo SG
Linder scored 22 points Friday night to help Tishomingo to an 85-53 win against Marietta, hitting four 3-pointers. Linder also took the ball to the rack for himself and hit shots from some tough angles en route to his game-high performance.
---
Jackson Lawley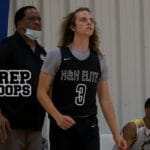 Jackson Lawley 5'10" | PG Tishomingo | 2021 State OK | 2021 Tishomingo PG
Scoring 20 points, including 14 in the third quarter and a dunk that was the subject of our latest feature, Lawley had an excellent performance last Friday night to lift the Indians to a win against Marietta.
---
Kaden Vande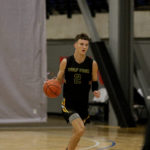 Kaden Vande 6'7" | SG Tuttle | 2022 OK | 2022 Tuttle G
Vande was impressive last Tuesday night, scoring 17 points against Kingfisher. He finished at the rim, hit a 3-pointer, and brought energy to the court with him in spite of a loss. Standing a handsome 6-foot-6-inches, Vande can create shots for himself out-of-the-handle, even from deep range.
---
Isaac McDoulett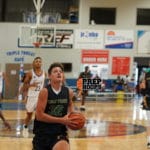 Isaac McDoulett 6'6" | SG Tuttle | 2022 State OK | 2022 Tuttle G/F
McDoulett recorded 11 points against Kingfisher, and he was a major contributor in keeping the Tigers in the game early. A talented scorer, McDoulett can score the basketball at three levels, and his talents are certainly difficult to contain on a night-in, night-out basis because of everything he can do.
---
Tylor McCarthy | 2022 Tuttle C
McCarthy had a stellar 12-point night last Tuesday against Kingfisher, where he effectively scored from the paint, as well as the mid-range, and handled all of the aspects and duties of being the Tigers' post-presence, rebounding, defending and drawing attention to the interior to allow his teammates to score.
---
In spite of a loss to Tishomingo, Morgan had an excellent scoring night for Marietta on Friday night, scoring 27 points in the loss and effectively hitting shots from 3-point rang and mid-range.