Week 6 of the high school basketball season is in the books. It was a busy week with several holiday tournaments being played around the state. I was able to catch a handful of games. Here are some thoughts on prospects I saw:
Covenant Christian
Trey Flatt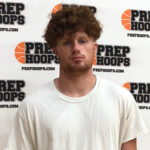 Trey Flatt 5'11" | PG Covenant Christian | 2021 State IN : Flatt plays with as much energy as any player I have covered over the last eight years. I saw him a few times over the summer during travel ball and again this past week at the Morristown Holiday Classic. Covenant Christian plays an up-and-down style, which starts with Flatt. For the most part, Flatt is able to play under control while also playing with a sense of urgency. He scored 52 points against Lawrenceburg at Morristown's tournament and was later named named MVP, helping CC claim the championship trophy. Flatt hit 11 threes in the win, which broke the school record (52 points also school record). He also did well in creating scoring opportunities for teammates and was able to get the ball where he wanted it, when he wanted it. He isn't overly long but can cause problems defensively with his quickness and toughness. Flatt is a high-volume shooter but has been efficient from the field (46 percent) so far during his senior campaign. 
Shelbyville
Ollie Sandman — 6'1 2023 G: Sandman hit the game-winning three against Yorktown Saturday, lifting Shelbyville to a 49-47 win. He scored 17 points in the victory and is averaging 10.0 points, 2.9 rebounds and 2.0 assists this season. Sandman plays with a certain swag and confidence but is still working to bring a consistent effort to the floor each night. He can shoot the ball off the dribble from distance and is able to score the ball in a variety of ways inside the arc. Shelbyville head coach John Hartnett Jr. wants his guards to play a tough style defensively on the perimeter, which will help Sandman moving forward as he progresses at that the end of the floor. He looks much stronger this season as a sophomore but needs to continue to add muscle over the next two and a half seasons. Sandman also needs to create more scoring opportunities for teammates as one of Shelbyville's primary playmakers. 
Waldron
Bryce Yarling — 5'8 2023 PG: Although 5-8, Waldron head coach Beau Scott believes Yarling has every chance to play at the next level. I agree. Yarling has a powerful lower body and will continue to add muscle to his frame as he grows and matures. Yarling is one of those Indiana kids who lives and breathes basketball. He scored a ton of points in junior high and has played a key role on Waldron's varsity team the last two seasons. He can handle the ball through traffic with both hands, has great vision and has learned how to be a crafty finisher over taller defenders near the basket. Yarling is also a consistent outside shooter with solid mechanics. In the games I have seen, including last week at Morristown's tournament, Yarling is very aggressive to start before slowly fading away. He needs to continue to attack and stay aggressive at both ends for four quarters.
Lawrenceburg
Jackson Bobo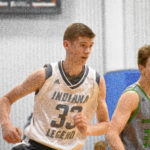 Jackson Bobo 6'8" | PF Lawrenceburg | 2022 State IN : I was impressed with Bobo's ability to pass and his overall feel for the game when I saw him last week during Morristown's tournament. He did not finish well at the basket when I watched him play, but he appears to have a soft touch. Adding muscle should help with confidence near the basket. Bobo ran the floor well during the tournament and was able to play long stints without fouling or becoming overly exhausted. My biggest takeaway, however, was Bobo's ability to be coached. He had great body language the entire tournament and was eager to listen and learn when a coach was giving instructions. I don't think Bobo (8.6 ppg, 9.4 rpg) will be a post player that you will run your offense through, but he could become a nice rebounder/defender as a role player at the next level (Division III). 
South Ripley
Cody Samples — 6'1 2021 G: I thought Samples was the best — and most college ready — player I saw last week. Trey Flatt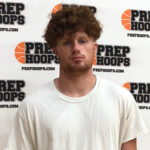 Trey Flatt 5'11" | PG Covenant Christian | 2021 State IN of Covenant Christian had a great week, too, but Samples showed a very polished skillset at the Morristown Holiday Classic. He has great mechanics with his jump shot and showed the ability to knock down shots from distance in a variety of ways (coming off screens, off the dribble, catch and shoot). His vision might be better than his jumper as Samples was able to create easy shots for others. He does not have long arms but he is strong. His powerful frame and quick first step allows him to find creases in the defense when driving to the rim. Samples made a few careless passes during the tournament, but does well in staying engaged and aggressive the entire game. If he can continue to add lateral quickness and improve his decision making, I think Samples could be a really good Division III player who could step in and contribute right away. 
New Washington
Matthew Arthur — 5'11 2023 G: Arthur (20 ppg) is going to score a ton of points for New Washington. He was not on my radar prior to Morristown's tournament, but I am glad I was able to see him play. Arthur, a wiry, 5'11 guard who plays with an extreme amount of confidence, showed a nice offensive skillset during the tournament. He is very quick with the ball and already has several finishing moves at the basket. He three-point shot looks strong, as well, although he is probably at his best when driving to the hole. It almost seems like Arthur plays mad, but I think that is just how he is — it is more of a chip on his shoulder. He can handle the ball with both hands in transition and does well in changing his pace to get where he wants to go. However, I noticed that his effort defensively was not consistent. That should come as he continues to learn and grow. Getting in the weight room will also be extremely important for the sophomore, who looks like he could grow another 2-3 inches.