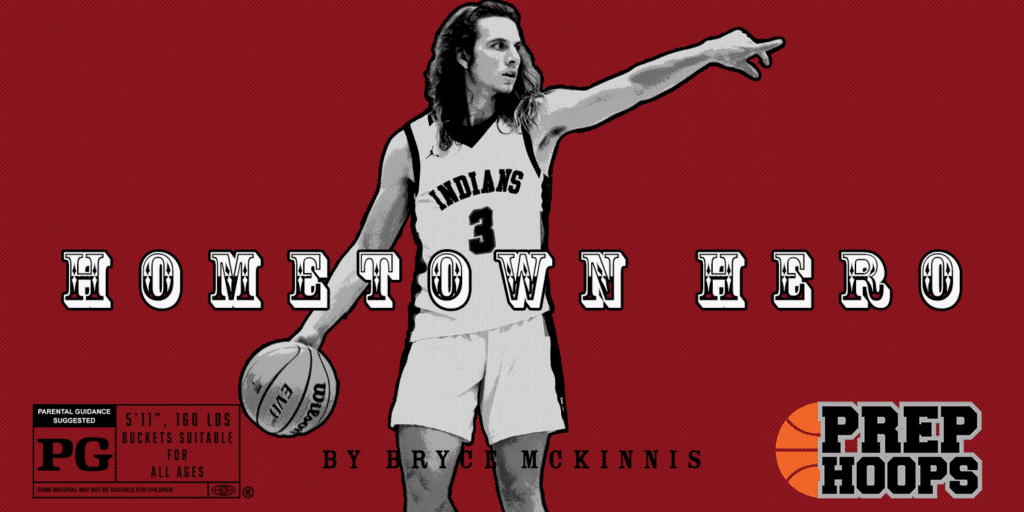 Posted On: 01/19/21 12:00 PM

It was not the first time Jackson Lawley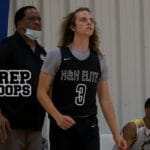 Jackson Lawley 5'10" | PG Tishomingo | 2021 State OK had dunked in his varsity career, though his slam on Friday night was the most sprightly of his tenure, especially in front of a cheering home crowd at Tishomingo High School.
"I wanted to put on a show," said the 5-foot-10-inch, long-haired senior after Tishomingo's 85-53 win against Marietta.
Lawley's third-quarter flush may have been the result of canned aggression from the frustration towards his three-foul status, which had resulted in his relegation to the bench during most of the second quarter of the game — and it was, apparently, the rim's fault that he had only scored 6 points in the first half.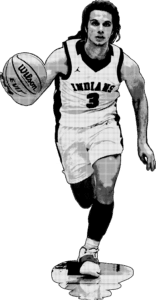 Lawley's teammates, especially junior swingman Brayden Linder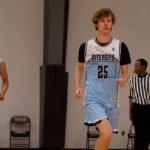 Brayden Linder 6'2" | SG Tishomingo | 2022 OK , picked up the slack in Lawley's absence, as he inherited a 29-point lead once he checked back into the game to start the third period.
That third quarter was Lawley's time.
He brought the ball up the court before deferring and receiving the ball back from Linder. He handled the ball with his far hand horizontally from the extended free-throw line to the interior before gathering himself and contorting his body on-a-dime, leaving a Marietta defender dashing past him.
Lawley elevated, raised his shooting elbow and guide hand at the rim before releasing it at his apex.
Sink.
With 5:56 to go in the third quarter, the Indians led by 25.
Lawley was finally on his game, and this time he would not allow the officials to discontinue his production.
He came down the court and scored thrice more from his own handle. Though he usually sank two, three or more 3-pointers in a contest, his focus Friday night was towards bullying the Marietta defense from the mid-range. 
Lawley was on a mission; one that started well before tip-off.
Three hours before the game, Lawley was in the THS lobby. Yards behind him, a junior varsity girls' game between Marietta and Tishomingo ensued while Lawley chatted with friends and others coming-and-going.
On his left sat the THS trophy case, above him the THS athletic Hall-of-Fame bulletin, which was half-bare due to the H.O.F committee's defunct status for a decade or more.
It was not an unfamiliar scene at THS. Most game-nights were more-or-less half-contest, half-social for the town of 3,000, although the Indian's eight-win, two-loss record at Winter break was uncharacteristic for the program.
For two decades or more, THS had been the perpetual punching bag of the Lake Country Conference in most boys' sports. The football, basketball and baseball teams struggled on a consistent basis to compete against local rivals.
Kingston won a Gold Ball in basketball, Atoka won one in baseball, Latta won a couple in both, Davis won twice on the gridiron, and Sulphur, Ardmore, Lone Grove and Plainview each advanced deep into the football playoffs during the 2010s — yet Tishomingo remained without a playoff appearance in football since 2011, nor had it reached the basketball area tournament until last season, when a Lawley-led squad advanced to its deepest point since 1999.
"Seeing what [Kingston] did," Lawley said, "they were just an unstoppable force, and everybody in the town had their backs.
"I wanted that so bad," Lawley continued.
The past two seasons with Lawley steering the ship, in fact, had seemed to turn around the fortunes of the THS athletic department.
Tishomingo started the season 8-0 this season, its best start since 1999, including a championship weekend at the Hartshorne Pick 'N Shovel Classic, when the Indians took down Class-B powerhouse Whitesboro in overtime to claim the title on Dec. 12.
That weekend marked the Indians' first tournament title since 1999, and Lawley was named the tournament MVP after scoring at least 30 points in each of the three contests.
A month later, the Indians rode through the winter stretch with a No. 18 ranking in the OSSAA coach's poll, a first in program history.
The fervor about the THS gymnasium was indeed unfamiliar, although it was explicable by the attention surrounding Lawley that Friday evening indicative of his contribution to Tishomingo's boys' team that had already accomplished many firsts.
Tishomingo had found its star in Lawley.
"I have little kids coming up to me all the time," Lawley said, "I mean, it's kind of weird, but it's cool though. It's a really cool feeling to have.
"They're always asking me about college, and what I'm gonna do with that," Lawley said.
During the JV game, Lawley was approached periodically by locals who, perhaps, wanted a bit of Lawley's talent to rub off on them from a hand-shake. After all, he was Tish's best player, and his 27-points-per-night had led the Indians to their best start in two decades.
"I hear, everybody's telling me. . . they've never seen a player like me, and that I work really hard," Lawley said, "and that I've got a lot of class."
Toriauna Douglass, Lawley's girlfriend and a junior on Marietta's basketball team (who would have an excellent performance later that night), joined Lawley in the lobby. Lawley placed his right arm around Douglass, half-attending the game and half-participating in conversation with Douglass.
She mentioned , arguably Marietta's best boys player, to Lawley.
"Garrett said he's gonna shut you down tonight," Douglass said, giggling through an attempted matter-of-fact tone.
Lawley's face fixed into a smirk as he looked downward to meet Douglass's eyes.
"He's a good player," Lawley returned, "We'll see what happens."
A handsome, charismatic and collected teenager, it was no wonder that so many flocked to shake his hands or generate small-talk with Lawley before games. He was rarely rattled, even by trash talk.
Unlike many THS athletes before him, Lawley was creating buzz in the community, and unlike many athletes — well, anywhere — Lawley was a genuinely likable character, indicative by his conversation about Morgan.
He and Douglass continued their talk about the upcoming game, though Lawley never slandered the Marietta boy's team or boasted of his own skill, regardless of Douglass's provocation.
Lawley was nothing but smiles, and he had time for every THS faculty member, letterman hero, middle-schooler and socialite who came to meet him that Friday afternoon.
His popularity may have been an intolerable, if not insufferable presence to his teammates, if he was not such a likable, altruistic teammate himself.
"He just brings so much to the table," Linder said, "He gives me the confidence, him telling me to go out and score. . . his leadership, it's outstanding, really."
First-year THS coach Jared Griffin had similar praise for Jackson, referencing his first encounter with the senior after Griffin got the job.
"Jackson messaged me on twitter like, 'where are you at, can we get in the gym?'" Griffin said.
"He's a winner, he's a competitor, and he's gonna compete no matter what," Griffin continued. "It's not gonna be great coaches that walk in, it's gonna be great leaders, and I've got a great leader with Jackson."
Both JV games passed as Douglass retreated to the locker room to prepare for her game. During half-time of the girls' game, Lawley and his teammates mobilized towards their locker room to prepare.
---

In many pre-game locker-room pep-talks, if not most, a stationary body could not be found. Yet on Friday evening, coach Griffin addressed a locker room full of teenagers seemingly devoid of the typical jitters or anticipatory anxiety characteristic of high school sports. 
Lawley sat near the middle of the room, still as a statue, listening to Griffin.
"We start from the beginning, we're playing balls to the wall and getting after it," Griffin said. "We'll let 'em know we're playing Tish basketball."
In a matter of seconds, the Tishomingo twelve dashed onto the court, loosened their legs and warmed their shots.
As tip-off came and went, things could hardly be going better for Lawley. In the opening minutes of the game, he converted on a deep 3-pointer, finished a close shot through contact and sank the complimentary free-throw and dished a SportsCenter top-ten assist to Chandler Standifer.
That was why, as the Indians gathered an 18-4 lead, Lawley's first foul four minutes into the contest — a reach-in violation on the Indian's full-court press — seemed of little concern to Griffin, Lawley or anybody else.
But then came his second foul just over a minute later, a block, and Griffin was on-alert, though he did not bench Lawley.
Lawley's confidence was affected, though he continued to play at-pace, until again, seconds into the second period, Lawley gathered his third foul, certainly on a questionable blocking call, but nonetheless a discouraging event.
His face immediately immediately fixed into frustration as he ran through the stages of grief before accepting his fate: he was benched for the remainder of the half.
Douglass now sat base-line, taking pictures for the Marietta High School yearbook inches away from Lawley. Their eyes met as she shook her head and mouthed something inaudible to him. He shrugged a what-can-I-do-about-it expression back to her.
"[Our team] was playing great, so it wasn't really a big deal," Lawley said after the game. "I just knew I had to be smarter when I got back in."
Thirty minutes later, Lawley was back on the floor for the second half, and after his return, the Marietta Indians could not keep up.
"After hitting my first couple buckets," Lawley said, "it felt like nobody could guard me."
His uncanny feel for the game was apparent as he dribbled the ball up-the-floor with five minutes to go in the third.
Keying on the senior guard, a pair of Marietta defenders rushed him, to which Lawley responded by drawing his eyes towards the goal and promptly flicking the ball sideways to Linder, who knocked down a triple, bringing his tally up to 13 points.
Linder would go on to lead the Indians with 22 points Friday night, and Marietta could not even play score-for-score with Linder and Lawley on their rampage.
"It was really my teammates," Linder said after the game, "I was looking to shoot, they've been telling me to shoot more, and it just worked out," Linder said.
While Marietta worked to find an answer for Linder, Lawley kept piling it on; and if you had been there Friday evening, you would have witnessed a next-level-ready player operating.
Griffin, whose college basketball career stopped at Redlands Community College and East Central University, said he has no doubts that Lawley is prepared for the college game.
"I feel like definitely he's getting kinda under-recruited right now," Griffin said, "I think he can play at the Division-II level or the junior college level.
"Jackson is a once-in-a-generation player because of how well he can score the basketball," Griffin said.
Those words rang true as each minute passed in the third quarter.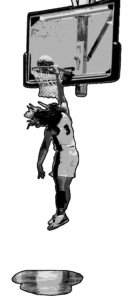 Lawley drove to just above the short corner, put on a similar move to his first of the third quarter as he brought the ball into his hands, loaded his wrist, and fired, distributing his energy from his calves into the floor and twisting his body to congruency with his position towards the rim.
It seemed an impossible angle as the basketball progressed on its path from Lawley's fingertips towards the goal before taking a detour off the high-glass and falling through the net — without even considering the rim — for his ninth and tenth points of the third quarter.
With three minutes, 11 seconds to go in the third, Lawley was up to 16 points on the night. From that point, it seemed he could not miss.
"When things are going well, and he hits a couple shots," Linder said, "it just snowballs."
Bucket-after-bucket, Marietta could only trade scores with Lawley from two-point range, and even that reciprocation was erased each time Linder knocked down a 3-ball.
With each shot Lawley sank, the half-full gymnasium rose closer to all-time decibel levels.
The snowball kept rolling for the Indians, and first-year THS coach Jared Griffin had nothing but praise for his squad.
"Today, I felt like, was one of the first games where I've felt like we played a complete game from start-to-finish," Griffin said, "where we played defense and shot the ball well.
"We've played good in spurts this year, but today I felt like we played a total, complete game," Griffin said.
No game would be complete at THS without a showcase of Lawley's athleticism, which is exactly what was on his mind on the play following his sharp-angle shot.
As a Marietta guard brought the ball up the left side of the court, Lawley inched off the player he was guarding referencing back to the down-floor goal on which he had just scored while sagging from his defender to deceive the Marietta ball-handler.
The ball-handler tossed a casual pass to the center of the court, to which Lawley quickly launched from his back heel, loaded his calves and fired his cylinders to intercept the pass.
He snatched it with ease en route to his path, as if the steal was only a side quest on his path to the overarching mission.
About 45 feet of hard-wood separated Lawley from the rim, and nothing else. He accelerated down the court as a group of THS students on the bottom row to his right leapt from their seats.
Lawley had dunked once before in his varsity career, during his junior year in a road match against Silo, though it was under different circumstances that may have diluted the enthusiasm from the occasion.
Now, Lawley was dashing towards the rim in front of a home crowd following a vigorous display of skill, grit and confidence that dusted Marietta into a deep deficit. It was the perfect pinnacle, a culmination of the circumstances that led Griffin to such approval of his team's performance.
The Marietta defender by whom he had just acquired the interception trailed him, but it was no matter; Lawley was playing on a court all by himself.
Without hesitation, Lawley brought the ball into his left hand, gathered from his right foot, launched from his left foot, and displayed his 42-inch vertical leap to throw his body towards the ceiling.
Lawley pulled his left hand from the ball to allow his right hand to occupy the tiny remainder of space he needed to reach over the rim.
With a thud, the 5-foot-10-inch guard from Tishomingo threw down the most fervent dunk of his career before landing back onto both feet as the THS gymnasium rose to a fever pitch, the community faithful standing to applaud him and an excited quartet of teammates dashing to intercept his path.
Lawley retreated back towards Marietta's goal, now skipping with excitement as Linder and others met him to embrace him. With 14 points in the quarter, Lawley said he felt "unstoppable."
His mane, the blonde tips subsiding to the dark roots that sprouted from his scalp, bounced with each step, tucked back by the Nike sweatband resting on his forehead.
---

Lawley sat upright, in his bed, adjacent to me in the office chair in his bedroom. 
I asked him, "why the hair?"
"Just being different, I just want to be noticed," Lawley said, "You don't really see other basketball players with hair like mine."
An hour prior, he had converted on his final field goal Friday night on a fast-break lay-up against Marietta before a timeout retired him for the evening.
Lawley and Linder combined for 42 points Friday night as it was the largest THS victory in recent memory, and it was only the third time THS broke 80-plus since 2015.
He owned the third quarter — the only full quarter he was able to play that night — and owned the court at Tishomingo High School on Friday night as the Indians went on to claim an 85-53 victory against Marietta.
It was no wonder why Lawley seemed so infallible when it came to hitting shots, when considering that he had been getting reps on that court since the seventh grade, when he was asked to practice with the THS varsity team at 13 years old.
Lawley recounted the experience.
"The coach, he would just ask me to come in and play with the high-school team," Lawley said, "I felt like I was as good as they were in seventh grade.
"Were you?"
"I was, in my honest opinion, yes," Lawley laughed, " I feel like I could have started on that team if I wasn't 5-5."
Lawley spoke with exceptional confidence, but how couldn't he? After all, he had led Tishomingo basketball to new heights, perhaps on-track to reach a level that had never been met before at the school.
"You guys are seeing success that hasn't been seen in Tishomingo in a long, long time," I asked Lawley, "how much of your leadership do you think is contributing to that?"
He fixed his eyes towards, considering the question for a moment before answering.
"I think a lot of it has to do with my work ethic," Lawley said, "I think that rubs off on everybody else.
"I don't think we've had that kind of culture around here in a long time," Lawley said.
"What is it about this team that seems to have finally cracked the code?"
Without missing a beat, Lawley replied, "confidence."
"And work ethic," Lawley continued, "are really the two biggest things."
He noted, without prior knowledge of the conversation I had just had with Linder, that he encourages his teammates to shoot the ball more frequently.
"How much do you think you play in being the calming factor for your teammates?"
"A lot. It's just, I carry myself with so much confidence, like I just know when I step on the floor that I'm gonna do my thing regardless," Lawley said, "and I feel like that rubs off on everybody else. . . I like to be the leader in that way.
"I think the more calm I am and the more sure of myself I am, the more calm and sure of themselves everybody else is," Lawley added.
Lawley's calmness, he said, is the reward of his conditioning during the years he practiced with the THS varsity team, as well other experiences playing with older players.
"I felt ready as soon as I came in as a freshman," Lawley said, "I felt like I was one step ahead of the competition, so I think it benefitted me a lot."
Lawley said that his parents, Brad and Jessica, habitually pushed him to play with older competition. Jackson even played up with his brother, Jason, on his fourth-grade team when Jackson was in the first grade.
"My parents, they always taught me to shoot for the stars," Lawley said. "If your goal isn't high, then you're not gonna make it anywhere.
"I think that you've gotta overshoot for your goals, really," Lawley said.
Jessica was an All-State basketball selection at Oktaha High School, and Brad played college basketball at Murray State College — a campus literally less than a block from the Lawley household.
Jason, who graduated from THS in 2018 and still lives nearby, was also a standout basketball player and golfer.
His aunt, Carolyne Lawley, played basketball at Murray State College before finishing her career at Oklahoma Christian University last year. She plays professionally in Portugal.
"[My family] has always held me to a higher standard," Jackson said. "I've seen my family members do great things.
"If my family members can do it, I think I can do it too," Lawley said.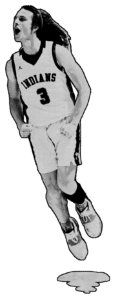 Perhaps the most important goal that his father set before him was to play college basketball, a focus that has driven Lawley's discipline.
"Obviously, I want to play at the next level," Lawley said. 
"When's the last time somebody from this school went to play college basketball?"
"Girls or boys?"
"Boys."
"I couldn't even tell you," Lawley said. "I wasn't even born.
"You'll have to talk to my dad about that," Lawley laughed.
The second goal on Lawley's agenda was to lead Tishomingo to its first State Tournament appearance — and further.
"The one thing that I've wanted in my whole high school career, and it's the end-goal of everything," Lawley said, "is that I want a ring. It's a really tough journey to do that. . . but that's always the end goal."
Lawley's third goal was, perhaps, the overarching goal that leads to his striving in every aspect of the other two: to leave behind a legacy at THS.
"I want to be the best player in Tishomingo history," Lawley said.
"How close do you think you are to achieving that goal?"
Lawley answered confidently.
"If I haven't achieved that already," Lawley said, "I think I'm cracking the surface right now."
To be the best player in school history may have been the most ambitious of Lawley's goals, although it may also have been the most attainable. He has already amassed 1,000 career points, a rare feat at THS, and considering the response of the Tishomingo community to his success, it was possible that he has already achieved the status of best all-time, if not, most beloved.
Lawley said that being the best player in school history is not just about what he accomplishes on the court.
"I definitely want to make the town proud," Lawley said.
"A lot of people before you had the attitude, like, I just want to get the hell out of here?"
"It's still the attitude with some people," Lawley responded.
"But you don't?
"No."
Lawley chewed on the question for a moment.
"Everyone has always been there for me since I was young," Lawley said, "I just hate that, when I was younger. . . we were the losers. I don't like seeing my hometown like that.
"I want this to be the place where everybody wants to come, where everybody wants to watch basketball or softball or whatever," Lawley said. "I want it to be the place where people want to put their kids."
Lawley again referenced the success of Kingston's 2019 State-Championship run, as well its success in the years before, as a driving force behind his ambitions.
Lawley's story was one of unprecedented opportunism. An inseparable sense of appreciation for his hometown has kept his engine running, and it has already pushed him to great heights. Though a few decent athletes have come from Tishomingo, few have carried the burden of becoming a hometown hero to the degree and frequency that Lawley has, and perhaps none have made it their motor.
Of all of Lawley's talents and traits, his altruistic sense of goodwill, the desire to fulfill the vacuum of leadership within his campus and town, may be what has led him to achieve his goals of winning a title, playing college basketball and becoming the best player in THS history.
"Tish is where I was born and raised, I've been here my whole life," Lawley said. "I want to put the place on the map. Even when I'm gone. . . I don't want it to go back to how it was.
"What I build here, I want to continue to carry on." Lawley concluded.
Saturday morning, Lawley received his first college offer from Rio Hondo Community College in Whittier, Cal.
---