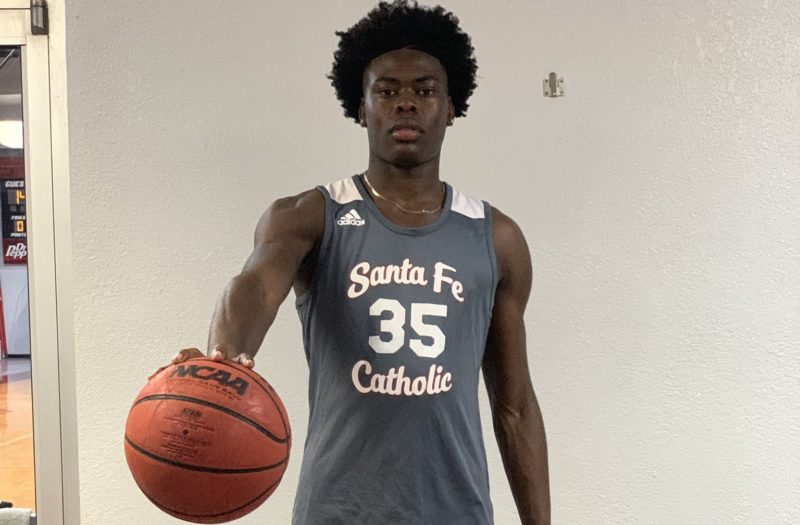 Posted On: 01/1/21 1:57 PM
On Tuesday, I headed east down I-4 to Daytona to attend the Chick Fil A classic at Mainland High. While a lot of my Orlando teams were on display, I also got a look at some teams that were out of my area. These are some of the notes I took:
Olympia 84
Seabreeze 26
G/F Tyeree Bryan Tyeree Bryan 6'3" | CG Olympia | 2021 State FL 6-5 (2021) Olympia
 At 6-5 with great length and big time athleticism, Bryan was scoring all over the court for Olympia. Against Seabreeze, he was at his best attacking the basket using his quick first step to get past defenders. Offensively, he knocked down some 3-pointers off the catch, got out into the open court, and had some nice drives one of which he took baseline and exploded for a two-handed dunk. The senior finished the game with 20 points in a balanced scoring win. Recruiting wise Bryan has an offer from Division II D'Youville and several Division II, NAIA and Division I junior colleges have been in contact.
……Bryan got help from two other guards 6-2 Jacari White Jacari White 6'2" | CG Olympia | 2021 State FL (2021) who finished with 16 points and 6-1 Edgerrin James Jr.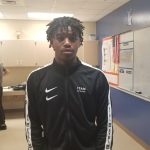 Edgerrin James Jr. 6'1" | CG Olympia | 2023 State #225 Nation FL (2023) who finished with 13. Together the trio makes perhaps the most underrated backcourt in Orlando.
Vero Beach 73
Viera 54
 Vero Beach continues its impressive season adding a win over Viera to make them 10-1. The Indians were led by athletic wing 6-3 Almando Cyrius Almando Cyrius 6'4" | SF Vero Beach | 2021 State FL (2021) who slashed his way to 20 points. The senior does a majority of his work attacking the basket, and out in transition, but in this game I was impressed with the way he used head fakes to draw contact in the post and get to the free throw line. ….. Another player who had a great game was 6-9 Nick O'Neill Nick O'Neill 6'9" | C Vero Beach | 2021 State FL (2021). The massive human being used his large frame well often sealing the defender to score in the post, and battling on the glass for put backs. The big man finished the game with 12 points.
…..6-3 G/F Manyaka Luma (2021) had a strong performance for the second tournament in a row for Viera. The athletic wing hit a couple three pointers and scored some hustle points to finish with 13. Defensively the wing has great timing as a shot blocker who can chase guards down on the fast break and pin their layup attempts off the backboard.
Boone 57
Oviedo 48
 In my first time seeing Boone play live this season, I came away impressed with three of their players. 6-3 Will Searl Will Searl 6'3" | CG Boone | 2021 State FL (2021) was scoring at all three levels knocking down three 3-pointers off the catch and shoot, a mid range pull up, and also attacked the basket to find his way to the free throw line. The senior leader finished the game with 16 points and at least three assists. On the other wing 6-4 Javion Phelps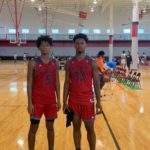 Javion Phelps 6'1" | CG Boone | 2021 State FL (2021) also left his imprint on the game scoring 17 points using his length an athleticism to attack the basket, and score in transition. Phelps will be taking his athletic talents to South Dakota to continue his football career as a wide receiver but don't be surprised to see him as a walk on for their basketball team in the winter. 6-6 PF Joey Depryor Joey Depryor 6'5" | SF Boone | 2022 State FL (2022) knows his role and plays it well for Boone. The big man blocks shots, rebounds and scores in the post. On Tuesday, the junior finished the game scoring 10 points, doing his damage in close to the basket, and also broke loose in transition for a big two handed dunk.
……6-1 PG Jacob Rose Jacob Rose 6'0" | PG Oviedo | 2021 State FL (2021) led Oviedo in scoring with 19 points. The lead guard was trying to push the pace all game long. He also knocked down a couple 3-pointers, and found his way to the free throw line often as a result of aggressively attacking the basket.
Dr. Phillips 56
Andrew Jackson 53 (2 OT)
 In a low scoring battle where no baskets came easy, Dr. Phillips was led by a core of underclassmen to come away with a victory against North Florida powerhouse Andrew Jackson. 6-4 PG Denzel Aberdeen Denzel Aberdeen 6'4" | PG Dr. Phillips | 2022 State #197 Nation FL (2022) led the way for the Panthers posting a stat line of 18 points, five rebounds and four assists. With Jackson well aware of his prowess shooting the ball from deep, Aberdeen found other ways to score attacking the basket to get to the free throw line, and scoring on floaters and mid range shots. 6-10 C Ernest Udeh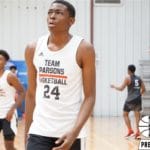 Ernest Udeh 6'10" | C Dr. Phillips | 2022 State #48 Nation FL (2022) was able to find his way to double figures with  three momentum changing dunks and got on the offensive glass for put backs. Against Jacksons huge front line Udeh scored 11 points and grabbed 11 rebounds and blocked two shots. 6-2 SG Joseph Poventud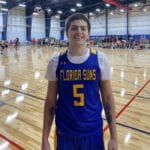 Joseph Poventud 6'3" | CG Dr. Phillips | 2023 State FL (2023) made several key baskets late in regulation and in overtime to help secure the victory. The knock down 3-point shooter finished the game with 12 very important points.
……..6-10 C Marquez Ray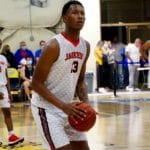 Marquez Ray 6'7" | PF Andrew Jackson | 2021 State FL (2021) battled for seven points and six rebounds for Andrew Jackson and showed some long term potential doing so. The big man hit a mid-range shot and also caught the ball at the elbow took one dribble and scored on a right handed drive. Teammate 6-6 F Bryce Turner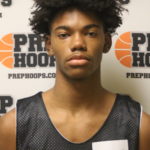 Bryce Turner 6'5" | SF Andrew Jackson | 2021 State FL (2021) battled on the glass and drove to the basket to finish with 11 points and six rebounds.
Santa Fe Catholic 50
Mainland 49
 In yet another low scoring battle Santa Fe Catholic was able to overcome a scrappy Mainland team who fought hard to the very end. The Hawks were led by 6-6 F Alvin Tumblin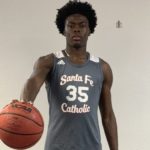 Alvin Tumblin 6'6" | SF Santa Fe Catholic | 2021 State FL who continues to put up serious numbers in his final high school season. The combo forward dominated the glass scoring inside, and on drives from the perimeter to finish with 19 points and 13 rebounds to go along with five blocked shots. 6-2 PG Trey Lane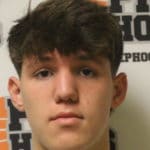 Trey Lane 6'1" | CG Santa Fe Catholic | 2022 State FL (2022) known as more of a shooter/scorer last season has really improved as a playmaker who can get his teammates involved. The lead guard knocked down three 3-pointers and a par of free throws to finish with 11 points, but the way he controlled the game and found his teammates for scoring opportunities was most impressive.
…..Mainland seemed to have quite a few talented underclassmen, but 6-4 G Nigle Cook Nigle Cook 6'5" | CG Mainland | 2023 State FL (2023) stood out the most in this one. The lengthy guard moves like a college player on the floor with fluid athleticism and knocked down a trio of 3-pointers in the fourth courter that almost resulted in a come back win. The sophomore finished with 12 points and seems to have a bright future ahead of him.
Edgewater 64
Fleming Island 47
 One of the most improved teams in Orlando from a year ago Edgewater is led by a pair of seniors and a  budding star sophomore. 5-11 PG Jaylen Smith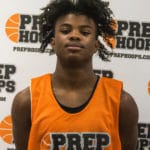 Jaylen Smith 5'11" | PG Edgewater | 2023 State FL (2023) is a player college coaches need to put on their radar. The quick explosive guard had his talents on display on Tuesday night scoring 17 points getting to the basket on drives, and in transition and also has the ability to knock down the 3-pointer off the dribble or the catch. Smith shares the back court with seniors 6-3 G Tre Simmons and 6-2 Patrick Kanyamuhanda Patrick Kanyamuhanda 6'2" | CG Edgewater | 2021 State FL . Kanyamuhanda is a high IQ 3-point specialist who can get hot and start knocking down threes at any moment. In the first half he knocked down three 3-pointers, took a charge, and made an impressive read finding his cutting teammate for an assist. On the game the senior scored 13 points. Simmons is a long athletic wing who likes to attack the basket, but can also knock down perimeter shots.
…..6-4 F Ahmad Greenidge (2022) was the standout for Fleming Island. The forward has a college ready body and I would not be surprised if he is a football prospect. In the first half against Edgewater the forward made some high IQ passes out of the high post and was able to find success attacking the basket.