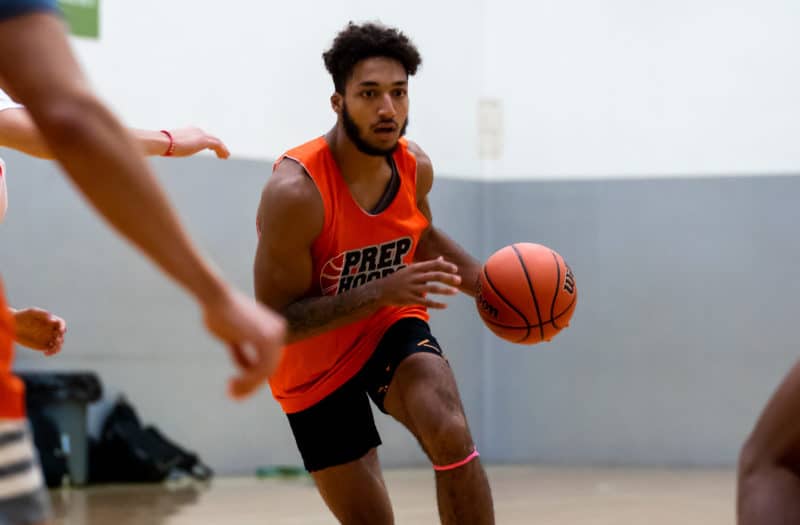 Posted On: 01/17/21 4:49 PM
Fresh off the amazing news that the Columbus City League will hopefully be back to action soon, Central Ohio will look to get all teams on the court by the end of January. That aside, every team that is playing right now has the hang of everything and these players are having games that have increased so many players' stocks. With a compromised recruiting period, players are not getting the proper looks they deserve and places like this are important for those young men. From seniors that have been involved in this article every week, to players from an absolute classic of a thriller, to new members of the 1,000 point club, here are the players of the week for the dates of January 11th- January 16th in Central Ohio.  
Joe Benvie- Junior; Granville Christian: 50-balls don't happen too often, Benvie dropped the first one in the Central Ohio area on Tuesday as he went for 51 points in his team's 83-73 win over Northside Christian. Benvie scored 23 of the first 26 for his squad and never looked back after that, having 39 at the half. The junior has been scoring a high rate all season long and this just continued that streak. He was his team's main source of offense and they continued to feed him and he brought the game home with some big time free throws that stretched the lead out and did not let Northside Christian back in the game. Benvie's small school status holds him back in the recruiting scene but the wing can straight up put the ball in the baket. 
Nyelle Shaheed Nyelle Shaheed 6'5" | PF Harvest Prep | 2023 State OH – Sophomore; Harvest Prep: Continuing a string of outstanding games, Shaheed led Harvest Prep in their throttling of Bishop Rosecrans with 24 points and he made it look easy. The 6-foot-4 Shaheed did what he does, play with energy, use his athleticism to score and play top notch defense. Already an elite finisher at the rim, this young man did it in this game by both absorbing contact and flying past defenders for dunks and easy layups. He is a matchup nightmare for defenses because he takes advantage of smaller plays in the paint then he makes bigger defenders guard him in the mid-range where he can get around them and score. Defensively Shaheed is a menace, using his long arms to disrupt passing lanes in both the half court and in that devastating full court press. As time passes and Shaheed continues to improve, he will become a can't miss prospect for some program. 
Tasos Cook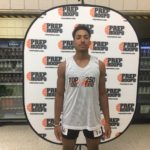 Tasos Cook 6'2" | SG Westerville Central | 2021 State OH – Senior; Westerville Central: Nothing new here, Cook has been the most consistently good player this writer has covered this season, with his scoring ability and highlight reel plays being something that has shot his stock to a division 1 level. He leads the undefeated Warhawks team and scored an easy 23 points in his team's 75-60 win over Dublin Coffman. Cook did anything he wanted on the court, he got the rim off the dribble, he shot the ball well and he had an explosive dunk in transition that highlighted his athletic ability. This senior also never gets rattled in tough moments, he is calm and speaks to teammates in a way that gives them confidence which just shows how mature this kid is. The 6-foot-3 senior is a division 1 prospect and Cook will be a steal of a player if schools continue to let him sit around. 
DJ Moore DJ Moore 6'3" | PG Worthington Christian | 2021 State OH – Junior; Worthington Christian: A new member of the 1,000 point club, Moore scored 23 points on Saturday in his team's 57-49 victory over Bexley. The consistent point guard is one of the best point guards in the state regardless of class and the Liberty commit continues to live up the hype around his name. Moore is tremendous at running the show for the Warriors, getting everyone in the correct place and then making the best decisions for his team. He scored in a multitude of ways, he knocked down shots from deep, the mid-range and got to the rim at will where he finished over bigger players. Moore is going to be an excellent college player and Worthington Christian should be proud to have this young man representing them. 
Ethan Bell Ethan Bell 5'10" | PG River Valley | 2021 State OH – Senior; River Valley: Lighting up the scoreboard on Saturday, Bell put up 47 points in his team's victory over Mount Gilead. He got out in transition early by stealing the ball, getting easy layups and pushing his team out to a big lead. Bell was quick and decisive on defense, knowing where the ball would go and getting there with a burst while not committing fouls. The senior even added some three-point jumpers to the mix just for good measure as his Vikings eventually routed the Indians 108-45. The small guard can flat out get it done with the ball in his hands, being able to score on every level of the court, showing really good defensive awareness and turning himself to a prospect that will be an absolute gem for a small school. 
Andre Irvin Andre Irvin 5'8" | PG Olentangy Orange | 2021 State OH Jr.- Senior; Olentangy Orange: Participating in the Spectrum Orthopaedics Classic over the weekend, Irvin represented the Central Ohio area by dropping 27 points and winning game MVP in the 67-50 win for Irvin's team. He brought his team back from a slow start that saw them go down 10-0 to start the game, starting it with a three-point basket and adding a couple more as the game continued, showing real grit and determination. His ball pressure, from the full court press to the half court, was key in spurring the comeback because he was able to get his team out in transition for easy baskets. Irvin also continued to display his ability to finish through contact, showing nice strength for his size. Again, do not let his height fool you, Irvin can flat out get it done on the court and is worthy of a scholarship somewhere. 
Jalen Sullinger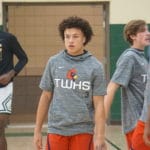 Jalen Sullinger 5'11" | PG Thomas Worthington | 2021 State OH – Senior; Thomas Worthington: Another consist player, the Kent State commit has been really good all season and continued it this week as the Cardinals went 3-0, with an 18-point game against Olentangy on January 12th, a quiet 12-point game the 70-35 win over Olentangy Berlin on January 15th and saved his best for the Canton McKinley as he dropped 27 in the 73-63 win. The senior stayed in his bag this week, getting to the rim with his smooth handle and shooting over the top of defenders at a high rate. The Golden Flashes seem to have a bright future with multiple Central Ohio kids that will be on their roster next season, hopefully it will pay off for that program. 
Teddy Brown Teddy Brown 5'10" | PG Whitehall | 2021 State OH – Senior; Whitehall: This young man had himself a week, beginning with his Rams beating Trotwood Madison in an instant, double-overtime, classic 110-108 and ended it with a big 24-point game in a 75-56 win over Westerville North. The 5-foot-10 guard was able to display his jump shot in both games, knocking down multiple shots from deep, including four in the Westerville North win. Brown also got in the lane and finished over taller defenders in both games, showing a nice touch. He got his big men involved in the game as well, especially in transition, hitting them for easy scores and showing nice vision in the process. Brown played some really good defense all week as well, making it difficult for opposing guards to get into their offensive flow. A really exceptional week for a young man who is coming into his own and is a key in Whitehall's success. 
Kevion Wiggins- Senior; Whitehall: Dropping 28 in what was the game of the season so far in Ohio, period, Wiggins stepped up huge and made some huge shots. Wiggins was big on glass as well, grabbing big time rebounds that gave his team the chance to get out in transition for easy scores. He followed up his big game Wednesday with a 17-point game in the Rams win over Westerville North. In both games, Wiggins displayed his versatile inside-out game, knocking down jumpers in the mid-range area and slashing to the rim and finishing on a consistent basis. The 6-foot-6 senior is an interesting prospect for colleges, he is long enough and has enough skill to play and be productive but for this recruitment season is so weird that players like him may get overlooked. 
Royal Sibley Royal Sibley 6'6" | PF Whitehall | 2021 State OH – Senior; Whitehall: Scoring 34 in the Rams victory over Trotwood Madison, Sibley was extraordinary in Wednesday's game. The long and athletic forward did it all for his team, scoring inside and out while defending and contesting shots at a high level. With only small school and community college offers, Sibley should be a higher priority for programs around that state. His finishing ability at the rim is elite, using his long arms and athletic ability to either dunk or get layups at the rim. Sibley is always excellent on defense, deterring shots at the rim and giving fans the gift of a basketball in their lap because he has swatted another shot. This is a young man who will be a productive player at the next level no matter where he goes.  
Preston Crabtree Preston Crabtree 6'3" | SG North Union | 2021 State OH – Senior; North Union: Another new inductee into the 1,000-point club, Crabtree hit that mark in the midst of dropping 29 points in North Union's victory over Benjamin Logan. This young man can for sure get buckets, and he can do it in every way possible. The 6-foot-2 guard is unstoppable because of his ability to get anywhere on the court and score by either pulling up off the dribble or getting to the basket off the bounce. Crabtree is also deadly as a catch-and-shoot player, with a quick release and nice form. As a small school prospect, Crabtree will be able to translate as instant offense and a hard worker who will give a team his all whenever he is on the court. 
Des Watson- Senior; DeSales: The Davidson commit was spectacular this week, pouring in 24 points on Wednesday against Dublin Jerome then ran it back with a 25 point game on Friday against Bishop Watterson, leading his team to wins in both games. Watson controlled both games with his scoring and playmaking for himself and others. This young man has a smooth game, never speeds himself up and is able to knock down shots from all over the court. The leader of the Stallions has them playing really well right now, getting into a nice flow and they hope to be a factor around playoff time. 
*Author's note: I thank everyone at Prep Hoops for reading, enjoying and sharing my words with the world. As I venture into my next endeavor, the love I have received has been amazing and the opportunity would not have been possible without the people who read this. I hope you guys continue to read, enjoy and embrace the extraordinary writers and scouts of Prep Hoops. I enjoyed all the feedback from players and parents alike and pray you guys continue to look out for what Mark Francis Jr. has next!