The high school season is starting to flip to the back half but so long as COVID doesn't get worse, it should be a loaded January and February with games getting moved around. So, we want to prep some colleges that are looking to get out and get recruiting. Today, we have our list of the best available players starting with 2021 Small Forwards.
Breakdown: The class of 2021 has some depth for some positions and while Small Forwards doesn't have the ceiling of the Power Forward group, they have options for each level. This year, we have seen the rise of guys like Harold Woods Harold Woods 6'3" | SF Hammond | 2021 State IN and Brian Waddell Brian Waddell 6'5" | SF Carmel | 2021 State IN . Those two in particular have exploded and now look like takes for some DI programs.  We have also seen guys like Jack Futa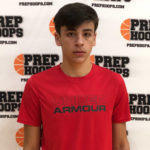 Jack Futa 6'6" | SF South Bend St. Joseph | 2021 State IN and Koron Davis Koron Davis 6'5" | SF Bowman Academy | 2021 State IN become popular names. DII programs could really make some hay in this group with a ton of guys that were at one point potential DI prospects that could fall down a level. NAIA programs should have a field day in general.  This is also the group where JUCO programs may be a factor come later in the process. Still a ton of names left on the board in a very deep class.