The high school season is starting to flip to the back half but so long as COVID doesn't get worse, it should be a loaded January and February with games getting moved around. So, we want to prep some colleges that are looking to get out and get recruiting. Today, we have our list of the best available players starting with 2021 Shooting Guards.
Breakdown: When looking up and down the list of the remaining shooting guards in the 2021 class, there are not a ton of guys left at the top. Michael Eley Michael Eley 6'4" | SG Elevation Prep | 2021 State IN leads the list and the one guy with standing DI interest and offers. Then, we see a sizable drop off.  This is a group of players, with the way DII programs have been operating this season, are likely looking at more NAIA and DIII guys. Plenty of options for those programs and a couple guys who really have stepped up this season. Look for guys like Benny Ogayonne Benny Ogayonne 6'1" | SG Franklin Central | 2021 State IN , Sidney Jefferies Sidney Jefferies 6'1" | SG South Bend Adams | 2021 State IN , and Drake Moore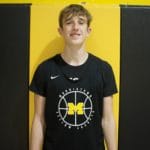 Drake Moore 6'2" | SG Morristown | 2021 State IN as guys that could spark some more interest through the end of the season.