The high school season is starting to flip to the back half but so long as COVID doesn't get worse, it should be a loaded January and February with games getting moved around. So, we want to prep some colleges that are looking to get out and get recruiting. Today, we have our list of the best available players starting with 2021 Power Forwards.
Breakdown: If college programs are going to make their hay in the 2021 class, they are going to do it with Indiana's class of power forwards. We have already seen colleges lock in on the best ones but there is still a ton of depth. While most of the guys worth looking at for DI programs are off the board, Kyle Ross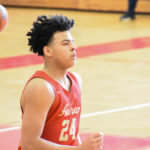 Kyle Ross 6'7" | PF Lake Central | 2021 State IN and a few others are still available. DII programs could have a field day if they chose to flip around and look in the Hoosier State.  A few names that have stood out already this season are guys like Kam Graddy, Ian Scott Ian Scott 6'7" | PF Plainfield | 2021 State IN , and Eddie Jones.  Scott has been the best of the bunch just taking his game to a whole new level.  NAIA programs and DIII spots should be able to lock up much of the talent in this one and could get some Day 1 starters in this group.