Names to Watch from the Kahari Beaufort Skills Academy
(1) Matt Walker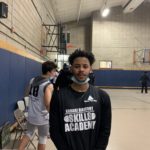 Matt Walker 5'11" | PG Hall | 2021 State NLG | 5'9″ | Point Guard | Hall High School | 2021
As a prototypical point guard, the most impressive aspect of Walker's game was his controlled ball handling skills and steadiness at the helm.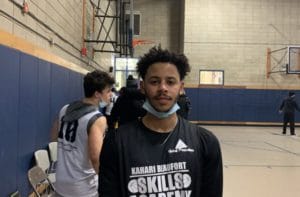 A shifty ball hander with the ability to change speeds the ball in his hands. I particularly liked his decision making in the pick and roll setting. He knew when to shoot if his defender went under a screen and got good elevation on his shot.
On defense, he wasn't afraid to pressure his matchup the full length of the floor. Walker came up with several impressive steals during the scrimmage and showed the ability to be a trusted initiator. 
(2) Chase Collyer | 5'9″ | Point Guard | Loomis Chaffee | 2022
Collyer was a standout from the scrimmage in more ways than one. His unselfish decision making led to several well placed passes for open three-pointers. As a pass-first point guard, he made the right play and even displayed an impressive off-the-dribble isolation game.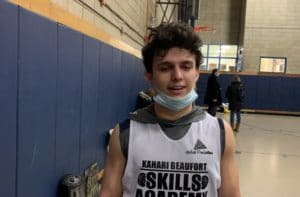 Collyer can create space off the dribble and has great elevation on his shot. At 5'9″, Collyer has explosive leaping ability and almost came up with several put-backs. Collyer has the right mix of energy, athleticism and high-level decision making to succeed at the next level. 
(3)  Hayden Abdullah Hayden Abdullah 6'8" | PF Northwest Catholic | 2022 State NLG  | 6'8″ | Big with stretch potential | Northwest Catholic | 2022
Hayden Abdullah Hayden Abdullah 6'8" | PF Northwest Catholic | 2022 State NLG is a high-quality team defender, one capable of understanding defensive concepts and when to provide the right level of help. Abdullah came up with several blocks and well-contested challenges during the scrimmage, as he also does a great job of using his verticality. A one-foot jumper capable of getting up the floor quickly in transition, on offense Abdullah has many post moves in his arsenal. While he primarily played in the post during the scrimmage, his consistent shooting stroke and impressive handle suggest that he is much more than just a traditional post player at the next level. 
(4)  Brody Limric
Brody Limric 6'8" | PF St. Andrews | 2022 NLG  | 6'8″ | Big | East Catholic | 2021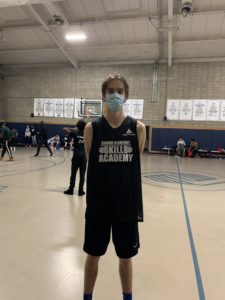 As a high motor, high energy big, Limric gets off the floor quickly and can elevate on both sides of the basket. A lob catcher and finisher, Limirc showed that he wasn't afraid of pushing the ball in transition and has good spatial awareness of when to make mid-air adjustments.
While Limric played more as a traditional big, he showcased his ability to knock down shots with a fluid stroke during the shooting drills. He can also handle the ball in the open floor. Having high-level defensive instincts, Limric came up with several critical contests throughout the day. 
(5) Jack Nieradko Jack Nieradko 6'10" | PF Kingswood Oxford (CT) | 2024 State NLG  | 6'10″ | Big with stretch potential | Kingswood-Oxford | 2024 
Nieradko is another high energy big, who showed out throughout the scrimmage.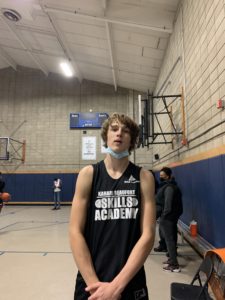 He understood the importance of moving after a pass as he made a series of well-timed rim-runs. He also caught several lobs throughout the day, but his speed in the open floor impressed me the most. Willing to get out in front of the defense, he finished off several plays simply because of his effort level. During the shooting drills, Nieradko displayed a very fluid stroke and can create for himself off a live dribble. 
(6) Elijah Wilborn Elijah Wilborn 6'7" | SF Middletown | 2022 State NLG | 6'8″ | Wing with more of a positionless style of game | Capital Prep | 2022
A high-level finisher with both hands, Wilborn wasn't shy with his rim attacks. He drew fouls on his rim pursuits and rebounded the ball well throughout the scrimmage. Perhaps an overlooked aspect of his game was his ability to make the extra pass. Wilborn's unselfishness on offense impressed me the most. He made several dimes to open shooters when isolation opportunities were present. I was also very impressed by his ability to make quick decisions off a shot fake. One specific play involved Wilborn catching the ball in the corner, shot faking his defender, then aggressively driving to the rim where he almost finished and And-1 dunk as he attacked the rim with authority.