This week was full of great games that had lots of great players in them. I saw some exciting prospects and look forward to giving you my evaluations each and every Sunday throughout the season. It is time to recap this week and look at what our exciting prospects did. 
Fort Wayne South @ Fort Wayne North – 12/11/2020
Austin Jordan Austin Jordan 5'11" | PG Fort Wayne South | 2021 State IN (Fort Wayne South) – 5'11″ 2021 PG: Jordan was the best player on the court by far in this one, but he faced some difficult foul trouble early in the game after picking up three fouls in the first quarter.  Despite this, he played 27 minutes and added 22 points to lead his team.  He was knocking down shots from all over the court including 4-8 from deep with all of them catch and shoot threes.  He was also able to get to the rim and showed off some nice moves including a euro step and floater.  He was aggressive on every drive to the hole, and a spark for the South offense.  He has the potential to be a solid D2 player that can put up points in bunches.
Franklin Central vs. North Central – 12/12/2020
Benny Ogayonne Benny Ogayonne 6'1" | SG Franklin Central | 2021 State IN (Franklin Central) – 6'1″ SG: Ogayonne was very impressive in this one for Franklin Central. He played the point for the majority of the game and played a very unselfish game of basketball. He did force some passes at times which led to turnovers, but they came from him trying to make plays. He was smooth when driving to the rim and showed that he could finish with either hand. His 20 point performance kept the Flashes in the game for the first three quarters. He has the potential to be a very good player at the Division 3 level next season.
Jalen Clark Jalen Clark 6'0" | PG North Central | 2021 State IN (North Central) – 6'0″ PG: Clark didn't make the biggest impact on this game, but he was a solid role player for North Central. He played very good defense, using his length and quickness to his advantage to come up with 2 steals. On the offensive end, he made both of the shots that he took, and he took care of the basketball. It was not a flashy performance by any means, but he did what needed to be done on both ends of the floor.
Gary West @ Southport – 12/12/2020
Quimari Peterson Quimari Peterson 6'0" | PG Gary West | 2021 State IN (Gary West) – 6'0″ PG: Peterson played very well in the win over Southport. The point guard was one of the best players on the court, but he did not try to force anything. He let the game come to him and just took what the defense gave him. He was shifty in the lane and was able to get basically wherever he wanted to. Once in thelane, his court vision allowed him to kick out to the open man or find the gap and finish at the rim. He is a very good shooter, and off the catch and shoot, is basically lights out. He was 6-7 from the floor and 2-2 from 3 in this one, and he tallied 15 points. Peterson currently holds 3 Division 1 offers, and I would expect him to receive a couple more in the coming weeks.
Paris Roberson Paris Roberson 5'10" | PG Gary West | 2021 State IN (Gary West) – 5'10″ PG: If someone were to have just looked at the box score, they would have thought that Roberson did not have an impact on the game. However, if one were watching, Roberson's defense was outstanding. He is a tough defender, and he uses his strength and quickness to outplay the offensive player. He also uses his surprising length to read passing lanes and get deflections of the ball. He kept Southport out of rhythm by coming up with multiple deflections in his limited playing time.
Barr-Reeve vs. North Harrison – 12/12/2020
Brycen Graber Brycen Graber 6'1" | PG Barr-Reeve | 2021 State IN (Barr-Reeve) – 6'1″ PG: Graber is a natural point guard that just has a feel for the court and the game. He is a very good ball-handler, and he is able to throw no-look passes with the best of them. He has a quick first step which allows him to get into the lane, and he finished through contact at the rim. Graber is one of the most unselfish players that I have seen play, and he displayed this perfectly with 11 assists in the win. I don't know if Graber has the size to play at the Division 2 level, but he is destined to be a great Division 3 point guard next season.
Fort Wayne Blackhawk vs. Silver Creek – 12/12/2020
Zane Burke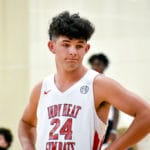 Zane Burke 6'2" | SG Blackhawk Christian | 2021 State IN (Fort Wayne Blackhawk) – 6'2″ SG: Burke can score in so many different ways that he is nearly impossible to stop. He was a knock-down shooter, hitting 3 triples in the win. His go-to move in this one was a two dribble, pull-up jumper from the elbow, that he hit 4 or 5 times on Saturday. Burke also was able to get to the hole very well. He ended with 31 points and 7 rebounds, but he showed his clutch gene by scoring 16 of his 31 points in overtime and double overtime. Burke currently holds 4 NAIA offers, and I believe he will be a very successful player at this level.
Marcus Davidson Marcus Davidson 6'0" | SG Blackhawk Christian | 2021 State IN (Fort Wayne Blackhawk) – 6'0″ SG: Davidson was relatively quiet for Blackhawk in their double-overtime win. He knocked down shots, which is expected, but he didn't use his dribble as much as we expected. He ended with 14 points and 7 rebounds on 5-11 shooting and 2-5 from deep. Davidson didn't really need to do much on the inside with the near-perfect performance by Furst and the 31-point showing by Burke. Although Davidson has yet to receive an offer, I expect him to be playing at Division 2 or NAIA level next season. He is a very good player that knows exactly what he needs to do to better his team.
Lawrence North vs. Cincinnati Archbishop Moeller – 12/12/2020
Shamar Avance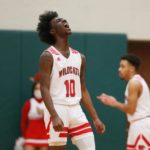 Shamar Avance 6'1" | PG Lawrence North | 2021 State IN (Lawrence North) – 6'1″ PG: Avance showed off his great ability to put the ball in the basket. Although his shot selection was pretty poor early on in the game, he was the sole reason why Lawrence North was able to pull off the win. After a 10-0 Moeller run to give them a 5 point lead, Avance answered with a 3, a steal, and an and-one to put LN right back in the game. He was the energizer for this offense to keep them rolling. He is a great shooter off the catch and shoot, and he was able to create off the dribble even against the size of Moeller. Avance is a clutch player who should have many more offers at the Division 1 level than he does right now. He will be a steal for whichever school ends up with him next season.
Aidan Noyes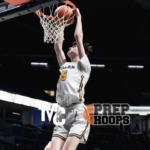 Aidan Noyes 6'6" | SF Moeller | 2021 State OH (Moeller) – 6'6″ SG: Noyes used his big body to get to the rim, but his three-point shot helped keep the defense honest on him. If you leave Noyes open, he will make you pay in a big way as he did twice in this one. Also, he never rushes into a shot. If he doesn't have the time and space, he tries to create inside, or he swings to set up someone else. Richmond is getting a very good player in Noyes next season, and he is going to be a key for Moeller's success this season.
Alex Williams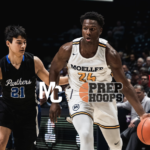 Alex Williams 6'5" | SF Moeller | 2021 State OH (Moeller) – 6'4″ SG: Williams is a very big body, and he knows how to use his strength to help his game. He went strong to the rim every time he had the ball, and he was able to get shots up through contact by just out-muscling the defenders. As well as driving the ball, he also has a knack for knowing where he needs to be. As a cutter, he set himself up for a couple of easy layups by just being in the right place. He can also knock down the 3 point shot, hitting three in the loss. Williams will be playing at Furman next season, and he will be a solid player for Bob Richey and company.