This season has been an interesting ride already, to say the least. I was able to catch some games southeast of Indianapolis the last few weeks. Here are some thoughts on prospects I saw: 
Waldron
Tyler Bowlby — 6'1 2021 SG: Bowlby, a lefty, is a slashing two-guard who scores the ball with efficiency inside the arc. His outside shot, which is smooth, is improving but needs to be more consistent as the season progresses. Bowlby is currently averaging 17.2 points and 7.4 rebounds while shooting 52 percent from the field. Bowlby's athleticism translates to the next level (DIII) — without a doubt, especially defensively. He has quick first and second jumps and is strong (and crafty at times) at finishing with both hands near the basket. Aside from his outside shooting, Bowlby also needs to work on remaining aggressive throughout an entire game. He has a tendency to pass up scoring opportunities. Last season, Bowlby finished his junior campaign scoring 15 ppg while shooting 60 percent from the field. 
Morristown
Drake Moore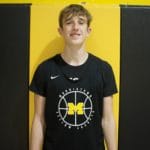 Drake Moore 6'2" | SG Morristown | 2021 State IN — 6'2 2021 SG: You can tell Moore has made an effort to become more than just a shooter. Moore (24.5 ppg, 5.5 rpg) has really improved his ability to get to the rim and finish through contact. He was in attack mode from start to finish Friday against South Decatur, finishing with a team-high 25 points while shooting 8-for-9 from 2-point range. Moore is also becoming fearless. He dominated a stretch of the third quarter against South Decatur when momentum was clearly starting to shift the other way. Moore is also making a better effort to crash the boards. Defensively, he does well in anticipating the next play, which leads to steals and deflections. 
South Decatur
Hunter Johnson — 6'2 2022 PG/SG: I really like Johnson's game. He is a strong (190 pounds) 6-2 combo guard who can score at all three levels but is at his best when attacking the basket. He has a really quick first step and first jump, which allows him to get a shot basically whenever he wants. Johnson is able to rise above opponents on midrange jump shots and has a quick release on shots from behind the arc. He did not shoot the ball well from distance when I saw him play Morristown on Friday but still finished with 25 points, which is his average this season. What I noticed most about Johnson Friday is his ability to jump. At one point in the game, a South Decatur teammate threw the ball near the rim and just let Johnson go up and grab it. 
Lane Lauderbaugh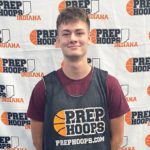 Lane Lauderbaugh 6'7" | SF South Decatur | 2021 State IN — 6'6 2021 F: Lauderbaugh, a springy forward, became South Decatur's all-time leading scorer (old record was 1,418 points) over the weekend. He scored 30 points Friday against Morristown before breaking the scoring record Saturday against South Ripley. Lauderbaugh (25.3 ppg, 11.0 rpg) plays more like a wing than a true big man and is able to drive past his defenders with his quickness and ball handling ability. He is an extremely aggressive scorer who is capable of stepping outside and knocking down a 3-pointer, as well, although that area needs improvement. I think defensively he could cause some problems at the next level. He showed the ability to sit down and defend smaller guards Friday against Morristown. Lauderbaugh will need to add 15-20 pounds of muscle before his freshman season but has the potential to be a versatile scorer in college. 
Triton Central 
Aiden Lindsey — 6'4 2022 W/F: Lindsey needs to continue to add muscle to his wiry frame but has nice size and length on the wing. He is an efficient outside shooter and has a jump shot that is difficult for smaller players to defend. Lindsey has smooth shooting mechanics and looks comfortable scoring the ball in the midrange and off the dribble. I would like to see him attack the basket more when the opportunity presents itself. With improved lateral quickness, Lindsey could guard multiple positions at the next level. I don't think he will be a player who will defend the point guard position, but he could cause some problems on the wing. Lindsey made a game-winning free throw against Shelbyville earlier this season after drawing a foul on a mid-range jump shot. 
David Steele — 6'1 2021 SG: Steele is a very good 3-point shooter who can get hot in a hurry. He has been more consistent scoring the ball this season and looks very confident doing so. His quickness and strength improved over the offseason, which has helped the senior on drives to the basket. It doesn't take long for Steele to get his jump shot off, which could make him an excellent spot-up shooter at the next level (Division III). With added quickness and strength, I think he could have success defending both guard positions in college. Steele isn't as quick as some other guards in the state but has a high IQ and a great feel for the game. He had a team-high 17 points against Cascade last week and made the game-winning free throw with no time left on the clock.