Week 4 is underway and we have got a big slate of high school hoops going on this week in Indiana. This season is going to be full of uncertainty, but let us dive on in and take a look at some highlights of Friday's night of hoops. 
Kokomo Upsets Marion
Kokomo hosted Marion on Friday night with the hope of ending a three-game losing streak against the Giants. The Wildkats struggled early on, and when they were trailing by 16 in the second quarter, it looked like we were on the way to a repeat of last year's 26 point win for Marion.  However, the Kats fought back and showed great heart to get back into the game, and they were able to tie the game up by the end of the third quarter. In the fourth quarter, it was back and forth, and with just 12 seconds to go, P.J. Flowers was able to drive in and hit a layup to give Kokomo the lead that they wouldn't relinquish. It was an all-around team game for Kokomo as they had 6 players in double figures. Jackson Richards Jackson Richards 6'3" | SG Kokomo | 2021 State IN (15), P.J. Flowers (13), Bobby Wonnell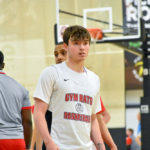 Bobby Wonnell 6'2" | SG Taylor | 2022 State IN (13), R.J Ogelsby (11), Dashaun Coleman Dashaun Coleman 5'10" | SG Kokomo | 2021 IN (10), and Patrick Hardimon (10). For Marion, Grand Canyon commit, Jalen Blackmon Jalen Blackmon 6'2" | PG Marion | 2021 State #244 Nation IN , led with 34, and Taden Metzger, a freshman, scored 12 for the Giants.
Notre Dame Recruits Go Head to Head
Blake Wesley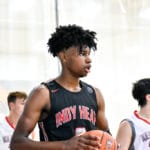 Blake Wesley 6'5" | SG South Bend Riley | 2021 State #95 Nation IN vs. Douglas Konieczny Douglas Konieczny 6'8" | SF South Bend St. Joseph | 2021 State #156 Nation IN . Teammates next year, but rivals this season. This game was back and forth all the way. South Bend St. Joseph took a lead early, but Wesley took over in the second and third quarters to keep the game tied up. In the end, Konieczny got more help from his supporting cast, and St. Joseph held on for an 81-73 victory. Wesley finished with 38 points and 11 rebounds in the loss. Konieczny led St. Joseph with 25 points and 8 boards. Other seniors for St. Joseph included Jack Futa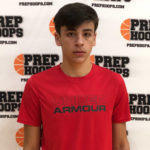 Jack Futa 6'6" | SF South Bend St. Joseph | 2021 State IN with 19 points and 6 boards, Will Terry Will Terry 6'5" | PF South Bend St. Joesph | 2021 State IN with 14 points and 5 boards, and Connor Litka Connor Litka 5'10" | PG South Bend St. Joseph | 2021 State IN with 8 points and 7 steals. Both teams will be back in action Saturday in the Champions of Character Classic at Grace College. SB Riley plays Fort Wayne Snider, and SB St. Joseph plays Homestead.
South Decatur Survives at Morristown
Last year, South Decatur held on to beat Morristown by 3 in overtime in a very tightly contested game, and we saw more of the same this season.  Morristown missed a tough layup at the buzzer, and South Decatur held on for a 67-66 victory on the road. Drake Moore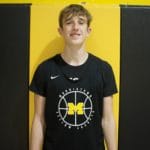 Drake Moore 6'2" | SG Morristown | 2021 State IN was outstanding for Morristown. The senior guard led the team with 25 points, and he was able to get to the hole consistently with ease. With foul trouble for the Yellow Jackets, he was able to score 15 second-half points to keep them in the game. Kyle Crim Kyle Crim 6'1" | PG Morristown | 2021 State IN also added 12. For South Decatur, Lane Lauderbaugh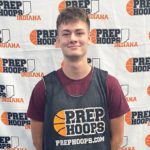 Lane Lauderbaugh 6'7" | SF South Decatur | 2021 State IN was outstanding with 30 points. He was knocking down nearly every shot that he took. Hunter Johnson also looked very good with 25 to lead the Cougars to the victory. South Decatur will be back in action Saturday against South Ripley, and Morristown will play Union County next on Tuesday.