The high school season is up and down with cancellations and changes last minute but we got a few games in last week and have some pretty solid evaluations in person on some key players. Here is my list of evals from the last week.
Lyna Brooks – 6'1 SG 2024 – Franklin Central (IN)
Lyna is a tall off-guard who has some real scoring ability. He's built tall and long and while he has a few mechanical adjustments to make on his shot, he can make them and create to get them off. Shot is a bit rushed and he has a low release but he's really creative and showed confidence in the mid-range and behind the arc. He's got the kind of makeup that is going to make him one of the better scorers in Marion County for the next 4 years. High, high upside.
Benny Ogayonne Benny Ogayonne 6'1" | SG Franklin Central | 2021 State IN – 6'3 SG 2021 – Franklin Central (IN)
Benny is a long, rangy guard who is best as a secondary ball handler that can take advantage of his defender. He's got a little breakdown ability and can cut and slash through the lane off the ball. Showed he can mix in a few different scoring avenues including a floater. Most of his scoring take place moving through the paint but he's a pretty capable shooter with time. Has a ton of length and a thin frame that will fill out well. Has some upside in college as a two-way player who can defend the best player on the other team.
Sam Mettert Sam Mettert 6'2" | SG Franklin Central | 2021 IN – 6'3 SF 2021 – Franklin Central (IN)
Sam is a tall wing shooter with some assertiveness and skill. Easily one of the better shooters in the Indianapolis area and has enough she to get his shot off any time he wants. His ball handling is really good for his position and he showed in this game that he can do well to get into some space. Has some athleticism as well and plenty of strength. When in a college program, he could be a guy you could post up and rely decently to rebound the ball at a good clip.
Michael Elliott – 6'3 SF 2021 – North Central (IN)
Elliott had a pretty good game and showed a little more versatility than he showed a week previous. He was way more active on drives and defense. He seemed to be willing to play fast and take a few more risks. Made some solid plays on drives but still looks like he is a shooter first but gives reason to believe that at the right level he can develop much more all-around.
Shilo Jackson – 6'8 PF 2021 – North Central (IN)
Shilo is a tall, thin forward who has developed late and could be an interesting next level prospect. He's still fairly raw but has some finishing ability with touch around the rim. He doesn't have a lot of strength yet so he gets bumped off his line a ton but he has the agility to keep with it and finish. Pretty mobile and will get up and down the floor very well. Could be a stash and develop type with more upside his last two years in college.
Quimari Peterson Quimari Peterson 6'0" | PG Gary West | 2021 State IN – 6'0 PG 2021 – Gary West (IN)
Quimari is a tough, lead guard with some real aggressiveness on the defensive end. In this game, he really showed that he was a willing and good defender. Active all of the time and can really create issues on guys that like to drive. His offense looks more polished as well, showing the jumper off a lot. Mixing in more mid-range jumpers and his release on the jumper is very smooth. A little slow on the shot but he picked his spots really well and was efficient.
Chrishawn Christmas Chrishawn Christmas 6'4" | SF Gary West | 2021 State IN – 6'5 SF 2021 – Gary West (IN)
Chrishawn is coming back off injury but looks fluid and was very active defensively. He did have a couple plays on the offensive end that showed sparks of his old game where he was tough and smooth through the lane. If he can get to using his jumper again here in the next couple games, his offensive output could really bust open. Did show some athleticism late in the game and that gave more confidence to where he is at in the full recovery. Has a lot more to show if he can be 100%.
Jalen Washington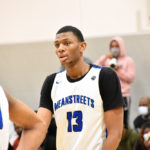 Jalen Washington 6'9" | PF Gary West | 2022 State #32 Nation IN – 6'9 PF 2022 – Gary West (IN)
It was great to see Washington back on the floor and he did not disappoint. He's so talented but the lack of playing time with injuries could set him back. But instead, his jumper was stellar and he's playing so much better from the wing. His confidence in that jumper is high and as the game went on, you saw him more willing to do more with it. He was shooting off the catch early and then went looking to create separation and get space to hit shots. He knocked down 4 triples and was efficient with it while also showing some ability to move around the floor and get up in the post against Southport's bigs. Will need strength but that will come with time.
Mason Nicholson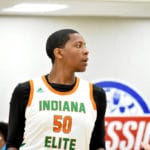 Mason Nicholson 6'8" | C Gary West | 2021 State IN – 6'8 C 2021 – Gary West (IN)
Mason is a big, physical post player with finishing ability down low. He's the type that can play with his back to the basket and and flip around a bit and play faced up. He's got some touch around the rim but he can have quite a bit of outcomes in his release point. As he gets more polished and when he is more of the featured post, he should be able to blossom. He plays with energy but there is more to get out of him.
Anthony Ball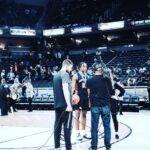 Anthony Ball 6'6" | PF Crispus Attucks | 2023 State IN – 6'6 PF 2023 – Southport (IN)
Anthony is a physical big with some really good tendencies around the rim. He loves to attack and can be dominant at times. His rebounding looked really good, tracking it off the rim and able to go get the ball. Finishes around the rim at a pretty good clip and does it through contact. Even showed a new little twist with a floater. If he does get to the point where he can play away from the rim on offense, his stock is going to really take off.
Keyon Garrett-Miller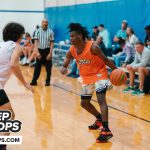 Keyon Garrett-Miller 6'1" | PG Southport | 2023 State IN – 5'11 PG 2023 – Southport (IN)
Keyon showed that he has the ability to be a top of the line guard and produce quickly. His jumper was really on today and he felt comfortable playing a full step behind the line and was hitting it. He has some real shiftiness to him and can break his defender down whenever. He's quick in the lane but will have to find some more ways to get all the way to the rim. He utilized a very capable runner/floater that he used a handful of times. Could really blossom this season.
Parion Roberson Parion Roberson 6'4" | SF Gary West | 2021 State IN – 6'3 SF 2021 – Gary West (IN)
Parion is a big, strong wing forward that is a mismatch nightmare. He isn't a big time shooter but can knock down jumpers. He's best when he's in the paint and now he is showing that he can take the ball himself at the rim. His ball handling looks better and he's doing well to use his body to create space. He did this against much taller defenders and had no issue. He's so good despite his lack of height. If he was 6'5, he would be talked about a ton more but that shouldn't stop him from being a highly, highly productive player at the next level.
Curt Hopf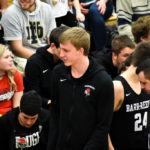 Curt Hopf 6'8" | PF Barr-Reeve | 2021 State IN – 6'8 PF 2021 – Barr-Reeve (IN)
Hopf continues to get better and better. He's picking up his speed and playing quicker, especially in the open floor. Have been surprised with his ability to play in transition and get out front. He's mixing in jumpers every once in a while but doing damage in the low post. He picked up a bunch of fouls after starting out hot so his offense slowed down but with freedom he shouldn't have an issues. Explosiveness looks a tick better as well.
Brycen Graber Brycen Graber 6'1" | PG Barr-Reeve | 2021 State IN – 6'3 PG 2021 – Barr-Reeve (IN)
Graber is a really adept point guard with great size and vision. He was great in this game on both ends of the floor. Defensively, he ha some lock down abilities and should blossom with that at the next level. He was also great in the lane, showing the ability to slice through the defense and just pick them apart. He's not a guy that is going to go out with the agenda of scoring a ton but let it come naturally. He does that well and still finds a way to rack up points.
Langdon Hatton Langdon Hatton 6'9" | C North Harrison | 2021 State IN – 6'10 C 2021 – North Harrison (IN)
One of the more transformed players over the last year, Langdon has cut weight and really refined his frame allowing him to do some really interesting things. He was really in love with his turn-around jumper. He had that thing working for him and his two of them early on. His mid-range jumper was also pretty locked in and a lot of the success came form his ability to move that large frame quickly. He has some real explosiveness for a player his size. Was able to get up and down pretty well. With the way his frame has changed, he is going to be a nightmare at the next level with a little polish.
Ethan Oakley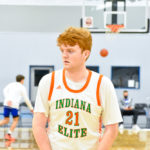 Ethan Oakley 6'7" | PF North Harrison | 2022 State IN – 6'7 PF 2022 – North Harrison (IN)
Ethan is coming off of a knee injury and is finally getting some run on the floor. The post prospect looks like he needs a little more time to get fully back in shape but he did make a few plays. Is a good post-up guy and has the touch around the rim. Will needs some work on positioning after missing time but has the frame and physicality to be a good post defender. Should see a big improvement after a full season of ball.
Hagen Knepp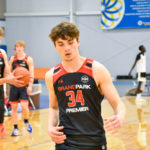 Hagen Knepp 6'4" | SF Barr-Reeve | 2022 State IN – 6'4 SF 2022 – Barr-Reeve (IN)
Hagen is a very strong, very tough wing that can rebound, defend, and score at a high-level. He did really well when he was looking to attack the rim. Has enough slip to his game that he can get in the lane and just overpower people, although today he showed more cleverness to it. He had a couple really nice jumpers, one off a turnaround in the mid-range and another off the catch from three. The rest, he just outworks you and gets all the trash points, off rebounds, broken plays, anything.
Logan McIntire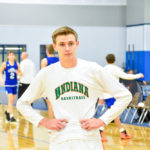 Logan McIntire 6'4" | SG North Harrison | 2022 State IN – 6'5 SF 2022 – North Harrison (IN)
Logan is a long, lanky guard with a ton of scoring ability. Struggled to get going early but really got hot in the second half for a bit and showed he can knock down shots quick. Playing off the ball and relying on touches hurt him as Barr-Reeve did a good job to shut things down. Logan has a lot of upside as he continues to add weight to his growing frame. Want to see him continue to balance his driving with the shooting within the course of a game.
Zane Burke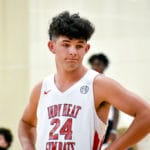 Zane Burke 6'2" | SG Blackhawk Christian | 2021 State IN – 6'3 SG 2021 – Blackhawk Christian (IN)
Zane is a big, strong scoring guard who showed he has it in him to get hot and put up points in a hurry. At times, Zane can be a little too passive. He has the ability to shoot quickly and do it with little to no help. At times you see a couple back to back possessions but he has so much more in him and can dominate games and likely will do more of that in college.
Branden Northern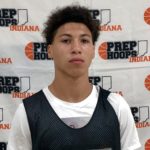 Branden Northern 5'11" | PG Silver Creek | 2022 State IN – 6'0 PG 2022 – Silver Creek (IN)
Northern played one of the best games we have seen from him. While not the tallest guard, Branden looks like his first step has gotten quicker and he's added a little more strength. Tough and strong, whenever Northern looks to drive he has the ability to beat up defenders on the way to the rim. Did pick his spots well in this game and seemed to really take off as the game winded down. Jumper looks a touch better and he came up big, late.
Kooper Jacobi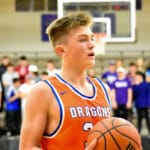 Kooper Jacobi 6'6" | PF Silver Creek | 2021 State IN – 6'6 SF 2021 – Silver Creek (IN)
Kooper continues to show that he has the type of aggressiveness that is going to play in college. Missing Kaufman in this game, Kooper probably knew he needed to get going early and once he found his spot, he went off. Scoring on nearly every possession for a 4-5 minute stretch. His ball handling is the part that separates him. He can utilize it well and find ways to create space to get his shot off. Does this against wings and guards. Has a lot of tricks in his bag and at the right spot, with a little bit of leeway, he should blossom in college.
Caleb Furst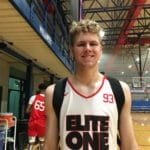 Caleb Furst 6'9" | PF Blackhawk Christian | 2021 State #34 Nation IN – 6'9 PF 2021 – Blackhawk Christian (IN)
Caleb wasn't as good as he was the previous week but his numbers were better. It's a weird thing to see a player of that caliber be able to have a solid game, a more balanced game but put up a 20-20 stat line. He's so consistent and sound that even when you don't notice everything, he's still contributing. Not much more can be said about Caleb.