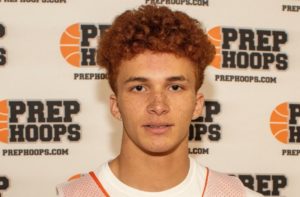 Jayden Mackie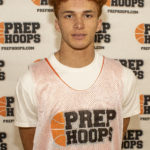 Jayden Mackie 6'2" | PG Aplington-Parkersburg | 2022 State IA (Aplington-Parkersburg, 2022)
An athletic lead guard who is equally adept making plays for others or scoring, Mackie recently picked up a Division II offer from Upper Iowa. He averaged 15.0 points, 2.4 rebounds and 2.6 assists a game as a sophomore for one of the best offensive attacks in 2A.
Dane Fuller Dane Fuller 5'10" | CG Dike-New Hartford | 2021 State IA (Dike-New Hartford, 2021)
Fuller led the Wolverines in scoring last year, averaging 18.1 points a game and shooting better than 50% from the floor. He's armed with a strong mid-range jumper and the ability to get to the rim for finishes, and he's also a solid passer. 
Chris Schreck Chris Schreck 5'10" | PG Van Meter | 2022 State IA (Van Meter, 2022)
The diminutive lead guard was a key player for the Bulldogs as a freshman and was great as a sophomore, shooting 41% from 3 and averaging 11.5 points and 3.1 assists. Following the graduation of Anthony Potthoff Anthony Potthoff 6'2" | SG Van Meter | 2020 State IA , Schreck will be asked to score more this year, and he's certainly capable. He's also a solid on-ball defender. 
Ty Van Essen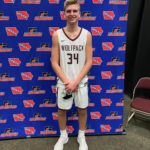 Ty Van Essen 6'4" | PF Western Christian | 2022 State IA (Western Christian, 2022)
The 6-4 forward led the Wolfpack in rebounding last year, pulling down 6.2 boards a game, and finished second in scoring at 14.0. He's extremely efficient, posting 63-52-77 shooting splits as a sophomore. 
Noah Miller Noah Miller 5'11" | CG Forest City | 2021 State IA (Forest City, 2021)
The leader of an always strong Indians team, Miller led the team in scoring, assists and steals last year, putting up 15.0 points, 3.7 rebounds, 4.9 assists and 2.8 steals a game. He's the focal point of the game plan on both ends of the floor. 
Kyler Matthias Kyler Matthias 6'2" | CG Denver | 2021 State IA (Denver, 2021)
A key piece of a veteran Cyclones backcourt, Matthias averaged 15.4 points, 4.7 rebounds and 3.2 assists a game last season. He's at his best when he's putting pressure on the defense by getting to the rim. 
Ben Dunlap Ben Dunlap 6'3" | SF Emmetsburg | 2021 State IA (Emmetsburg, 2021)
Dunlap, a 6-3 forward, is a highly efficient scorer who put up 55-40-73 shooting splits last year while averaging 19.0 points and 8.2 rebounds a game. His ability to score around the bucket or stretch the floor puts constant pressure on the defense. 
Zach Lutmer Zach Lutmer 6'1" | PG Central Lyon | 2023 State IA (Central Lyon, 2023)
Lutmer was remarkably productive as a freshman, averaging 15.7 points, 5.6 rebounds and 4.0 assists a game for the Lions. He's a capable perimeter shooter, but is at his best when he's attacking and putting pressure on the defender.