The high school season is starting to flip to the back half but so long as COVID doesn't get worse, it should be a loaded January and February with games getting moved around. So, we want to prep some colleges that are looking to get out and get recruiting. Today, we have our list of the best available players starting with 2021 Centers.
Breakdown: The class of 2021 is a strong one and even the post players for each level, those options are plentiful. A few guys were taken off the board already but leading the way now is Mason Nicholson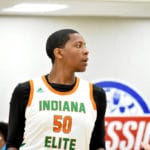 Mason Nicholson 6'8" | C Gary West | 2021 State IN . The huge post prospect is drawing a wide range of interest and has the most likely upside in this group. You also have some legit size with Rocco Muratori Rocco Muratori 7'1" | C La Lumiere | 2021 State IN and Riley Duncan Riley Duncan 6'10" | C Cowan | 2021 State IN . The name that has come up a lot lately has been Christian Wiseman Christian Wiseman 6'8" | C Indian Creek | 2021 State IN . The Indian Creek standout is a bit raw but has had some impressive play this winter and caught the eye of some college coaches. DI coaches have a couple guys to look at but this group provides the most interest to DIII programs at the moment.