 Posted On: 12/1/20 8:14 AM
The 2024 class is filled with big-time talent as there are multiple players already holding D1 offers. The group is filled with prospects ready to make an impact right away and should leave their mark on the Garden State despite the shortened season. Here are the projected stat leaders from the 2024 class.
Points: TJ Robinson TJ Robinson 6'2" | PG Bishop Walsh | 2024 MD , 5'10 PG Teaneck
Elliot Cadeau Elliot Cadeau 6'2" | PG Bergen Catholic | 2024 State NJ ,  Naasir Cunningham Naasir Cunningham 6'6" | SF Gill St. Bernard's | 2024 State NJ  and James Moore were all potential picks here, but they will not be the main focal point of their team's offense respectively. Robinson enters Teaneck with a scorer's mentality as he is always looking to attack the basket. He is a crafty finisher around the basket and knows how to draw contact. Robinson is more than just a driver as he has a good release on his jumper and can get hot from distance in a hurry. His ability to score points in bunches gives him the best opportunity to lead the freshman class in scoring.
Rebounds: Richard Brisco Richard Brisco 6'8" | PF Roselle Catholic | 2024 State NJ , 6'8 PF Roselle Catholic
Moore and  Qing Fang Pang Qing Fang Pang 6'10" | PF Patrick School | 2024 State NJ  also have a great shot at taking home the rebounding title, but Brisco gets the nod. The 6'8 forward is a big-time athlete who knows how to finish above the rim. Brisco knows how to create position for himself down low and skies for rebounds on both ends. He was selected to the Pangos' Cream of the Crop Game at the All Frosh/Soph Camp this season, and will get an opportunity to start for the Lions right away. Brisco is one of the top forwards in the class and should show his ability to make plays from the beginning.
Assists: Cadeau, 6'2 PG Bergen Catholic
The Crusaders may already have the 2022 duo of  Will Richardson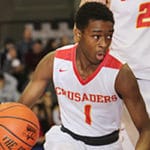 Will Richardson 6'2" | PG Bergen Catholic | 2022 State #79 Nation NJ  and  Julian Brown Julian Brown 6'1" | PG Bergen Catholic | 2022 State NJ , but they are both scorers who should benefit from Cadeau's presence in he backcourt. The 6'2 guard has a tight handle and is capable of breaking his defender down off the bounce. Once he gets into the lane, Cadeau can either get to the basket or dish it off to his teammates. He is a solid passer and does not get rattled under on-ball pressure. Bergen Catholic should be one of the teams to beat this season with the presence of Cadeau alongside Richardson and Brown.
Steals: Tahaad Pettiford Tahaad Pettiford 6'0" | PG Hudson Catholic | 2024 State NJ , 5'9 PG Hudson Catholic
Pettiford joins a talented Hudson Catholic backcourt, but he should still make an impact in his debut season. The 5'9 guard is lightning quick, which he uses on both ends of the floor. Pettiford moves his feet exceptionally well on the defensive end and is unafraid to go up against taller defenders. His fast hands allow for him to get steals with ease and start up fast breaks. Pettiford comes into Hudson Catholic with the reputation as a shooter, but should also gain the moniker of being one of the top on-ball defenders in the state.
Blocks: Tarik Watson Tarik Watson 6'7" | SF Roselle Catholic | 2024 State NJ , 6'7 PF Don Bosco Prep
Moore has a shot at this spot as well, but the loaded Celtics' frontcourt of  Samson Johnson Samson Johnson 6'10" | PF Patrick School | 2021 State #145 Nation NJ ,  Chris Jiao Chris Jiao 6'11" | C Patrick School | 2021 State NJ ,  Muhamed Sow Muhamed Sow 6'10" | PF The Patrick School | 2021 State NJ and  Scotty Middleton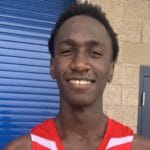 Scotty Middleton 6'7" | SF Patrick School | 2023 #202 Nation KS could limit his shot-blocking opportunities. Watson joins a good Ironmen frontcourt of  Akil Watson Akil Watson 6'7" | SF Roselle Catholic | 2023 State #23 Nation NJ  and  Joe Carroll Joe Carroll 6'7" | SF Blair Academy | 2022 State NJ , but the younger Watson should still be able to make an impact right away. The 6'7 forward already has a strong frame, so he should not be bullied in the post. Watson is also a big-time athlete, which he uses to swat shots around the basket. Don Bosco Prep has a bright future ahead with the Watson brothers manning the paint for the next couple of years.