This crazy year is taking it's toll on everyone. The recruiting cycle has not been in full throttle. With incoming freshman getting basically a free year this year and graduate transfers also getting an extra year the class of 2021 is feeling it's effects.Here are some players who have a lot of interests but no offers as of yet. They will be a welcomed addition to any programs recruiting board.
Kyle Marshall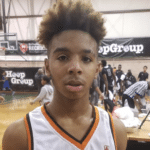 Kyle Marshall 6'1" | CG St. Dominic | 2022 State NY .    5"9         2022.            Mount St. Michael HS
Lightning fast guard. Excellent pull up game. Deadly shooter from elbow to elbow. Tremendous ball handler gets into the lane and finishes. Strong  on the ball.  Smart passer. Feisty defender.  Working on improving his range. College programs need to check in on him. Extremely talented player. One of the better young players in the CHSAA.
Malik Cole Malik Cole 6'3" | SG St. Edmunds | 2021 State NY .      6"3.              2021.                St. Edmunds HS
Combo guard can finish with explosiveness at the rim. Slashes to the lane and can flush it. Excellent defender. Looking to extend his range. Would be a real nice get for a D2 program.
Jaden Daughtry.      6"6.       2022.             St. Francis Prep HS
Tremendous potential with a huge upside. On a talented high school team he could have the highest ceiling. A long lanky lefty. Excellent shooter with a good handle. Has been working on his mid range game. Interest has been intensifying the last 2 months, colleges should not wait any longer.
Jaden Pena Jaden Pena 6'6" | PG Xaverian | 2021 State NY .            6"6.        2021.                Xaverian HS
Multi dimensional player. Every team can use a player of Jaden's skill set. Clears the glass on the defensive end and converts off the boards on the other side of the floor. Really smart defensive player. Scores with both hands around the rim. Improving on his consistency in shooting the ball. A steal for a low D1.
Very skilled player. Makes threes. Finishes at the rim. Can flat out score. Does not take a possession off. Interesting to see how he has developed he is still on the young side. Colleges should put him on their radar.
Keith Mency Keith Mency 6'1" | CG Marist | 2021 NY .       6"1.              2022                 Stepinac HS
Hopefully the New York high school scene will get to see this tremendous talent. A transfer from Marist HS in New Jersey (closed). Super quick guard with quick first step. Crafty finisher in the lane. Can shoot it. Working on his playmaking ability but that should come easily as  he gains more experience in the very tough CHSAA. A D1 talent.
I bring you one stop recruiting. Baldwin HS on Long Island is a very successful program. They have sent many players to college programs and they do very well. This season they have a quartet of players. Milan Johnson is a 5"11 2021 guard with unlimited range. Can score in a variety of ways .Working on improving his footspeed in guarding the ball. Jeff Douby 6"7 2021 very athletic big man. Runs the floor rim to rim. A raw talent with a lot of upside to his game. Has improved with his post moves and with his back to the basket. His size gives him the ability to alter shots. Josh Minton class of 2021. He is a 6"1 lefty. Really good shooter from three. High basketball IQ. Has been improving on defending the ball. Jasigha Barnes is a 6"2 class of 2021 scorer of the ball. Has the skill set to take players off the bounce or drill the three. Scores in bunches. Working on a quicker release. These are 4 players who can definitely play at the next level. D2 and really good 3's would be getting a player from a winning program that would be a welcomed addition to the rotation.