Boys hoops is (hopefully) just around the corner. With that in mind, we preview players to keep an eye on.
First up is Morristown senior
Drake Moore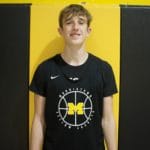 Drake
Moore
6'2" | SG
Morristown | 2021
State
IN
(6-2, 175). 
Spending his offseason with D1 Indiana 2021 Rising Stars, Moore is gearing up for what could be a high-scoring senior season. 
Moore, a long and smooth shooting guard, averaged 14.0 points, 2.6 rebounds and 2.2 assists per game as a 6-1 junior. He made 38 percent of his field goals and was 49 of 122 from behind the arc (40 percent). 
The focus of his offseason was improving his all-around game. Moore scored 39 points in the semifinals of the D1 Indiana Summer Classic, showing his ability to get to the rim and finish with both hands. 
Moore has always been able to catch and shoot the ball (with range) but also showed the ability to make 3-pointers off the dribble over the summer. And he looked extremely confident doing so. 
Morristown head coach Scott McClelland believes Moore could grow to 6-3 or taller. I would agree given how much he has grown in just the last three seasons. Moore was 5-5 as a freshman during Morristown's state championship run (2017-18 season). 
Moore did add more muscle to his wiry frame over the offseason but will need to add more weight before college. His lateral quickness needs to keep improving, but he will be able to defend both the point and shooting guard positions in college (Division III level). 
The senior holds an offer from Mount St. Joseph University and has interest from Holy Cross College (Notre Dame), Wabash College and the University of Pittsburgh-Bradford, he said. Moore received the offer from Mount St. Joseph on Oct. 30. 
I would like to see Moore improve in two areas during his senior season: rebounding and defense. He needs to consistently crash the boards. Having a full offseason under his belt in his new body should help the senior, who does make an effort to defend with intensity. 
Morristown opens its season Nov. 25 at Triton Central.