I have done Top 50 player breakdowns on the senior point guards, shooting guards, small forwards, and power forwards in Iowa, and now we will finish off this series with the center position. Since there are only eight total centers ranked in the 2021 class, I am going to break down all of them, whether they're in the Top 50 or not. Let's begin!
Chase Courbat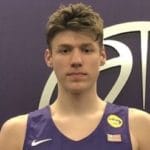 Chase Courbat 6'9" | C Cedar Falls | 2021 State IA – Cedar Falls
Chase runs the floor hard and is a master of post position. He does his work early, and doesn't waste any time once he has the ball with an advantage. He covers a lot of ground on his post moves, but there a few small footwork things that if cleaned up, will help his offense come much easier. His offensive game is mostly back-to-the-basket and would benefit greatly if he developed a face-up game from 10-15 feet out.
Angelo Winkel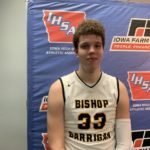 Angelo Winkel 6'9" | C Bishop Garrigan | 2021 State IA – Bishop Garrigan
If I had to choose one word to describe Angelo's game, it is physicality. He is a strong player, and an expert at utilizing that strength. You won't see him draw many fouls stemming from misplaced physicality. He has a controlled aggression. Small shoulder bumps or hip checks to displace a rebounder or defender are perfectly legal when executed correctly. He moves his feet very well on defense, and if he is able to stay in front, no player will bully their way through Angelo's chest. He has good touch around the basket and has developed his shot off-the-dribble since we last saw him suit up for Bishop Garrigan.
Max Roquet Max Roquet 6'6" | C Johnston | 2021 State IA – Johnston
It's clear that Max takes pride in his rebounding. He works relentlessly to acquire and maintain good position, and will put forth multiple efforts to secure the ball. Even if he doesn't come away with the rebound, positive results come from it. Whether he knocks it around and it finds another teammate, or if the opposition secures it in the end, the extra effort allowed time for his teammates to get back on defense to prevent a transition opportunity. 
Jack Groeteke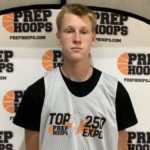 Jack Groeteke 6'9" | C Dowling Catholic | 2021 State IA – Dowling Catholic
Jack is an incredibly talented player who is just scratching the surface of his ability. His combo of length and athleticism at 6'9″ is everything you want out of a modern PF/C. On offense, he is a floor-spacer who can draw his man out several feet beyond the three-point line. He has worked hard to develop his post game. His footwork has cleaned up, and his moves have become much more fluid, proof of his hard work. He has the potential to be an elite defensive player with his shot-blocking ability, mobility, length, and his ability to guard inside and out.
Amar Kuljuhovic Amar Kuljuhovic 6'6" | C Waterloo West | 2021 State IA – Waterloo West
The best passer in this class is Amar in my eyes. He is excellent when he has the ball in his hands in the high post. There, he's able to scan the court and drop dimes while he has his defender pulled away from the rim. His basketball intelligence helps him on team defense because he knows where he needs to be and when, but as an individual defender against the ball he struggles. I try to never make any pro player comparisons with high school players, but his game reminds me so much of Enes Kanter. Very skilled offensive player but a little slow-footed, which hurts them on the other end of the floor.
Aldane Barrett Aldane Barrett 6'7" | C Davenport West | 2021 State IA – Davenport West
Aldane has several tools that suggest he can be a a great defensive player. He has large and quick hands which he deploys with great accuracy to block shots. He has the kind of blocks that end up in the fifth row of the stands. He doesn't have great positioning lots of times but he recovers well and his length closes the gap. He loves to dunk, and you better put multiple bodies on him to box out or he's gonna throw the rebound right back down through the hoop.
Caleb Burks Caleb Burks 6'6" | C Waverly-Shell Rock | 2021 State IA – Waverly-Shell Rock
There's nothing I appreciate more than a player who provides value in every aspect of the game. If a player can shoot, dribble, pass, defend, and provide value away from the ball, a coach will never take them off the court. Caleb is one of the more versatile centers you'll see this year. His junior year averages of 10.5 points, 7.6 rebounds, 1.5 assists and 4.3 blocks show you a snapshot of that flexibility. He is an excellent rebounder, has great footwork, and is a solid screen-and-roller.
Owen Coffman Owen Coffman 6'8" | C Grinnell | 2021 State IA – Grinnell
Owen is another excellent defensive center in this class. He is a cerbral player, and his ability to accurately sort out when to leave his man and help, when to stay home, and when to stunt and sort of play in-between defense on both players. A small percentage of players at every level can do that type of real-time analysis on the court with consistency.