North Georgia Showcase
Standout Seniors
2021 6-2 SG Trey Acklin – St. Pius X
Trey Acklin brought tremendous energy to St. Pius' aggressive attacking press. He came away with 8 steals and added 14 points and 4 rebounds. Acklin is at his best when he's able to attack the basket. He's a skilled finisher and solid all-around athlete. Acklin is a versatile piece that has enough length and athleticism to play multiple positions in St. Pius' free flowing system.
2021 5-11 PG Brookes Kahlert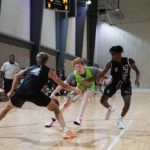 Brookes Kahlert 5'11" | PG St. Pius | 2021 State GA – St. Pius X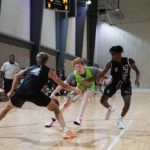 The Rollins-signee dazzled with his mesmerizing ball handling and passing ability. When he had the ball in his hands, it was trouble for the defense. Kahlert can get into the paint and draw a crowd before hitting the open man at the last second. He's not afraid to take chances when it comes to fitting in tough passes into tight windows and it often works out for him. His three-point shooting was locked in as well, making him an overall difficult cover.
2021 6-2 CG Vino Glover – Collins Hill
Wired to score, Vino Glover leads a fast pace Collins Hill team that attacks on both ends of the floor. Glover is a good shooter that can work off ball screens and pull-up from the mid-range. He has to be covered beyond the three-point line with his dangerous range. He showed throughout the day that he could get into the lane and breakdown defenders off the dribble.
2021 6-3 SG Chris Lanns – Collins Hill
In a guard exclusive offense with no big man, somebody has to pick up the slack and do the dirty work. Chris Lanns is that guy. Lanns did a little bit of everything for Coach Joe Dix in the Eagle's 80-75 win over Gainesville. He hit threes (3), got to the basket, played tough defense and rebounded (5). Lanns is the type of piece that can be successful in multiple spots on the floor.
2021 6-2 G Robert Reisman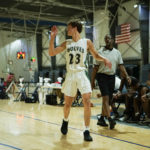 Robert Reisman 6'3" | CG Gainesville | 2021 State GA – Gainesville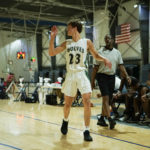 Rob Reisman has flourished as a distributor and scorer. He does so much for the Red Elephants. Reisman combines toughness with finesse as he blasts through defenses and finishes with skill. He's a stat sheet stuff that can impact games on the glass, in the scoring column and with his passing. He had 21 points, 5 rebounds and 6 assists vs. Collins Hill.
2021 6-3 CG Garrison Powell Garrison Powell 6'3" | CG Holy Innocents' | 2021 State GA – Holy Innocents'
The veteran guard didn't have to be flashy to be effective. Powell scored in a variety of ways. He got to the line (7-8), sank threes (2) and scored from the mid-range and up close. He was consistently good as the Golden Bears needed him to be against a scrappy White County group that wouldn't quit.
2021 5-10 PG Justin Wilson – Holy Innocents'
Wilson picked his spots throughout the day extremely well. While he could be a 20+ point per game scorer on many teams across the state, Wilson still manages to get his while focusing on setting up his teammates first. He plays under control and doesn't take any bad shots. Wilson plays bigger than his size and can make things happen even without scoring. He finished with 15 points, 4 rebounds, 3 assists and 2 steals in a 54-47 win.