There is much uncertainty with Connecticut high school basketball at this point. The CIAC has moved the potential start date to December 17th, but this is unlikely. The top prospects in the state may not have the opportunity to play until 2021 but here are a few players to keep on your radar. 
Matt Curtis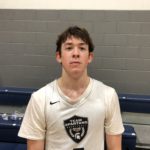 Matt Curtis 6'3" | CG Northwest Catholic/St. Thomas More | 2022 State NLG , 6'3″ SG, Northwest Catholic, 2022
The 2019-2020 Connecticut Second Team All-State performer averaged 23.6 points per game last season. After an outstanding summer, he has picked up offers from UMass, Fairfield, Hartford, and Bryant. 
Donovan Clingan Donovan Clingan 7'1" | C Bristol Central | 2022 State #61 Nation NLG , 7'1″ C, Bristol Central, 2022
Clingan returns 24.8 points, 17.2 rebounds, and 6.4 blocks per game. Headed into his junior year he's already eclipsed 1000 points and 750 rebounds. He holds a number of high major offers and continues to improve. 
Connor Tierney Connor Tierney 7'0" | C Sacred Heart Waterbury | 2021 State NLG , 7'0″ C, Sacred Heart, 2021
Connor will return much-needed size in the middle for Sacred Heart. His role will be vastly different this year. The team will lean on him more this season to lead the way. 
Troy McKoy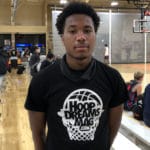 Troy McKoy 6'5" | SG NLG , 6'5″ SF, Windsor, 2023
McKoy continues to build a reputation nationwide after earning 'Top 30 Cream of the Crop' at the Pangos All American Camp. With Corey McKeithan, Amir Spears, and others graduating he will have to be the focal point for Windsor. 
Avery Hinnant Avery Hinnant 6'6" | SF Naugatuck | 2022 NLG , 6'6″ F, Naugatuck, 2022
Avery led Naugatuck to a 22-1 record and their first Naugatuck Valley League tournament title in 51 years. He's one of the more physical players in the state who does the dirty work to help the team win.  
Dion Perkins Dion Perkins 6'4" | SG Springfield Commonwealth Academy | 2022 State NLG , 6'4' SG, Seymour, 2021
Dion had an impressive stat line last season averaging 24.8 points, 8.9 rebounds, 2.8 assists, 1.3 blocks, and 2.2 steals per game. He also scored a career-high 48 points last season in a tough matchup against Torrington on New Year's Eve.
Ben Carroll Ben Carroll 6'7" | PF Notre Dame | 2021 State NLG , 6'7″ F, Notre Dame-West Haven, 2021
The 2019-2020 All-SCC Selection was one of the most underrated players in the state last season. The southpaw produces at a high level on both ends. Ben's soft touch in the paint and ability to step out to the perimeter makes him a matchup nightmare. 
Keyshawn Mitchell Keyshawn Mitchell 6'8" | SF Capital Prep | 2022 State NLG , 6'9″ W, Capital Prep, 2022
Keyshawn is a wiry versatile wing with a ton of upside. He returns 12.4 points, 8.6 rebounds, 2.6 assists, 1.3 steals, and 1.4 blocks per game. Last season he put together ten double-double performances, knocking on the door of multiple triple-doubles. 
Additional Key Players to Watch
Akim Joseph Akim Joseph 6'6" | SF Trinity Catholic | 2021 State NLG , 6'6″ F, Notre Dame Fairfield, 2021
Brody Limric
Brody Limric 6'8" | PF St. Andrews | 2022 NLG , 6'6″ F, East Catholic, 2021
Cam Garcia, 5'11″ PG, Watertown, 2021
Daniel Wellington Daniel Wellington 5'9" | PG Kolbe Cathedral | 2021 State NLG , 5'6″ PG, Kolbe Cathedral, 2021
Dereyk Grant Dereyk Grant 5'11" | PG Wilbur Cross | 2021 State NLG , 5'10″ CG, Wilbur Cross, 2021
Dustin Garrison, 5'8″ PG Windham Tech, 2021
Eli Blackwell Eli Blackwell 5'9" | PG Notre Dame | 2022 State NLG , 5'8″ PG, West Haven, 2021
Elon Munroe, 5'10″ PG, SMSA
Ese Onakpoma Ese Onakpoma 6'1" | CG We Believe Academy | 2023 State NLG , 6'1″ CG, Naugatuck, 2022
Jabari Jones Jabari Jones 6'2" | PG Ledyard | 2021 State NLG , 6'2″ W, Ledyard, 2021
Jack Hall, 6'3″ G, Avon, 2021
Jason James, 6'0″ G, St. Joseph, 2023
Johnny McCain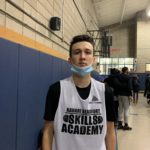 Johnny McCain 6'2" | PG Canterbury | 2023 State NLG , 6'1″ CG, Trumbull, 2022
Luke Strole, 6'3″ CG, East Catholic, 2021
Malcolm Duncanson, 5'11″ PG, West Haven, 2021
Mike Green Mike Green 6'5" | SF Hamden | 2021 State NLG , 6'5″ W, Hamden, 2021
Rassoul Abakar, 6'9″ F/C, Notre Dame Fairfield, 2021
Sheldon Schuler, 6'3″ W, Ansonia, 2021
Tyrell Staples-Santos Tyrell Staples-Santos 6'1" | PG Kolbe Cathedral | 2022 State NLG , 6'1″ PG, Kolbe Cathedral, 2022
Tyshawn Jackson Tyshawn Jackson 5'10" | PG Prince Tech | 2021 State NLG , 5'10″ PG, Prince Tech, 2021
Vincent Martinez, 6'0″ PG, Maloney, 2021