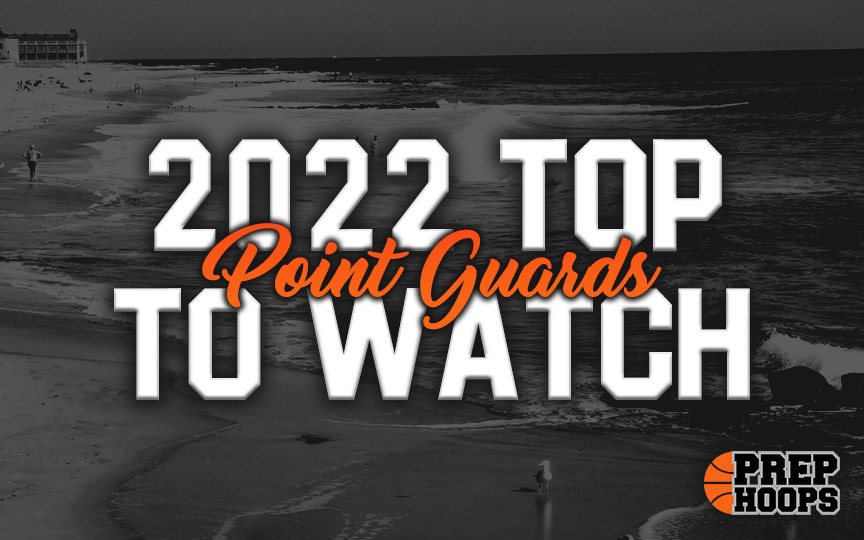 Posted On: 11/19/20 10:33 AM
Last season saw a rare shift in power in the Garden State as New Jersey's top team resided in South Jersey. Camden was absolutely dominant as the Panthers had only two games that were decided by fewer than double digits against in-state competition. St. Augustine, Wildwood Catholic and Paul VI all finished within the top 20 while Moorestown and Atlantic City also had high finishes. The lead guard group in South Jersey is strong, especially in the 2022 class. Here are the top 2022 point guards to watch in South Jersey.
Derek Simpson Derek Simpson 6'3" | PG Lenape | 2022 State NJ , 6'0 Lenape
Lenape had a strong 2019-20 season as it made the South Jersey Group 4 semifinals and has the chance to do so again with Simpson returning. The 6'0 lead guard is lightning quick with the ball in his hands and can blow by his defender in the half court. Simpson is a crafty finisher around the basket, but can also make opponents pay for giving him space on the perimeter. He is a solid passer and uses his quick hands on the defensive end. Simpson is a play-maker with the ball in his hands and will make plays for Lenape this season.
Derek Simpson Derek Simpson 6'3" | PG Lenape | 2022 State NJ , 6'0 Lenape Lenape had a strong 2019-20 season as it made the South Jersey Group 4 semifinals and has the chance to do so again with Simpson returning. The 6'0 lead guard is lightning quick with the ball in his hands and can blow by his defender in the half court. Simpson is a crafty finisher around the basket, but can also make opponents pay for giving him space on the perimeter. He is a solid passer and uses his quick hands on the defensive end. Simpson is a play-maker with the ball in his hands and will make plays for Lenape this season. Drew Greene Drew Greene 5'10" | PG Cherry Hill East | 2022 State NJ , 5'9 Cherry Hill East The Cougars are fresh off an appearance in the South Jersey Group 4 title and they should be in the hunt again with Greene back to run the offense. The 5'9 guard plays with composure on the ball and does not get rattle by pressure. Greene is a tremendous passer and makes plays when he gets into the lane. Greene can knock down jumpers from behind the arc and is an underrated defender. Greene is a pass-first lead guard who is ready for a big junior campaign for Cherry Hill East. Braxton Jones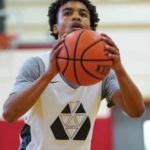 Braxton Jones 6'0" | PG Roselle Catholic | 2022 State NJ , 5'11 Trenton Catholic Trenton Catholic may be more centrally located in the Garden State, but Jones was too good to keep off this list. The 5'11 guard is a knockdown shooter from deep, capable of getting hot from distance in a hurry. Jones can also handle the ball on the perimeter as he knows how to get to the basket and finish. He is a tough on-ball defender and makes good decisions with the ball in his hands. Jones will get more touches running the Iron Mikes' offense which should help rise his stock this season. Calvin Fowler Calvin Fowler 6'0" | PG Life Center Academy | 2022 State NJ , 6'0 Life Center Academy Life Center Academy added a lot of talent in the offseason, but Fowler will still be able to make an impact in 2020-21. The 6'0 guard is a blur in the open floor and loves to push the pace in transition. Fowler is a good finisher around the basket and does not mind drawing contact. He is a strong rebounder and does not mixing it up on the defensive end. Fowler is a gritty guard who should add toughness to a talented Life Center Academy team. Amari Petty Amari Petty 5'9" | PG Manchester Township | 2022 State NJ , 5'9 Donovan Catholic The Griffins had a solid 2019-20 season, but they have the potential for an even better year with Petty returning for his junior season. The 5'9 guard has a tight handle and is hard to keep out of the lane. Petty uses his speed to blow by his defender and finish around the basket. He shoots the ball with confidence from the perimeter and is a solid on-ball defender. Petty is one of the quicker guards in the Shore Conference and it should be on full display this season for Donovan Catholic. Other Players to Watch: Jamaal Morris Jamaal Morris 5'10" | PG Trenton Catholic | 2022 NY , 5'10 Trenton Catholic Tommy Mooney Tommy Mooney 6'1" | PG Haddonfield | 2022 State NJ , 6'1 Haddonfield Basil Nori Basil Nori 6'3" | PG Olympus Prep | 2022 State NJ , 6'0 Olympus Prep Jaden Arline Jaden Arline 5'11" | PG Paul VI | 2022 State NJ , 5'11 Paul VI Jaiden Fraser Jaiden Fraser 6'0" | PG Toms River North | 2022 NJ , 6'0 Toms River North