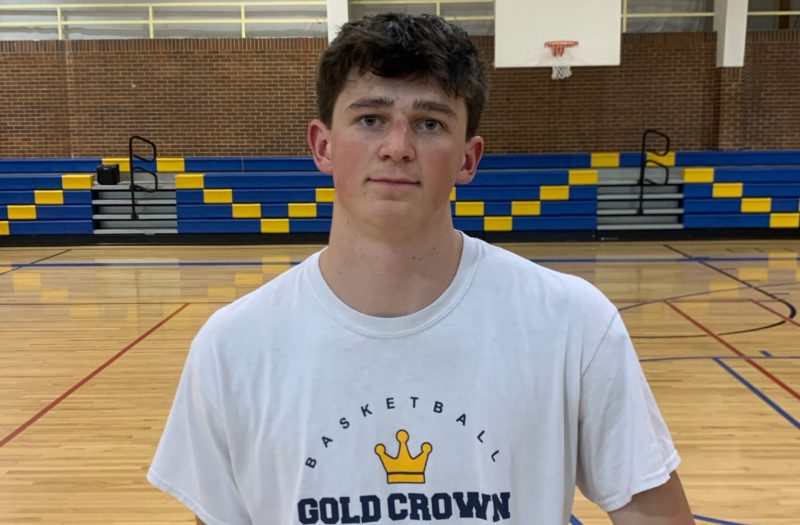 Posted On: 10/1/20 4:55 PM
Another week, another solid turnout. Some of the top players in the state going at it for hours. Here are 2022 players who stood out in Underground Invitational VII.
Knudsen played well this week. He was back to the shooting off of the dribble with leaning 3-pointers, running away from the rim, and still heaving one up and somehow being open despite being one of the best shooters on the day. He then switched that up and got inside, where he was hitting layups with both hands. He gets into an offensive flow, and when he does, there are not many answers for him. His shot has returned, and his usage in this setting is great because while he is letting it fly, he is continuing to get others involved, and defenders have to choose what to stop.
Bilello has turned it up as of late on offense, and a physical Joey is a tough cover. He has an open arsenal, and it resulted in wins. Bilello is a 6'7 two-way weapon that can do it all. When he is hunting for shots and aggressive, he is at his best because he is efficient and puts himself in easy scoring positions. Bilello was hitting multiple floaters and stepped out for 3-pointers. Bilello is a tireless scorer with a great motor that seems to find more a rhythm later in the day after most players have seemed to have burned themselves out. He is progressing, has picked up his first offer from UCCS, and I am sure that will further motivate him to keep it going. He played well this week.
Harris is tough as nails on both ends of the floor and what I liked about this week is he did not have to score to be productive. Harris was playing well as a defender. He was getting strip pokes, being active on the boards and starting the breaks, and also making smart passes. Harris is not a flashy player but is a productive player that controls the pace, and his team goes as he goes. He had a few tough finishes as he is an elite finisher around the rim, but he was also hitting 3-pointers on the day, which has been an area that he has worked most on. When he is hitting jumpers and running the team, he is a solid option as a point guard. He wants to win and will do what is needed to secure the win. Him transferring into a true floor general with a reliable 3-point shot will solidify him as an all-around threat. He continues to progress.
Shiers was the MVP on the day. Seriously, who was the kid that played this Sunday? He was out and running, banging down low and backing down anyone in his way and scoring with ease, and for the first time, I heard complaints of, "you're supposed to do that you're 7-foot." That is something that Shiers should want to hear and continue to dominate. He was making shots through contact, driving, hit a couple of 3-pointers, and had his team winning. If that were not enough, on defense, he was also one of the biggest standouts on the day. He was dominating on one end and then getting on the other hand and getting blocks and deflections and trash-talking to back it up. Shiers played well this week and had a career-high day in dunks. If he can continue playing as he did on Sunday, it's a whole new world for the big man out at Mead.  
Hackley is a player that I have gravitated towards because he takes every single matchup personal, but on Sunday, that hit a new high. Hackley did a bit of trash-talking with another guard and made it a point to go at him – for the entire day. Hackley hunts mismatches and plays within the flow. He is an uber-aggressive guard that is getting shots up, finishing at the rim, and also finds a way to keep teammates happy as if there is an open look, he is a willing passer. That is a tough balance.  Hackley answered runs, consistently hit shots, and also went on a couple of mini-flurries. He attacks in isolations, reads the screen, and makes the right play. He had a couple of heat-check moments where he got enamored with scoring, but it was understandable as he was in a heated personal battle where the two players went at each other. Hackley is a leader and, despite not being a vocal player, plays with a competitive edge. He got downhill, played lockdown defense, and his play translated to wins.