 Posted On: 10/21/20 1:01 AM
Top 4 Freshman to look out for this upcoming high school season.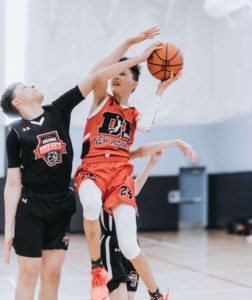 Dylan Chavez – 6'4 La Cueva 
I have been watching Dylan for quite some time now. He is by far one of the most skilled athletic kids that I have seen in a long time. Imagine watching Tyler Hero in high school. Chavez is very comparable. His tall 6'4 frame gives him a huge advantage over much of the other smaller point guards out there. He can do it on both ends of the floor and leads his team as a great floor general. He can get to the rack with ease and defends like a pit bull. Chavez is an extremely strong shooter averaging 20 plus points a game. Chavez has the ability to knock it down from deep. As Chavez continues to improve he is looking to make a strong statement on why he is #1 in the state.
Amari Brown 6'2 – Cibola 
A very impressive slasher who can handle the ball very well.  At times Brown can be an electrifying scorer. He has an explosive first step coupled with terrific inside shooting ability. Brown is one of those kids you want to have the ball in those clutch moments. Brown comes from a very talented family. His sister plays for Florida State and dad was a New Mexico Lobo's legend. 
Marcus Wilson 6'2 – Cibola
This kid is just impressive and his story is amazing. In 2019 Wilson had a severe sinus infection that spread to the middle of his brain. He had three surgeries and one side of his skull removed. He made serious leaps and bounds after multiple treatments and is on the court once again. Truly amazing and at 6'2 you would not think that Wilson is very long but don't be fooled because Wilson's reach is very lengthy. Wilson is a great defender who can pressure the ball very well. He is a very strong guard who can dribble the ball exceptionally well. His length, speed and agility allow him to get to the rim with ease.
Elijah Foster 6'3 – Volcano
This kid is just pure out physical. Foster is a very strong inside player who battles for rebounds on both ends of the court. His physicality allows him to get to the rim with force. Whenever the High School season gets underway, people should fall in love with the handles and playmaking ability of this rising freshmen.