The annual Prep Hoops Top 250 event is our longest and most wide spread of anything we do all year. For our Indiana event this year, the talent was clearly evident and over the course of the day, we were able to see some of the best players in the state and some from out of state. 
Today, we put together our list of the best forwards we saw on the day.
Keaton Buuck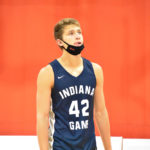 Keaton Buuck 6'6" | PF Crown Point | 2023 IN – 6'5 PF 2023 – Crown Point (IN)
Keaton is a power forward that is making strides over the last year as a guy that is a low-post threat. He's really functional with a consitent amount of touches. He's the type of guy that can really finish around the rim and is doing so at a better clip against better defenders. Uses his quickness well to finish. If he can get a jump in his height at some point, his stock should take a big step forward.
Jacob Moynihan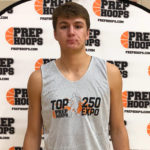 Jacob Moynihan 6'6" | PF Seton Catholic | 2021 State IN – 6'6 PF 2021 – Seton Catholic (IN)
Jake has done a really good job over the last year as a guy who has progressed from a low post and interior guy to a perimeter forward that can mix it up inside. His strength lies in his strength and shooting. He's tough and when he wants to get inside and be dominant, he has that ability but then can just flip around and knock down triples at a good clip. Does well in the mid-range as well. He's at a spot where college coaches can really use him in a few different ways and has made himself immensiely more valuable.
Aaron Humphrey – 6'6 PF 2022 – Indianapolis Tindley (IN)
Aaron is a big low post forward who has come on as of late. He's gotten taller and his frame has thinned out in doing so. He's going to need more time to get the body into great shape but as his game has progressed, so has his upside. He's now a guy I could see being a dominant force for stretches of a game. He's put himself on the map here in the last 12 months.
Joe Reidy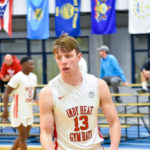 Joe Reidy 6'7" | SF Woodlan | 2022 State IN – 6'7 PF 2022 – Woodlan (IN)
Reidy has really turned a corner. This spring when we saw him, he was just a guy that had sprouted up a few inches but now he's adding that strength and now his confidence and toughness are coming through. He's so much better as a faced up driver because he can kind of barrell guys over. He's also shooting at a pretty good clip. Joe has become a really good player but could turn into a great player quickly here if he continues down this path.
Antonio Lisenbee – 6'7 PF 2022 – North Central (IN)
Antonio has had good games and bad games but lately he's been playing a little more evenly which could really help him. For his size, he's so good at driving and playing in transition. Not a guy who is going to stretch the floor but as he's picking his spots a little better, his effeciency will get better. Want to see how he does in a system that uses him inside because that isn't an area he has really tried to do much with yet.
JaQualon Roberts
JaQualon Roberts 6'7" | PF Bloomington North | 2023 State IN – 6'7 SF 2023 – Bloomington North (IN)
Roberts really looks improved since last year. He's a guy who we are going to go back and fourth on whether he is a 3 or a 4.  Can he be a guy that continues to improve his jumper like he has to this point? He's gotten pretty good and he's got the ability to slash and get in the lane. Not really playing inside all that much now but as he adds height and weight, will need to see how that athleticism plays for him and if he can still be a guy that gets in the lane as well as he does now.
Jalen Hooks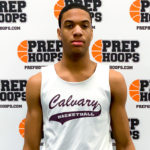 Jalen Hooks 6'6" | SF Warren Central | 2023 State #282 Nation IN – 6'7 SF 2023 – Crispus Attucks (IN)
Hooks is just a great prospect at this stage that even when he doesn't always have it. He's the type of guy that just produces both in rebounding and points. The game does come pretty natural but we will see how he fine tunes things over the next year and where that pushes his development long term.  
Jermaine Coleman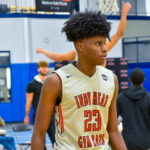 Jermaine Coleman 6'7" | SF Park Tudor | 2023 State IN – 6'7 SF 2023 – Park Tudor (IN)
Jermaine has really developed in the last year. He showed early on that shooting could be his best tool but made that abundantly clear in the last 9 months. He's been locked in lately and even though he has some times where he can shoot himself into holes, he showed again this weekend that he's a force when he gets hot and can really load up on points quickly.
Isaiah Davis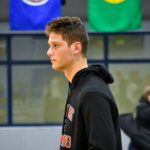 Isaiah Davis 6'9" | PF Zionsville | 2022 State IN – 6'8 PF 2022 – Greenwood Christian (IN)
Isaiah is another player that we have seen take that big step forward in the last year. A lot of his development stems from his growth physically. He's much taller and way more filled out in the frame which is now allowing him to do a ton offensively. Going to be a little bit of a stretch at times but still functional as an interior threat. There is even some room to see him play in the mid-range.
Zane Doughty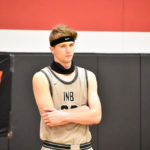 Zane Doughty 6'9" | C Ben Davis | 2023 State IN – 6'8 PF 2023 – Ben Davis (IN)
Zane is a growing forward that has some slashing ability to draw from down the road but is pretty good in transition due to his athleticism. He's the type of guy that can post up a bit, run the floor, and do a little of everything. He showed that in a different environment, one that isn't always suitable for big men, that he can still show off some of those skills. Could see him taking a big step forward very, very soon.