The 6th annual Prep Hoops Senior Showcase was stellar yet again, maybe the best we have had. With 120 players and upwards of 70 colleges watching, there were a ton of things to talk about. My job is to run the day and get everything in line and schmooze the coaches. Well, they always ask about players. So, here are the 5 guys they asked me about the most.
Evan Altman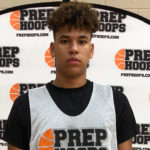 Evan Altman 6'6" | PF Brebeuf Jesuit | 2021 State IN – 6'7 PF 2021 – Brebeuf Jesuit (IN)
Altman was easily one of the more talked about players last weekend. The tall forward has a skillset that attracts college programs because of his body size and toughness. He fits what a lot of teams want in a 4-man in college and is probably the least surprising of this group.
Darrell Reed Darrell Reed 6'7" | PF Hammond | 2021 State IN – 6'7 PF 2021 – Hammond (IN)
Reed, who has a couple offers already in hand, was another who really seemed to step forward with his play. Best in the open floor and transition, does have a little bit of room to develop in the half court play. He's a new-age 3/4 with length and athleticism that can be attractive with his overall toughness around the rim.
Mason Nicholson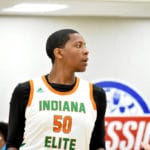 Mason Nicholson 6'8" | C Gary West | 2021 State IN – 6'9 C 2021 – Gary West (IN)
Nicholson doesn't have an offer yet but can't imagine that will last much longer. He's so light on his feet for his size and does look like he will trim down in college. When he does, he could really turn into a standout. Coaches were impressed with how well he elevated and the promise that could bring.
Terrence Moncrief – 5'11 PG 2021 – Joliet West (IL)
Terrence is a very quick, scoring-oriented guard who kind of had the motor and mentality that not only stands out in these kind of events but for teams that need more offense. The Illinois product made a name for himself pretty quickly and was one of the first names to get asked about on the day.
Jaden Thomas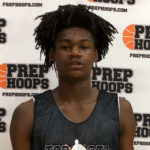 Jaden Thomas 6'2" | SG International | 2021 State IN – 6'2 SG 2021 – International (IN)
Jaden was brought up because of his shooting. He's a guy that seemed to really play well all day. He was knocking down triples and really doing well with his offense overall.  One player that is being recruited way too lightly especially when you pair it with his academics. Full package here.