The response to the 2020 Prep Hoops Top 250 Expo showcase series has been fantastic! After hosting 3000+ prospects in 2019, we are set to host the Top 250 Expo in over 15 states across the country! Players have been quick to register or send in their regrets due to conflicts with high school football, soccer and the like. The response from college coaches has been equally enthusiastic. The Top 250 Expo provides a unique opportunity for prospects to put their talents on display to Prep Hoops scouts & staff as well as college coaches. There are multiple reasons why the event is the nations best fall showcase for boys basketball prospects!
The Top 250 allows you to represent yourself in front of scouts and college coaches
"It's an opportunity for players to sign up on their own accord and gain individual visibility, both with media coverage and with college programs," said Nick Carroll, co-founder of Prep Network, which operates the Prep Hoops websites. "During the high school season players don't have control over the schedule. Whatever size high school you go to, whatever geography you live in, whatever your team decides, that's who you are going to play in front of within the context of the team. The Top 250 Expo is an opportunity for players to represent themselves."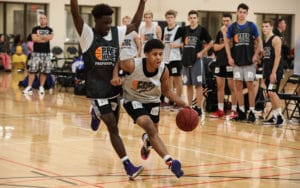 "Obviously you want to come and play the right way, but the idea is that you can come and represent the name on the back of the jersey for a day and not the name on the front," Carroll added. "With us being an independent, unbiased third party that isn't affiliated with a particular AAU program or shoe brand it's a way for any player to come to the event and just do their thing."
The company's mission has always been to ensure that all potential collegiate players receive notice, not just those that are headed to high-profile Division 1 programs. That doesn't mean the D1-bound athletes won't benefit from participating. They have and they will.
"You see a lot of showcases that are by invitation only, where it is very clearly geared to the top few players in a state," said Jake Phillips, who co-founded Prep Network with Carroll in 2012. "We want to provide coverage to as many kids as possible and anyone who wants to attend can come. We have had really cool stories where players have had some nice opportunities as a result of participating. These kids weren't really on the radar before and they got college paid for as a result of being at a Top 250."
The Top 250 gives coaches and players what they want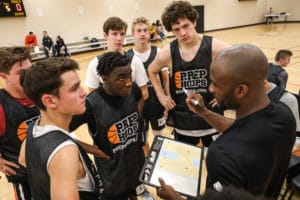 One of the questions we often hear from players and parents is about the format. The answer is simple: the kids are going to play basketball. No dynamic testing, skills work etc. That's what you see at a lot of showcases, but it's not what college coaches are really looking for.
"In the past we were getting a lot of coaches contacting us in advance wanting to know when the games were starting. College coaches want to see the players get up and down the court and that's what we give them," Carroll said, explaining the reasoning behind the games-only format."We are focused on having great coaches working with the players, a really high-energy environment, and balanced rosters so that the players can come in and have a great experience and the college coaches can get what they want, too."
The Top 250 provides unparalleled visibility and exposure
There will be extensive coverage and assessment of individual players by Prep Hoops evaluators and writers. With D1 viewing days now so limited this kind of media coverage is more important than ever. Prep Hoops has more than 300 colleges that subscribe and our writers are in constant conversation with coaches about players. In addition, the Top 250 will be streamed live and available for replay via BallerTV. Due to COVID-19, the ONLY spectators we are allowing are scouts and college coaches. Players will receive unparalleled exposure while also playing in an event where strict safety precautions will be met.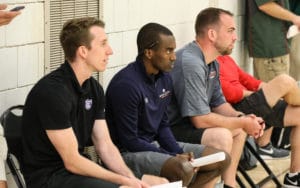 There are no restrictions on D3, NAIA, and JUCO coaches and there will be plenty on hand. The event is attractive to them because, unlike AAU events, there is no charge for attendance or information. The company's goal has always been to maximize exposure for players, not make money off coaches. "All coaches have to do is RSVP in advance," Carroll said, "and they get the college packet for all of the athletes including academic and contact information."