Every player wants to be a shooter and every college coach is looking for a player that can torch the nets from deep. Not everybody can do it though. Shooting the 3 is a skill and an art form. We'll look at some players that shot the lights out from three point land over the course of grassroots season this summer. 
Jacob Carlson (2021, SG, Grand Blanc, Flint's Finest)
Just this past weekend Carlson put his shooting on display. He averaged 19 points per game, lighting it up from outside. Carlson had 7 triples in 1 game. 
Ethan Erickson Ethan Erickson 6'1" | SG Forest Hills Northern | 2021 State MI (2021, SG, Forest Hills Northern, Storm UA Rise)
Erickson has the look of a 3 point sniper…..at the next level. He's shown an array of ways he can connect including using a jab step to create space and with a hand in his face. 
Kobe Haglund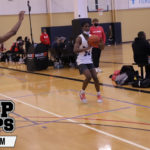 Kobe Haglund 6'3" | PG West Ottawa | 2022 State MI (2021, PG, West Ottawa, MBA Lakeshore)
Haglund was solid this summer in many facets, but his shooting stood out. He hit 5 threes in 1 game, shooting 100% from behind the arc. Haglund has incredibly good shot selection, knowing when and where his teams needs one. 
Tyler Johnson Tyler Johnson 6'3" | CG Cedar Shoals | 2020 GA (2021, SG, Croswell-Lexington, Oakland Elite)
Johnson has really put his name on the map as an upper echelon scorer. One weekend this summer, he hit 8 three pointers and over 10 on the weekend. 
Josh Rechsteiner Josh Rechsteiner 6'1" | CG Grand Blanc | 2021 State MI (2021, SG, Grand Blanc, Oakland Elite)
Rechsteiner has had an impressive summer and his 3 point shooting has been a big part of that. He's shown an under appreciated quickness that helps free him up for a triple. College coaches will want to take a peek. 
Koby Vanderwoude Koby Vanderwoude 5'11" | PG Caledonia | 2021 State MI (2021, PG, Caledonia, MBA)
Vanderwoude is a terrific floor general, but he really made defenses respect his 3 point shot during grassroots season. He had as many as 15 points from 3 in a game this season.